Best Dog Hammocks [2023 review]
30.04.2021.
Every product and service on World Dog Finder is independently selected by our editors, contributors, and experts. If you purchase something through our links, we may earn a referral fee. Learn more
---
There is a special appeal in laying in a hammock on a warm summer day. Getting a cold drink and the warm summer sun is as close to perfection we can imagine. Dogs seem to agree with us, and it looks like they love sleeping and lounging in dog hammocks. The slight rocking sensation and being off the ground makes dog hammocks very comfortable and appealing to our dogs.
Check out our favorite dog hammock beds.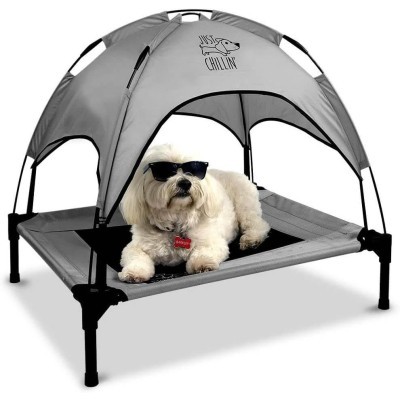 There is nothing better than having a dog hammock and some shade on a warm summer day. That is why our top pick for dog hammock beds is the Floppy Dawg Just Chillin' Elevated Dog Bed. Dogs love napping in den-like beds, and this model offers them precisely that. You can place this dog hammock bed indoors and outdoors, and your dog will absolutely love it. The canopy can be detached, and you can use the bed as a basic elevated dog bed. This is a top recommendation for small and medium-sized dogs.
Pros
Comfy
Lightweight
Portable
Sturdy
Cons
Some owners reported they had troubles assembling the product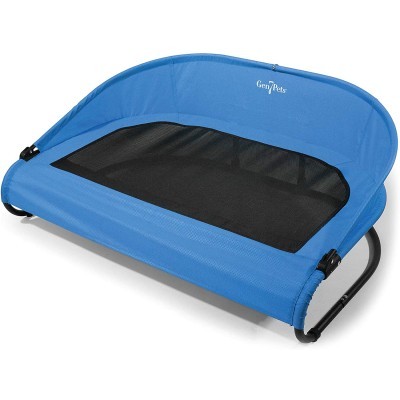 If you are looking for a dog bed that will provide your dog with an unparalleled rocking motion, the Gen7Pets Cool-Air Cot for Dogs is the product for you. It resembles more of a cot than a hammock, but dogs will love it all the same. This model includes the mesh fabric that promotes airflow, so your dog won't get too hot while lounging. This dog hammock bed is very easy to maintain, and your dog can even lay on it wet. This is an excellent product for a yard, and it has a weight limit of 60 pounds. That is usually more than enough for most dogs.
Pros
Lightweight yet stable
Easy to maintain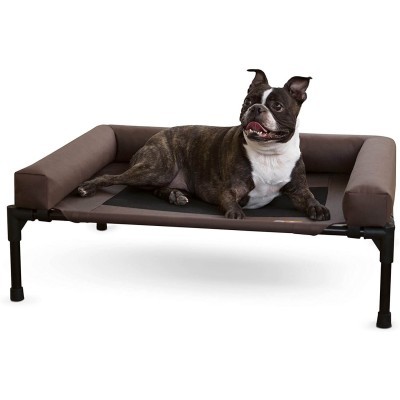 The K&H PET PRODUCTS Original Bolster Pet Cot is another hammock-type dog bed that your dog will enjoy. It includes bolsters on three sides, so your dog feels safe and can rest their head on the soft bolsters.  One of the best things about this dog hammock is that it comes with a nylon fabric that is completely mold, chew, and mildew resistant. This dog hammock bed is easy to clean and maintain. You can even take it with you on the beach and make sure your dog can nap away from the sand and has a nice breeze coming from beneath. However, most dog owners prefer having this product on their porches or balconies.
Pros
Lightweight
Bolsters
Easy to clean
Durable
Cons
Some owners reported weak stitching on the bed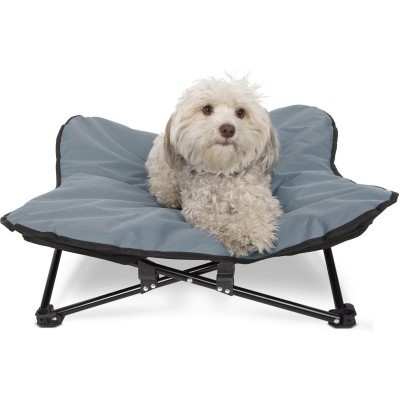 Our pick for the best value dog hammock bed is the Paws & Pals Elevated Dog Bed. This model includes a sturdy base that is easily foldable and portable. This is a piece that will fit in any household, and your dog will love sleeping on it. It comes with a travel bag, so moving it and taking it with you on a trip is a piece of cake. This dog hammock is specially developed to lift your dog off the ground and provide them with a nice sleeping spot.
Pros
Lightweight
Easy to maintain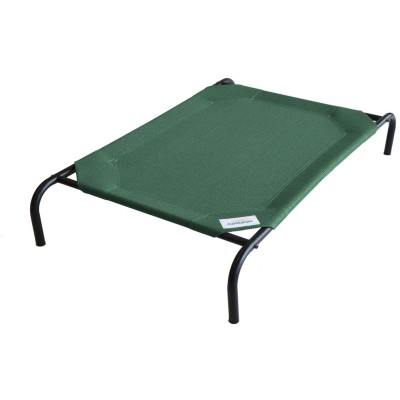 The Original Elevated Pet Bed by Coolaroo is one of the best-sellers in the category of elevated dog beds and hammocks. This model has a sturdy frame with a nice powder finish. No creepy crawlies can reach your dog while they are lounging in their dog hammock. Even parasites like mites, fleas, or ticks cannot climb the slippery legs. This is a highly practical model that didn't sacrifice any comfort for functionality. This dog bed by Coolaroo is a top recommendation you and your dog will love.
Cons
Difficult assembly for some owners
Not for too heavy dogs
World Dog Finder team