Best Dog Bike Trailers [2023 Review]
27.04.2021.
Every product and service on World Dog Finder is independently selected by our editors, contributors, and experts. If you purchase something through our links, we may earn a referral fee. Learn more
---
Some dog owners love biking, and they would love nothing more than to take their dogs with them on their biking adventures. However, some dogs cannot stand running peacefully next to a bicycle. That is when dog bike trailers come into play. They make great alternatives for cycling and taking your dog with you.
Why should you use a dog bike trailer?
There are many reasons you should consider getting a dog bike trailer. Sure, it might be a slightly larger investment initially, especially if you have a massive dog. However, that investment will pay off when you know you can take your dog with you on your cycling adventures. Here are some of the situations that will make you feel glad you got a dog bike trailer;
Long rides
Some dogs love running alongside you, but you are just too energetic for them. If your bike run lasts longer than your dog's energy, you might risk overworking your dog. They can get seriously injured or even suffer a heat stroke. Taking them with you in a bike trailer might be a good and safe idea.
Lack of discipline
Some dogs are energetic enough to run as long as you ride, but they are simply distracted every couple of seconds. The dog might pull you off course, and you are risking injuring them and yourself. Luckily, a dog bike trailer will allow you to take your dog safely with you.
Your dog is not active
Some dog breeds are simply not that active. This is especially true for breeds like Bulldogs or Cavalier King Charles Spaniels. Plus, some breeds have flat faces and have an increased risk of heatstroke. The safest way to take them on your bike adventures is by placing them in a trailer.
Seniors
Older dogs might lack energy, but their spirit can still be young! Your senior dog won't be able to run alongside you as they used to when they were younger, but you can still take them with you if you get them a dog bike trailer. They will surely appreciate spending more time with you.
Do you know which are the most active dog breeds? Check out this article for more info - What are the most active dog breeds?
As you can clearly see, there are many reasons you might profit from getting a dog bike trailer. Check out these amazing recommendations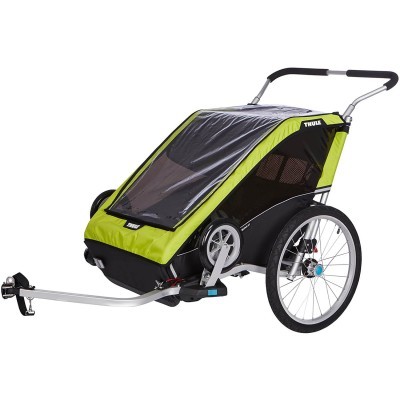 If you are looking for a sturdy and professional bike trailer that will allow you to take your dog with you on many adventures, there is nothing better than the Thule Chariot Cheetah. Thule is known in the auto industry as a pioneer that makes high-quality, well-designed products. They make the ultimate bike trailer/stroller. If you are looking for a bike trailer, this is the last one you and your dog will ever need. Thule Chariot can be transformed into a stroller, bike trailer, ski stroller, or jogging trailer. It has large back wheels for added stability and smoothness. This is not a product meant for dogs, but dog owners who use it seem to be extremely satisfied with it.
Pros
Durable
UV-protection windows
2-in-1 bike trailer
Spacious
Cons
Pricey
Skiing parts sold separately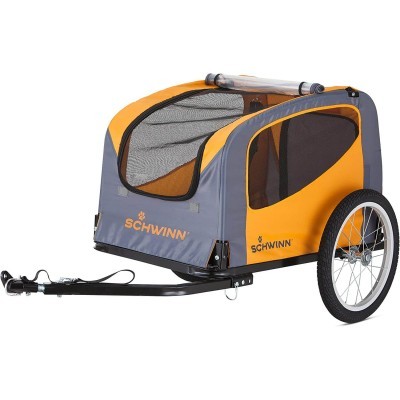 There is nothing better than the Schwinn Rascal Bike Pet Trailer when it comes to dog bike trailers specially developed with dogs in mind. This is a collapsable dog bike trailer, making it a piece of cake to transport or store. It is also very lightweight, so you won't be pulling too much weight behind you. It includes an internal leash to keep your dog safe during the ride. The wheels are large enough to provide your dog with a smooth ride, and they are easy to pump with a standard bike pump. The Schwinn Coupler will make this trailer fit most bike models.
Pros
Lightweight
Sturdy
Stable
Smooth ride
Internal leash
Cons
One dog owner reported turning problems when their 40-pound dog was sitting inside the trailer.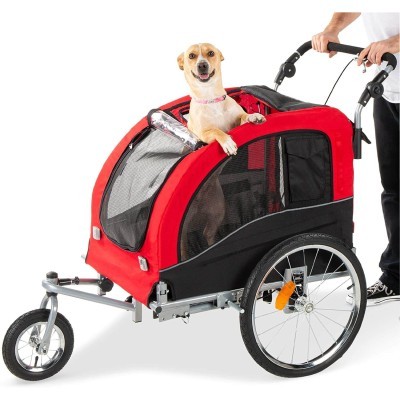 We love products that can be two things. The Best Choice Products 2-in-1 Pet Stroller is ideal for pushing your dog in a stroller or hauling them behind you on a bike. The shell of this lightweight dog bike trailer is waterproof and will make sure your dog remains safe on your bike rides. This trailer has a weight limit of 66 pounds, which is pretty high compared to other dog bike trailers. It also comes with a more reasonable price than our top pick, so it is a good alternative.
Pros
Waterproof
Large wheels
Smooth ride
Stable
Cons
No leash attachment
Not for large dogs
World Dog Finder team