7 Best Comforters for Dog Hair
17.01.2022.
Every product and service on World Dog Finder is independently selected by our editors, contributors, and experts. If you purchase something through our links, we may earn a referral fee. Learn more
---
Most dog owners allow their dogs to climb and cuddle on their beds. There are many advantages to sleeping next to your dog, but there is one thing dog owners have to deal with - dog hair. If you're fed up with constant vacuuming or scraping the dog hair off the bed, you might want to consider getting a comforter that will repel dog hair.
The good news is that there are many models that will do the job. You can even get famous branded comforters for your bed. The best models will not only repel dog hair, but they will also be safe from your dog's teeth and nails. World Dog Finder made a helpful list that might help you get the best comforters for dog hair.
The best comforters for dog hair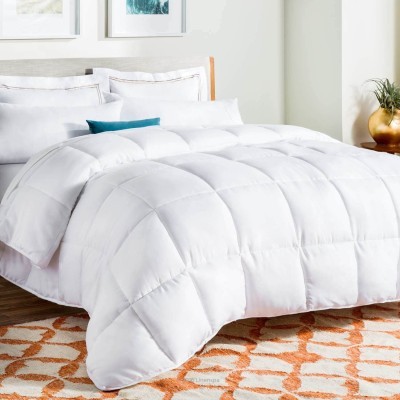 The absolute best comforter for dog hair you can get is the LINENSPA All-Season Hypoallergenic Microfiber Comforter. It can be used as a stand-alone blanket, or you can attach it to a duvet cover. It is entirely made of microfiber (polyester) material, which means it is light, breathable, and absolutely fantastic at repelling dog hair. It comes in 8 sizes and 13 different color combinations. There is something for everyone here, and it comes with a very affordable price tag. This is a great find and a fantastic recommendation.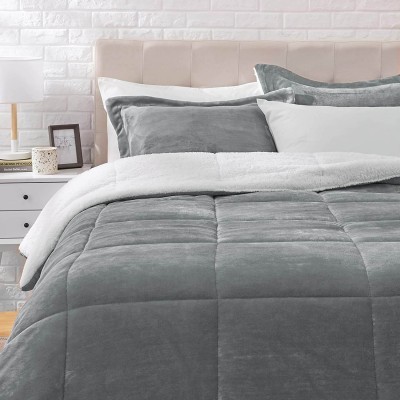 The second pick of many dog owners is an Amazon product. The Amazon Basics Ultra-Soft Micromink Sherpa Comforter is as soft as they come. The inner layer has a faux fleece covering that will make you feel like you're sleeping under a soft cloud. The outside layer, the one that your dog might jump on, is made of polyester. As we already established, polyester is fantastic at repelling dog hair. It is machine-washable, so maintenance is no problem. It comes in 3 sizes and 10 color combinations.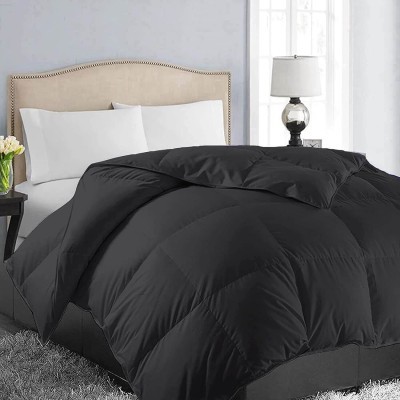 If you want a light, breathable, all-season comforter, then the EASELAND All Season Soft Quilted Down Alternative Comforter is the right choice. Buyers seem to be very satisfied with it. It has a premium poly filling that is secured with box stitching. That means the comforter won't start fraying after your dog jumps on it. The fabric is very durable, and you can simply throw it into the washing machine when it's cleaning time. It comes in 6 sizes and 5 color options.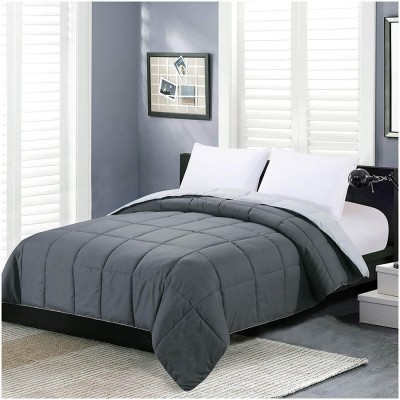 If you want a comforter you can use all year long; you should consider the Homelike Moment Lightweight Comforter. This is a reversible comforter, which means you can simply turn it over if you feel like it or you changed your interior a bit. This comforter ticks all the boxes dog owners like to see - it's lightweight, repels dog hair, doesn't clump, and is machine washable and dryable. It is warm enough for winters but breathable enough for summers. All in all, a great choice with a reasonable price tag.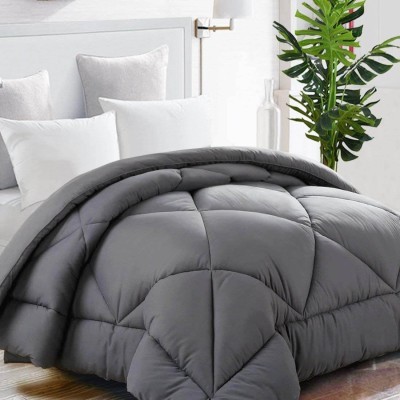 Another fantastic choice dog owners seem to be extremely satisfied with is the TEKAMON All Season Comforter. This model comes in 6 sizes and 4 color options, so you might be limited with your choices of color. Nevertheless, the product is absolutely fantastic. It is extremely easy to maintain, and you can just throw it in the washing machine when you need to clean it. The material will not leak or clump, and the best thing about it is that it will not collect your dog's hair like something valuable. The material is even durable enough to withstand some wear and tear.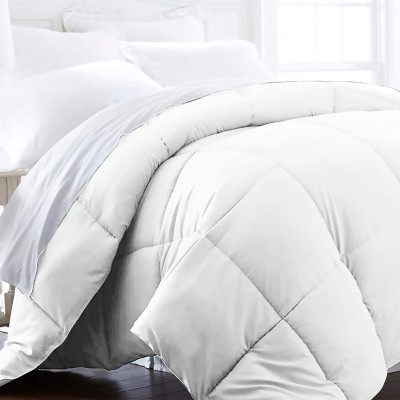 One of the best things about this comforter is that you don't have to change it every six months. The Beckham Hotel Collection is an all-season comforter that will keep you cool in the summer and warm you up during cold winter nights. It is made of high-quality materials and stitched so well that it offers excellent protection against dog hair, mold, mildew, and even dust mites. One reviewer even described it as "sleeping under a cloud." It comes in 4 sizes and 10 color options. It is a great choice that comes at an affordable price.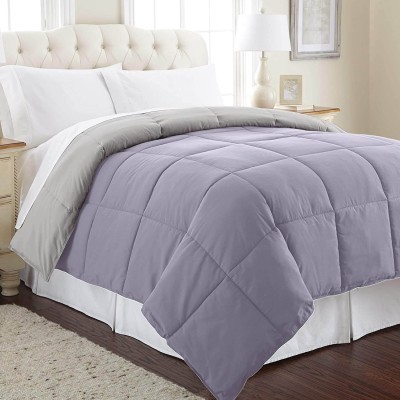 The name of this comforter describes all of the things that we find most appealing as dog owners. The Modern Threads Alternative Microfiber Quilted Reversible Comforter is made of material that repels dog hair. You can simply flip it over and have a new color in your bedroom when you feel like it. The material is scratch-proof, and the Down Alternative Polyfill filling gives an impression of the softest comforter in the world. It comes in 3 sizes and 10 colors. Plus, the price tag is extremely affordable.
World Dog Finder team