Citronella Bark Collar to Remove Behavioral Issues
28.06.2021.
Every product and service on World Dog Finder is independently selected by our editors, contributors, and experts. If you purchase something through our links, we may earn a referral fee. Learn more
---
When imagining having a dog, most of us don't think about potential behavioral issues, like nuisance barking. Luckily, things like citronella bark collars can help you deal with such problems. There are other types of anti-bark collars, but they use static electricity to prevent unwanted barking. If you want some help dealing with your dog's barking, here is how the citronella bark collar can help you.
How does citronella bark collar work?
The citronella bark collar is an anti-bark collar that will detect vibrations coming from your dog's throat. As soon as it detects them, the collar will spray a fine citronella mix next to the barking dog's head. If you don't know about citronella, you should know dogs don't like it. Over time, your dog will learn that every time they bark, they will get sprayed. This type of behavior will be corrected because your dog will want to avoid getting sprayed with this irritant.
What is citronella?
Citronella is an essential oil that comes from the lemongrass plant. It is used in dog repellant sprays and as a bug repellant. You might consider the scent of citronella very pleasant, but bugs and dogs think it is disgusting and it irritates their noses. It has a nice scent that reminds us of lemon juice.
Is citronella safe for dogs?
In small amounts, like the amounts that are in the collar, citronella is entirely safe for dogs. However, you should be careful if you have larger packages of this essential oil in your home. If dogs ingest large amounts of citronella, it can become toxic and cause all sorts of health issues.
IMPORTANT NOTICE: In extremely rare cases, dogs can show signs of citronella sensitivity. If your dog vomits or exhibits drastic behavioral changes, you should remove the citronella bark collar and resort to other barking solutions.
Here are our favorite citronella barking collars;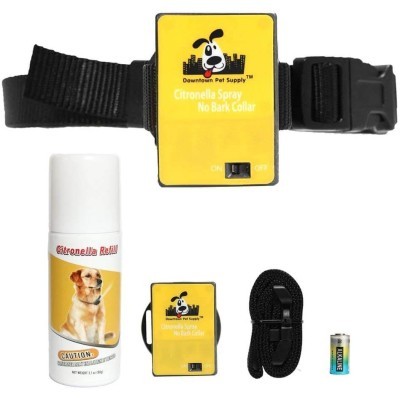 Our top pick is the No Bark Citronella Spray Collar by Downtown Pet Supply. This citronella collar requires two verifications - audible barking and throat vibrations. You don't want a collar that will spray your dog randomly. The first can of citronella comes with the initial order. This collar needs one 6-volt battery, and the first one is included. This product has excellent Amazon reviews, and it is a lot more humane than using a shock collar. It is a great product that can help you deal with your dog's unwanted behavior.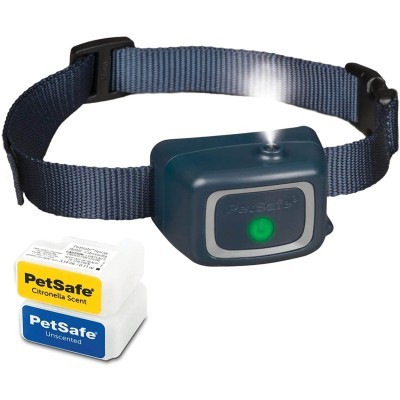 If you want to get a collar from a trusted manufacturer, then PetSafe Spray Bark Dog Collar is the right choice for you and your dog. Pet Safe is a trusted and experienced manufacturer with a long tradition and great dog products. Their citronella bark collar includes a rechargeable battery that can last up to 40 hours. As soon as the collar detects a bark, it will release a fine citronella mist that will correct the dog's behavior. There is even an unscented can that will startle your dog but won't irritate them as much.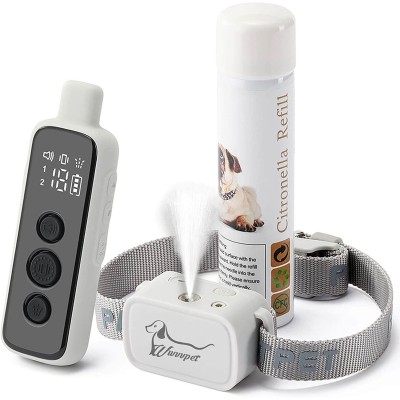 Unlike other training collars, the WWVVPET Citronella Dog Training Collar has a remote. Not only can you use it for adjusting the dog's nuisance barking, but it can also be used to controlling your dog's other problematic behaviors. This collar allows you to control the spraying, so you can be sure your dog is not getting unnecessarily sprayed. It also allows three types of corrections - vibrations, tone, and spray. You can adjust the collar and use only one, two, or all three. One of the best things about this collar is its battery. A single charge will allow you to use the collar for up to 11 days.
World Dog Finder team