The 4 Best Canned Pumpkins for Dogs
28.11.2021.
Every product and service on World Dog Finder is independently selected by our editors, contributors, and experts. If you purchase something through our links, we may earn a referral fee. Learn more
---
One of the best things dog owners can have at home is canned pumpkin for dogs. Pumpkin is a fantastic source of fiber, which can help you deal with the main gastrointestinal issue in dogs - diarrhea. However, pumpkin can help you with another issue your dog might have, which is constipation. It truly is a miracle supplement every dog owner should have at home.
How can canned pumpkin help dogs?
You probably already know that dogs can get diarrhea for many reasons. They can eat something that doesn't agree with their stomach, get sick, parasites, feel stressed, or any other reason that will cause your dog to have a nasty GI reaction. Take a tip from experienced dog owners - have some canned pumpkin for your dog at home.
Pumpkin contains a lot of fiber. In fact, it is one of the best sources of soluble fiber that are safe for dogs to eat. This type of fiber will dissolve in water and form a highly viscous substance. Canned pumpkin also contains insulable fiber, which will not dissolve in water. Instead, it will absorb fluids and make the dog's stool harder and add bulk to it. This is the primary way why you should have canned pumpkin at home.
What type of canned pumpkin should I get?
Every time your dog has a slight reaction to its diet or eats something that causes diarrhea, you can use canned pumpkin to deal with the issue. However, you should know what type of canned pumpkin you should get for your dog. We need to make one thing very clear - never give your dog pumpkin pie filling. It contains ingredients that are not safe for dogs. It's packed with sugar and other spices. You should avoid giving them to your dog at all costs.
The only safe thing your dog can take is canned pumpkin. There are different types, but you have to get a can with only one ingredient - pumpkin. Everything else is not safe nor beneficial for dogs. In fact, it will not help you deal with the problem; it might even make it worse.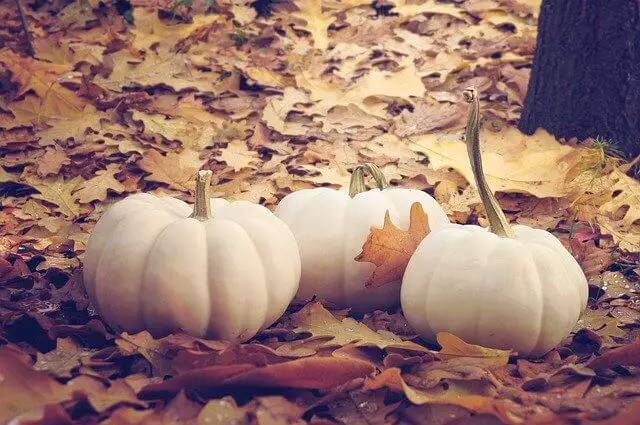 How much canned pumpkin should I give my dog?
The best thing you can do is talk to your vet. If your dog has an underlying problem that causes them to have diarrhea, that problem should be resolved. Otherwise, no amount of medications or pumpkin will help you deal with your dog's diarrhea. Your vet also knows your dog, so they will know how much or how often your dog should eat canned pumpkin. However, in most cases, the safe amount is 1 - 4 teaspoons per meal, while the dog has GI issues.
VET TIP: Don't overdo it with canned pumpkin. The canned version contains more calories than the fresh pumpkin, and it is a lot richer in vitamin A and iron. While these two nutrients are essential for the dog's overall health, too much of them can cause problems.
Other benefits of canned pumpkin
Most of us keep canned pumpkin at home because we want to have something that will help our dogs in case of emergencies like diarrhea or vomiting. However, that is not all pumpkin can do for your dog. It offers a lot of benefits, and here are some of the best ones;
Keeps the dog regular
Eating canned pumpkin regularly will keep your dog's digestion running smoothly. Fiber is crucial for healthy digestion, and that is something all dog owners want.
Iron
We already said that pumpkin contains a lot of iron. Iron is necessary for red blood cell formation. It will prevent anemia and keep your dog well oxygenated.
Prevents UTI
Oils from pumpkin seeds will help your dog's bladder. They are great for relieving and preventing urinary tract infections in dogs and humans.
The best canned pumpkin for dogs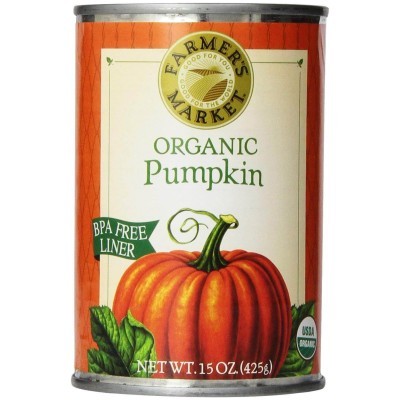 The best possible choice you can make for your dog is the Farmers Market Organic Pumpkin. Farmer's Market prides itself on delivering the freshest and only organic ingredients without any preservatives or additives. Your dog will get the best possible canned pumpkin if you decide to get this one. Plus, the price is very affordable.
The Nummy Tum Tum Pure Pumpkin For Pets aims directly at pet owners and their pets. This is an American product, and pumpkins are grown right here in the US. These guys don't include artificial ingredients, sweeteners, or potentially harmful things for dogs, cats, or even humans. You can safely grab a bite of this pumpkin puree - it's completely safe.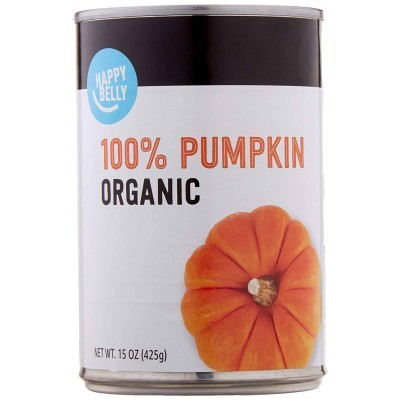 The Happy Belly Organic 100% Pumpkin is actually Amazon's brand. This company seems to do everything, so don't be surprised they're in the canned pumpkin business. The surprising part might be that they're good at it. Their canned pumpkin is just as good as any other you can find on the market, which is why we decided to include them on this list. Plus, they promise to refund you within a year of the purchase if you're not happy with this product.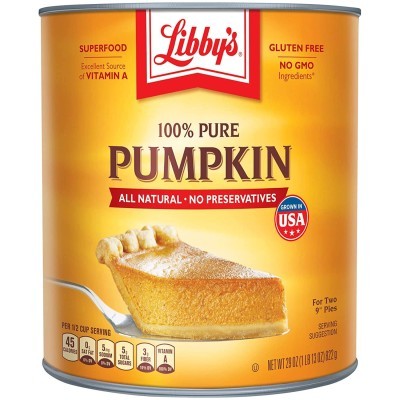 The Libbys 100% Pure Pumpkin was created with pumpkin pies in mind. However, dog owners pretty soon discovered this is an excellent product for all dogs or cats that might have tummy issues. This brand only contains one ingredient, and it is the one you want to see - pumpkin. It packs a punch of vitamin A and iron, so make sure you don't overfeed your dog with this pumpkin puree.
World Dog Finder team