The Best Calming Treats for Dogs [2023 review]
07.03.2021.
Every product and service on World Dog Finder is independently selected by our editors, contributors, and experts. If you purchase something through our links, we may earn a referral fee. Learn more
---
Dog anxiety is a real thing, and just like humans, dogs can develop severe anxiety and even depression. Calming treats for dogs might not solve the issue entirely, but they are a useful tool that will give your dog a slight nudge that will help them get rid of their anxiety. Mind you, anxiety in dogs, especially separation anxiety, can only be resolved by training.
Dog calming treats fall under the category of nutraceuticals. There is a lack of control over this market. There are some wild claims from untrusted manufacturers that they have the best calming treats for dogs and will resolve any anxiety problems they might have. That is, of course, questionable, to say the least, but that doesn't mean calming dog treats don't offer benefits.
What to look for in calming treats for dogs?
There are dozens of available calming treats for dogs, and if you are fresh to this market, the options can make anyone's head spin. You'd have to be a canine nutritionist to understand the most critical nutrients in dog calming treats. Since most dog owners are not professional nutritionists, we have decided to help you with your choice. Check out the most important things you consider when choosing a brand of calming treats for your dog.
Mind the packaging
Product packaging is designed to be attractive. It needs to capture your attention and make you want to buy the product. Don't get fooled by colorful labels and attractive packaging. Make sure it provides a comprehensive ingredient list, and you can practically ignore the colors.
Ingredients
Ingredients are the most critical thing about calming treats for dogs. They will let you know what a calming treat contains and if there is anything your dog can avoid. Keep a close eye for these ingredients:
Chamomile flower
Valerian root
Ginger root
Passion flower
L-Tryptophan
Melatonin
Hemp (CBD oil)
Out of these 6 ingredients often used in calming treats for dogs, only the last two have scientifically proven calming effects. Some dogs can have a bad reaction to the first four ingredients, so they are not the most important ones. Hemp is gaining popularity. As more scientific studies are done, more dog owners prefer calming dog treats containing hemp oil.
Taste
One of the issues dog owners reported is their dogs not wanting to eat dog calming treats. Dogs wouldn't naturally eat these ingredients, so some can have a slight aversion towards the treat's smell. Remember that taste and smell are essential, and your dog might refuse to eat a treat if it doesn't smell appetizing. It is a good idea to buy a smaller package and make sure your dog will love the taste.
Are calming treats for dogs effective?
Like with any other supplement, the effects will be different on different dogs. Some dogs can feel very relaxed, and their anxiety can be lifted. However, some dog owners reported no significant change in their dog's fears and anxieties. The key to making calming dog treats effective is to work with your dog and use these treats as an additional boost. You can read more about treating anxiety problems here - Separation anxiety in dogs.
Now that you know what to look for in calming dog treats, here is our list of choices for the best calming treats for dogs.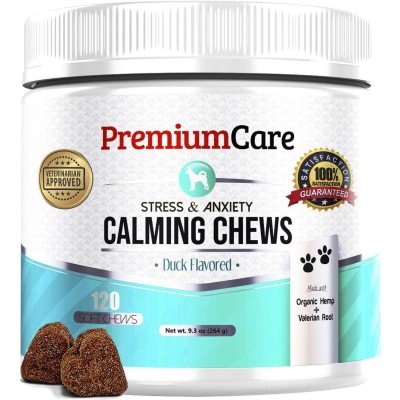 The best choice for calming treats is the Hemp Calming Treats for Dogs by Premium Care. They are one of the most popular dog chews that contain hemp. There are plenty of anecdotes where owners describe the miraculous effect it had on their dogs. These calming treats for dogs taste of duck, which is something most dogs love. It is an American product with organically grown ingredients.
Pros
Money-back guarantee
Tasty
Effective
Cons
Unpleasant smell for humans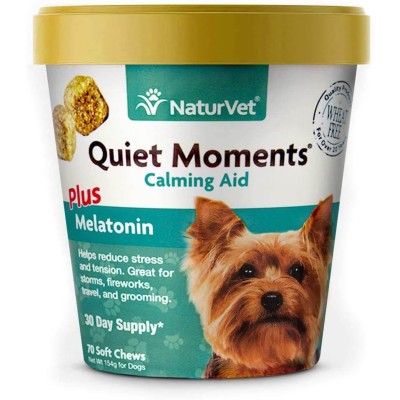 More than 15.000 positive reviews on Amazon cannot be a mistake. The NaturVet Quiet Moments Calming Aid Dog Supplement is a melatonin-based treat and a supplement at once. It is packed with healthy ingredients. Not only will these dog calming treats help with vet visits and car rides, but they will also promote skin and coat health. This is a top recommendation.
Pros
Affordable
Different size options
Tasty to dogs
Cons
A bit dry
Higher dosage than other treats, so owners need to be careful with small dogs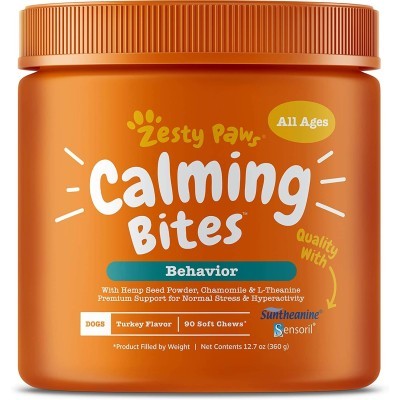 Here at World Dog Finder, we are huge Zesty Paws fans, and we have personally tried and tested Zesty Paws Calming Bites for Dogs. They are useful, and dogs seem to love the taste. These calming treats for dogs are very palatable, and they include L-tryptophan, which has a scientifically proven calming effect. Plus, they are peanut butter-flavored.
Pros
Tasty
Effective
L-tryptophan
Cons
Small treats, so larger dogs will need a bit more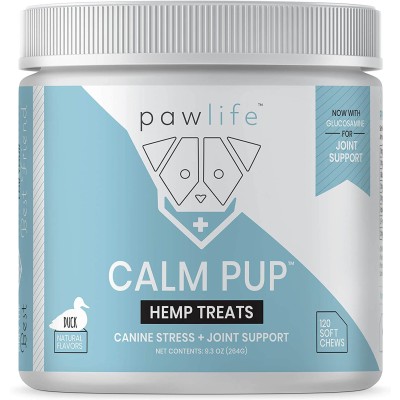 The Hemp Calming Treats for Dogs by pawlife is the "new generation" of calming treats based on hemp oil. It includes CBD oil which has observable calming effects on anxious and stressed dogs. These dog calming treats are ideal for dogs that hate going to the vet, road trips, and being left alone. The most significant advantage of these dog calming treats is that they include joint supplements. That makes them ideal for senior dogs with arthritis.
Pros
Calming effect and joint health
Great for senior dog pains
Can be used daily
Cons
More ingredients mean a bigger risk of a bad reaction
Puppies can build up immunity fast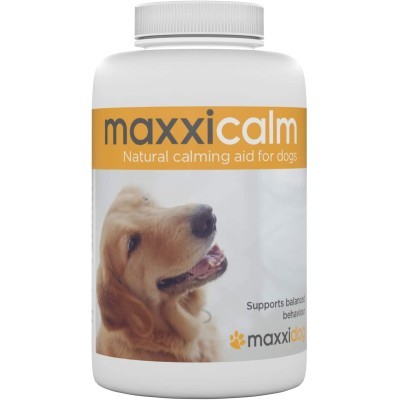 Dog owners seem to like Maxxipaws Calming Treats for Dogs because they seem to calm down dogs afraid of thunderstorms. These dog calming treats can be used for car rides and vet visits as well. They have L-Theanine as the primary supplement, and its calming effects have been proven. These are one of the best calming treats for dogs, and you can be sure you won't make a mistake if you decide to go for them.
Pros
L-Theanine
Comes with eBook on dog behavior
Cons
Some owners reported seeing no difference in their dog's behavior
If you want to learn more about the effect CBD has on dogs, check out this article - CBD oil for dogs.
World Dog Finder team