Brewer's Yeast for Dogs - Benefits, Dosage & Picks
14.12.2021.
Every product and service on World Dog Finder is independently selected by our editors, contributors, and experts. If you purchase something through our links, we may earn a referral fee. Learn more
---
If you feel like modern-day canine nutrition doesn't give your dog everything they might need, you might want to consider two options - changing the food or adding supplements. One of the supplements many dog owners decide to give their dogs is brewer's yeast. If you think your dog might benefit from it, here are a few things you might need to know about it.
What's brewer's yeast for dogs?
As the name says, the brewer's yeast is primarily used for making beer. While alcohol is not safe for dogs, this yeast can offer many health benefits you didn't know about. This yeast is made of Saccharomyces cerevisiae fungus, which creates yeast that is packed with healthy nutrients. It is commonly used as a nutritional supplement, and some of the best things in it are;
Selenium
B-complex vitamins
Protein
Chromium
B-complex vitamins are something that needs to be specially mentioned because brewer's yeast contains B1 (thiamine), B2 (riboflavin), B3 (niacin), B5 (pantothenic acid), B6 (pyridoxine), B9 (folic acid), and H or B7 (biotin). As you can see, it is absolutely packed with healthy nutrients.
Which dogs can benefit from brewer's yeast?
Such a healthy supplement can be very beneficial for dogs, but dogs with specific health issues can really reap the benefits of brewer's yeast. The first condition brewer's yeast for dogs can do for your pet is control their blood sugar levels. It contains chromium, an element that can be found in traces in the dog's body. It helps maintain the dog's blood sugar levels. If you have a diabetic dog, this is a supplement that can help them.
Dogs with skin problems can benefit from it, and brewer's yeast can help repel topical parasites like ticks and fleas. It is often used for calming the dog's nerves and boosting the dog's appetite. B-complex vitamins can really help with these health conditions. There aren't many better B-complex vitamin sources than brewer's yeast for dogs.
Giving brewer's yeast to your dog
You should consult your vet before you decide to include this supplement in your dog's diet. Ask them if they think your dog can benefit from it, but keep in mind that severe conditions like diabetes cannot be controlled solely by brewer's yeast. Nevertheless, it is a good thing to include in your dog's diet, and if your vet gives you the green light, feel free to include it.
Dosage of brewer's yeast for dogs
This is another thing you should talk to your vet about. There are manufacturer's guidelines on the package or the manufacturer's website, but your vet knows your dog the best. They know the dog's medical history, allergies, and current physical state. The exact dosage of brewer's yeast for dogs will depend on your dog's age and size.
However, the golden rule says not to give your dog more than one pill or one tablespoon of brewer's yeast per day.
The best brewer's yeast for dogs
If you think this is the right thing for your dog, you'd like to try it out, and your vet gave you the green light, then the next step is to get some for your dog. There are different options, and you can easily pick the wrong thing if you don't know what to look for. Here are the best brands of brewer's yeast for dogs;
Anthony's Brewer's Yeast is our top pick. One of the most significant advantages of this product over similar ones is that it is made under strict laws right here in the US. This product doesn't contain sweeteners, artificial flavorings, and it's gluten-free. Plus, it comes at a very budget-friendly price.
This is another fantastic pick for you or your dog. Solgar Brewer's Yeast Powder is unsweetened, unflavored, and unfortified. This company has more than 70 years of experience in producing brewer's yeast. Whenever we see something like that, we automatically trust them more. An excellent choice for humans and canines.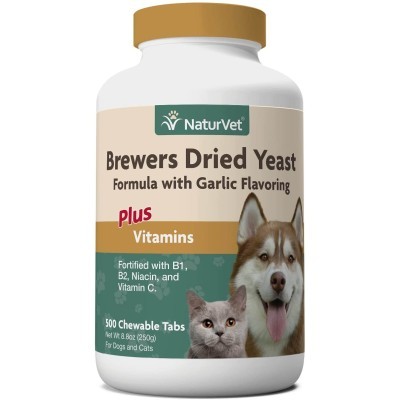 The NaturVet Brewer's Dried Yeast Formula contains garlic flavoring, which might be weird since garlic can be toxic to dogs. However, in such small amounts, it can actually be beneficial. It will repel fleas and ticks, and it makes this product more palatable to most dogs. This product is suitable for cats and dogs. The package contains 500 tablets, so if you have a medium-sized dog, you are set for the foreseeable future.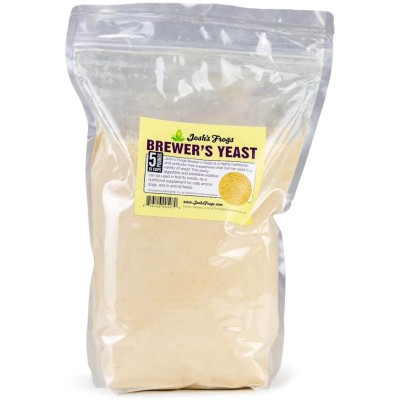 Unlike the first three products, Josh's Frogs Animal Grade Brewers Yeast is not for human consumption. This might seem like a red flag, but dog owners seem pretty satisfied with this product. This brewer's yeast for dogs comes in the form of powder, which can easily be mixed into your dog's usual kibble. It doesn't contain artificial ingredients, so your dog will be safe.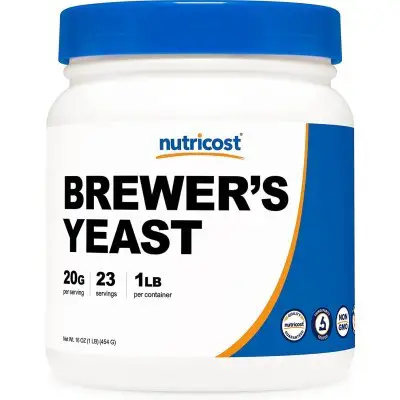 Another great product for adults and dogs is Nutricost Brewers Yeast Powder. We prefer getting human-grade products for our dog, which means this is a suitable choice. Like other products on our list, this one doesn't contain artificial ingredients, flavorings, or gluten. It was tested by third parties, so this isn't just a claim the manufacturer stated. Plus, this product comes with a helpful serving scoop.
World Dog Finder team