Fish Oil for Dogs: Benefits & Dosage
29.01.2021.
Every product and service on World Dog Finder is independently selected by our editors, contributors, and experts. If you purchase something through our links, we may earn a referral fee. Learn more
---
If you tried researching which supplements you should give to your dog, you probably noticed that fish oil is often mentioned as one of the best supplements there is. Whether or not fish oil is the best supplement can be debated, but there is no denying that it offers plenty of benefits to dogs as well as humans.
Benefits fish oil offers
Most of us have heard about Omega-3 and Omega-6 fatty acids and their beneficial effects on the body. Omega fatty acids age an excellent supplement for joints, skin, and hair, but that is not everything fish oil has to offer. Fish oil is great for:
Decreasing inflammation
Decreasing shedding
Adding moisture to dry and flaky skin
Increasing stamina
Increasing skin and coat health
Omega-3 and Omega-6 fatty acids are great for different things, and that is why vets usually recommend them for various health issues. Here are the benefits these fatty acids offer our dogs and us:
Ease joint discomfort
Defense against auto-immune diseases
Reduce the risk of stroke
Proper heart functioning
Keeps triglyceride levels in check
Anti-inflammatory action
Antioxidant
Promotes coat and skin health
Fish oil sources
As its name suggests, fish oil comes from fish. There is plenty of fish used as a source of fish oil, and there is a heated debate about which one is the best. The most common fish oil sources are salmon, herring, mackerel, sardines, sablefish, albacore tuna, and wild game.
Dogs that need fish oil often have coat problems. If your dog is losing plenty of hair, and before helping them, getting a good vacuum cleaner might be a good idea. Check out this hefty guide - What Is The Best Vacuum For Pet Hair?
How much fish oil should you give your dog?
Many dog owners complain that the fish oil is ineffective, and they can barely see any improvement or effect on their dogs. The main problem is they do not give their dog enough fish oil.
The exact amount you should give your dog is 20mg for every pound of your dog's body weight. That means if you have a 20-pound dog, they should get 400mg of fish oil to see the effect.
Before you decide to give your dog this healthy supplement, make sure you ask your vet for advice. You shouldn't decide on your own, and your vet can tell you specific things about your dog and whether or not this supplement is right for them.
We understand there are plenty of available products these days and sometimes it is hard to choose one that will be the best option. That is why we decided to make this list of our seven favorite fish oils for dogs.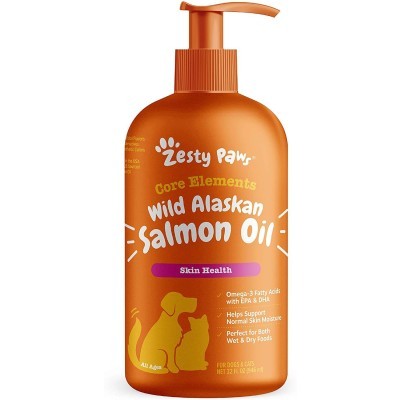 The Zesty Paws Salmon Oil is our top pick of fish oils for dogs. It is packed with beneficial nutrients, and the best thing is it is based on salmon. The formula doesn't include a blend of different fish, making it safe for dogs that might be sensitive or allergic to other fish. Zesty Paws has excellent reviews, and owners that use this for their dogs have reported great results.
Pros
Salmon-based
Nutrients
Easy to use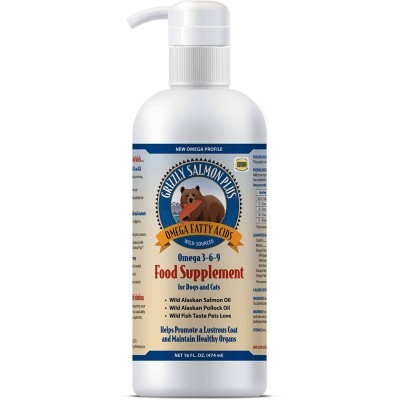 Grizzly Salmon Plus is the best pick for dogs with allergies. Dogs that suffer from allergies should have a special diet, and this supplement has a single-source oil, which makes it great for dogs with sensitivity issues. It will help your dog fight off their allergies, and it has a pump for easy use. Dog owners who use Grizzly Salmon Oil have said it has dramatically reduced their dog's skin irritations and flaky skin.
Pros
Single-source oil
Salmon
Easy to use
Different sizes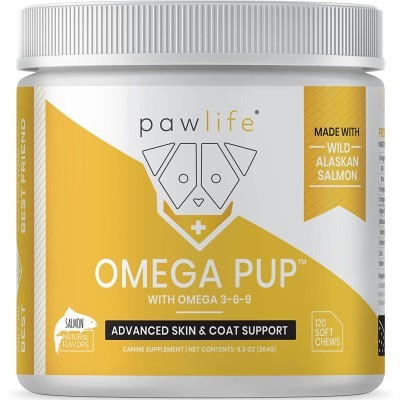 Some dogs don't love the idea of their regular meal being spiked with fish oil. If your vet recommended fish oil as a supplement, maybe these treats will do the trick. These fish oil treats aim to help your dog's skin issues, allergies and promote coat health. Owners have said these treats made their dog's coats soft and skin healthy. You can be sure there will be no flaky and dry skin.
Pros
Form of a treat
Every purchase - donation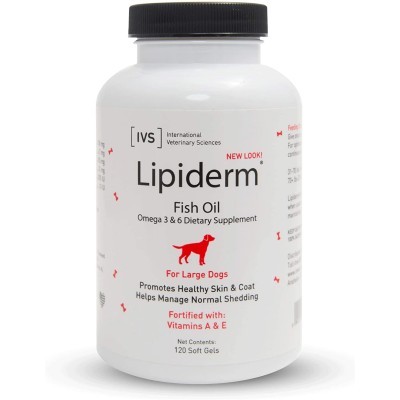 There are some fish oils for dogs with wide usage, and the International Veterinary Sciences Fish Oil was specially created for dogs with skin issues. Hot spots, flaky, and itchy skin can be quite irritating, and dogs can end up scratching themselves until they bleed. No responsible owner wants that to happen, and that is why you should give your dog this supplement. Some dog owners who have given International Veterinary Sciences Fish Oil to their dogs have reported that their dogs have significant improvements after only a week of using this fish oil for dogs.
Pros
Great for skin issues
Rich in Omega fatty acids
Rich in vitamins
Cons
Capsule-form
Capsules stick together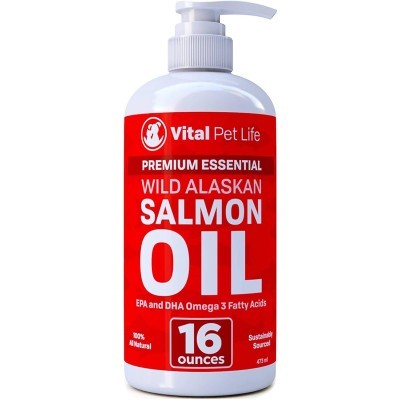 The best thing about Vital Pet Life Fish Oil for dogs is that it only uses wild Alaskan salmon. It is a fish of the highest quality, and the oil from salmon is hugely beneficial and full of nutrients. It is rich in Omega-3 and Omega-6 fatty acids, which will do wonders for your dog's skin, coat, and allergies. It also has a pump for easy delivery, although some owners recommend using a syringe to avoid accidentally spilling the oil everywhere.
Pros
Wild Alaskan salmon
Rich in Omega fatty acids
Cons
Easy to spill
Some dogs might not like the taste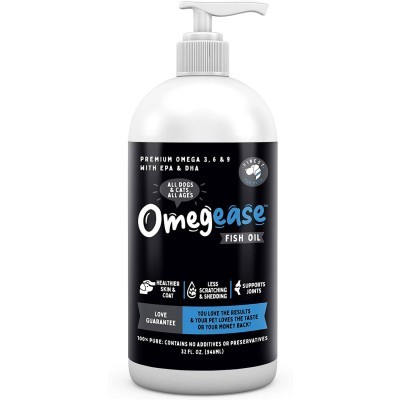 If you don't want to give your dog strictly salmon oil, the Omegease fish oil is a blend that aims to help your dog's stiff joints. Stiffness and joint pain are some of the symptoms of osteoarthritis in dogs, and this supplement will ease your dog's pain. It has an anti-inflammatory effect, and your dog will feel a lot better after using this supplement. This fish oil for dogs offers plenty of benefits for your dog's heart, immune system, brain, skin, and coat. Plus, one of the best things about it is that it doesn't have that fishy smell other products have.
Pros
Specially for joints
No smell
Easy to use bottle
Blends great with food
Cons
Some dogs have allergies to fish blend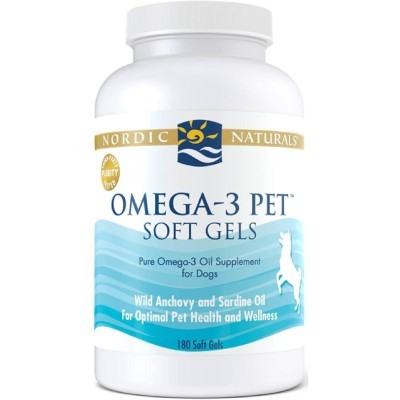 The Nordic Naturals Omega 3 Pet Fish Oil is the best gel pill option out there. It has a unique formula that helps your dog reap all the benefits but eliminates the possibility of your dog disliking the taste. This easy-to-swallow pill is rich in Omega fatty acids and vitamins specially blended to help your dog fight some common issues like allergies, skin issues, and coat problems. The possible problem is that the pill is relatively small, so larger dogs can get all the benefits fish oil for dogs has to offer, but they will have to take several pills.
Pros
Easy-to-swallow
No smell
Several benefits
Cons
Large dogs need several pills
No salmon
World Dog Finder team