What Is The Best Coconut Oil For Your Dog
08.02.2021.
Every product and service on World Dog Finder is independently selected by our editors, contributors, and experts. If you purchase something through our links, we may earn a referral fee. Learn more
---
Humans use coconut oil for many different reasons - we use it in food, as a supplement, and in beauty products. Coconut oil is extracted from matured coconuts, and it is edible (and quite tasty, if we may add).
There are many theories regarding coconut oil usage for dogs, and so far, it has been proven as a useful thing for many different reasons. Even veterinarians and scientists agree that this healing oil can have many health benefits if given to dogs properly. Here are some benefits coconut oil can provide your dog:
Increase energy
Improve skin and coat health
Improve digestion
Battle allergic reaction
Help dogs lose weight
Improves nutrient absorption
Counteracts digestive disorders
Has anti-inflammatory properties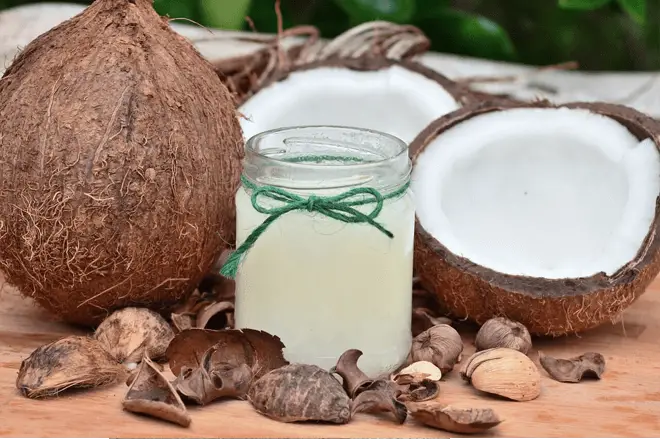 How to safely give dogs coconut oil?
Like with anything else you are introducing to your dog's diet, you should start with smaller amounts and make sure they don't have a bad reaction. It is essential to keep a close eye on your dog and make sure they don't have an allergic reaction to the oil itself.
Most vets agree that dogs can handle coconut oil two times a day if given to them mixed with their usual meal. Small dogs can have ¼ of a teaspoon, and larger breeds like the Mastiff can have a full tablespoon.
Coconut oil can also be massaged into your dog's coat and skin. It will help stop your dog's skin from flaking and give their coat a nice, refreshed look. Since coconut oil is edible, there is no need to worry if some of it gets into your dog's mouth. They will probably enjoy the taste.
Keep in mind that obese and overweight dogs should have strict portion control since this product is extremely rich in fat, and make sure you ask your vet for advice before deciding to give it to your dog.
Here are our favorite coconut oil-based products that we prepared for you.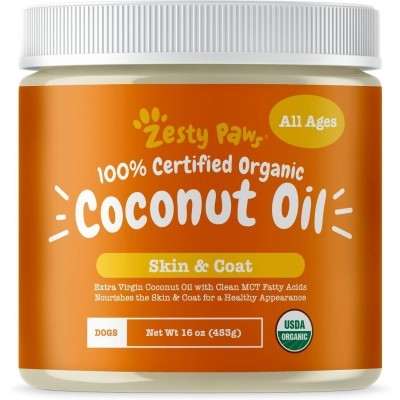 Zesty Paws makes excellent dog supplements, and you can be sure you won't be disappointed with their extra virgin coconut oil. This product is made from organic coconuts, and it is rich in vitamins and medium-chain triglyceride (MCT) fatty acids, which promote skin and coat health. Not only that, but it also works as an effective digestion aid. It helps boost the immune system and promotes the production of "happy" hormones.
Pros
Easy to use
Organic coconuts
Large package
Cons
Can cause allergies
Some dogs don't benefit from it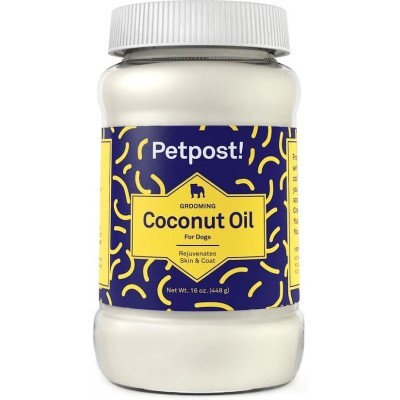 If you are looking for a beauty supplement to freshen up your dog's lifeless hair, or just something that will make them liven up their look, then Petpost Skin & Coat Grooming Coconut Oil is the thing for you.
Not only will it liven up your dog's coat, but it will also help with their dry or flaky skin. No one likes when their dog is itchy, so you can easily put a few drops on the affected area and watch the coconut oil do its thing.
Pros
Great for grooming
Small dosage required
Cons
Might prove ineffective for individual dogs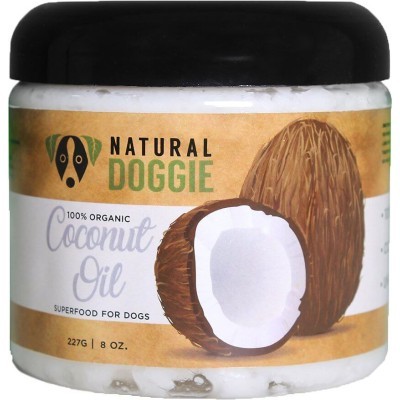 Natural Doggie created a supplement that consists only of one ingredient - 100% organic, virgin cold-pressed coconut oil. This awesome supplement might consist of only one ingredient, but don't let that fool you - it is an all-in-one supplement for internal and external use. When ingested, it will promote skin and coat care from within, and when applied directly on problem areas on your dog's skin, it will help get rid of that itchy spot bugging your pup.
Pros
Simple
Affordable
Effective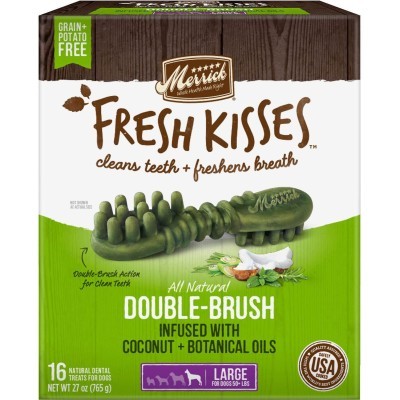 Sometimes, taking proper care of your dog's teeth can be problematic. Dogs are not the biggest fans of toothbrushes, and if they can, they will try and avoid it. That doesn't mean you should stop taking care of their teeth; that just means you have to adapt your approach. Luckily, Merrick has these amazing dental dog treats infused with coconut oil.  Not only will your dog have fresh breath, but they will also have healthy skin and coat.
Pros
Dental
Helps with bad dog breath
Cons
Some dogs dislike the taste
If you are unsure about coconut oil, you can try giving your dog fish oil. Check out this article - Fish oil for dogs.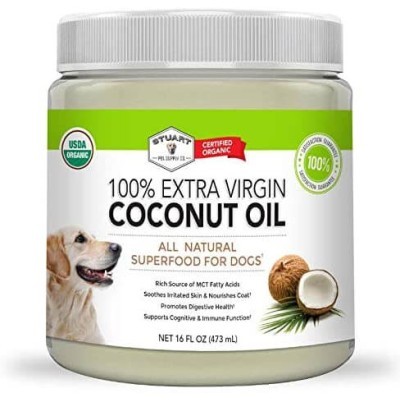 Maintaining the balance in your dog's digestive tract is vital, and Stuart Pet Supply Coconut Oil does precisely that. This supplement promotes a healthy balance between good and harmful bacteria residing in every dog's digestive tract. That way, it helps the dog's body remain healthy, boosts the immune system, and promotes skin and coat health. Plus, it is a lot cheaper than other similar products.
Cons
Some dogs don't like the taste
Some dogs don't feel effects
World Dog Finder team