The 5 Best Foods for Boston Terriers
03.12.2021.
Every product and service on World Dog Finder is independently selected by our editors, contributors, and experts. If you purchase something through our links, we may earn a referral fee. Learn more
---
There aren't many dog breeds that are as popular or as charming as the Boston Terrier. The "American Gentleman" captured hearts across the globe, and many dog owners chose them to be their companions. This small black and white dog packs a whole lot of personality in a tiny package.
If you want to be a responsible Boston Terrier owner, there are a few things you should know about them. You need to know how to train them, socialize them, groom them, but most importantly, how to feed them. You have to pick the best food for Boston Terriers, so your dog avoids health issues and lives up to its full potential.
How to pick the best food for Boston Terriers?
All dogs have similar nutritional needs. However, some breeds can have specific physical characteristics that require them to have a special diet. For example, active breeds need more ingredients that will support their active lifestyle. Calm dog breeds, like the Bulldog, should avoid foods with loads of fats and carbs because it will cause weight gain. The same is true for the charming Boston Terrier. Here are some of the most important things to look for in the best food for Boston Terriers;
Protein source
The most important ingredient in any dog food is animal protein. Luckily, many brands include high-quality protein sources like chicken, salmon, or turkey in their recipes. You can pick any one of those; just make sure it contains at least 25%. Bostons are active, and they should eat food that will allow them to live such lives.
Carbs
The second nutrient to look for is carbohydrates. They have somewhat of a bad reputation, but mainly because they cause weight gain in humans. However, in dogs, carbs are a fantastic energy source. If you have a very active Boston Terrier, get dog food that contains more carbs.
Crude fats
Crude fats are an essential part of high-quality dog food. All dogs need it, but active dogs that have intense physical activity on a daily basis need more of it. Things like chicken fat are fantastic energy sources. This is definitely something you should look for if your dog is very active.
Fatty acids
Fatty acids like omega-3 and omega-6 are essential for different body processes. However, they are absolutely crucial for your Boston Terrier's skin and coat health. These dogs are prone to skin issues, and taking food that's rich in fatty acids is vital for skin moisture and health.
Do you know the difference between Boston Terriers and French Bulldogs? Check out this article - French Bulldog vs. Boston Terrier.
The best food for Boston Terriers
If you are a Boston Terrier owner or plan to become one, you should know which dog food you should pick. Luckily, World Dog Finder is here to help. Here are some of the best choices you can make for your Boston Terrier;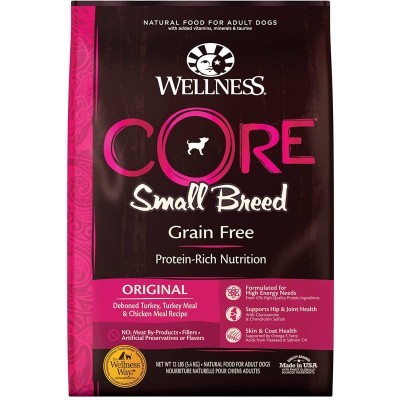 Wellness is a fantastic dog food company. They have a range of fantastic dog foods, and our top pick for Boston Terriers is their Wellness CORE Grain-Free Dry Dog Food. The primary protein sources are turkey and chicken, which is something your little Gentleman will adore. Not only is this food healthy, but it is also very palatable. Most dogs dig right in, and even switching from different brands is less of a problem. Definitely an excellent recommendation and a fabulous choice.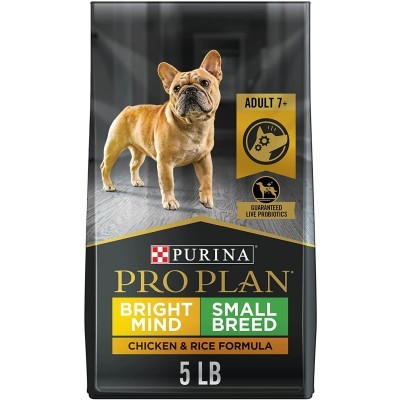 Our dogs will inevitably get older. When they reach that time past their prime, we need to ensure they are placed on a diet that will support their aging bodies. Purina Pro Plan Senior 7+ will keep your dog healthy, happy, and sharp. There are different recipes, but they all include enhanced botanical oils that will boost your dog's cognitive health. That is precisely what you want from senior dog food. Plus, these oils are remarkable for their coat, skin, and joint health.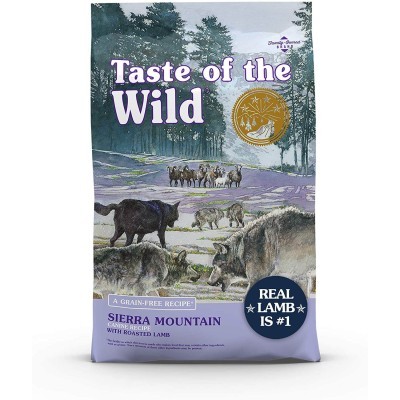 Our third pick for the best food for Boston Terriers is the Taste of The Wild Roasted Lamb. This recipe takes us back to the roots and provides your dog with the diet they would have had in the wild. This recipe includes roasted lamb, and you can smell that from the moment you open the bag. You can even see your dog's reaction. There are grain-inclusive and grain-free options, so you don't have to switch to different foods if your dog has any dietary restrictions.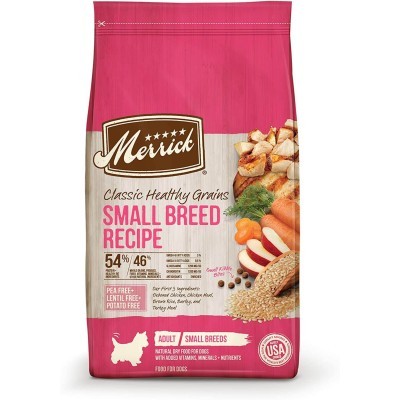 Some Boston Terriers can be allergic to chicken. That's when their owners and their vets need to find a suitable replacement for the most popular protein source in the world. Luckily, Merrick Dry Dog Food Real Salmon and Brown Rice is the best dog food for Boston Terriers based on salmon. Even if your dog doesn't have dietary restrictions, choosing salmon-based dog food is a good idea. It is packed with omega fatty acids, and salmon is a fantastic protein source, which is why brown bears love eating them before their hibernation.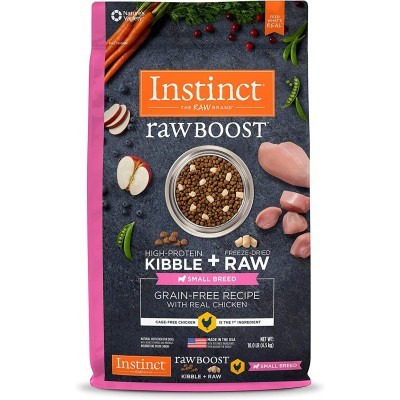 The Instinct Raw Boost Small Breed is a high-protein dog food that combines kibble and freeze-dried raw dog food. It comes with a heftier price tag, but this is a fantastic choice for your Boston Terrier if you can fit it in your budget. You can choose between duck, chicken, and beef. Whatever you choose, you can be sure your dog will absolutely love it. Dogs usually have no problems switching to this food because it includes raw meat.
World Dog Finder team