6 Best Border Collies Dog Food - Puppy, Adult & Senior
02.01.2022.
Every product and service on World Dog Finder is independently selected by our editors, contributors, and experts. If you purchase something through our links, we may earn a referral fee. Learn more
---
Being a Border Collie means knowing how to properly take care of them. One of the first things a new Border Collie owner needs to know is which food to feed their dog. Choosing the best dog food for Border Collies can be difficult, and many owners have no idea where to start looking for good advice. Luckily, World Dog Finder is here to help.
After speaking with Border Collie owners, canine nutritionists, and vets, we have selected the best dog foods for Border Collies based on their age. You probably know that choosing age-appropriate dog food is crucial because puppies and seniors have different nutritional needs. Here are the best dog foods for Border Collies.
The best dog food for Border Collies
Best dog food for Border Collie puppies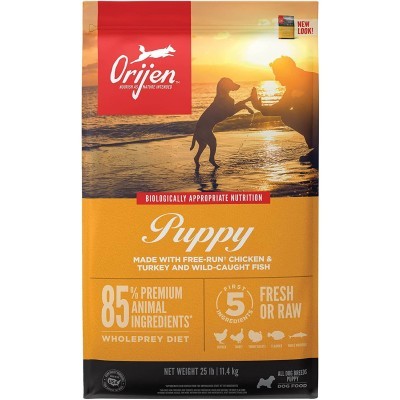 If you're looking for the best of the best and your budget can handle pricier foods, then ORIJEN Puppy Dog Food is the right choice for your Border puppy. Border Collie owners love this dog food because it is packed with healthy nutrients. It gets its protein from turkey, chicken, flounder, and mackerel. It includes animal organs, eggs, Alaskan pollock oil, and kelp, just to name a few incredible ingredients. This dog food will provide your puppy with everything they need and support their healthy growth and development.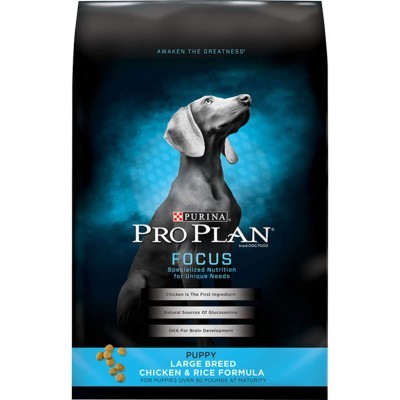 Many Border Collie owners recommend Purina Pro Plan Puppy food. Not only is it available everywhere, but it is also pretty good. Purina's Focus line is specifically designed to boost the dog's concentration and vision. This food has increased amounts of DHA and fish oil, which are fantastic for cognitive functions, skin and coat health. The primary protein source is chicken, which is a common ingredient many manufacturers use. Plus, it is relatively inexpensive, which keeps the price of the food relatively low.
Best dog food for adult Border Collies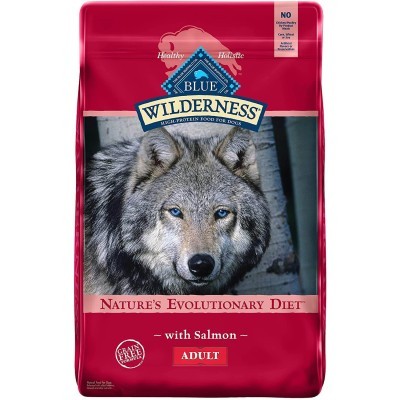 Our top pick for adult Border Collies is Blue Buffalo Wilderness Salmon Recipe. These dogs are incredibly active, and if their owners fail to provide them with the activities these dogs need, they might develop behavioral issues. That also means they need a dog food that will support their active lifestyle and provide the health boost all dogs need. This dog food contains 34% protein, which is relatively high. It also contains 15% crude fats, which means the dog will have plenty of energy for its much-needed activities. This recipe is based on salmon, which we chose because it contains salmon oil and loads of omega fatty acids. There are other recipes like chicken and duck, with or without grain.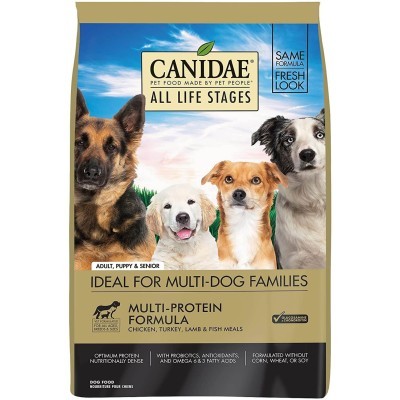 If you want to give your Border Collie different protein sources and food that contains a lot of protein, you should pick Canidae All Life Stages. Keep in mind that this is one of the more expensive options out there, but you'll get the best possible quality. This recipe includes protein sources like fish, turkey, chicken, and lamb. Your dog will get the energy it needs and the protein that will help them develop healthy, strong muscles. This food also contains brown and white rice, chicken fat, and salmon oil. These are all ingredients good dog foods should include, and Canidae is one of the best.
Best dog food for senior Border Collies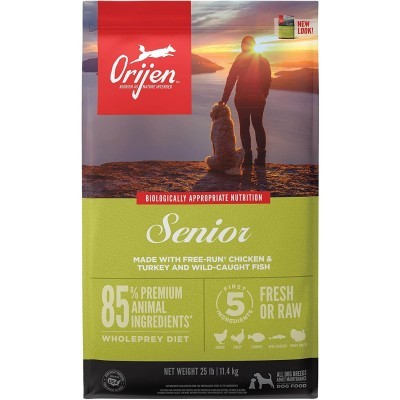 We are once again back to Orijen. The ORIJEN Senior Dry Dog Food is the best possible pick, according to veterinarians and Border Collie breeders. Like Orijen's puppy food, this food also includes various protein sources. However, it also contains loads of antioxidants, omega fatty acids, and supplements like glucosamine, which will do wonders for your aging dog's health. These things will keep their skin, coat, joints, and cognitive functions healthy and running smoothly for as long as possible. However, it is a rather expensive option, like all Orijen dog foods.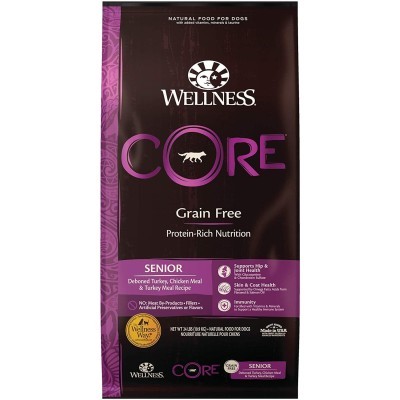 As your dog ages, its nutritional needs will change. They will need fewer fats and carbs and more protein and things that will support their health. That is precisely what Wellness CORE Grain-Free Senior Dry Dog Food offers our senior dogs. It contains 32% of protein, 12% fats, and more fiber for the dog's digestion. Aging dogs are prone to arthritis, which means you need to provide them with things like glucosamine, omega fatty acid, lactic acid, and antioxidants. That is exactly what this dog food contains. Wellness is a fantastic choice for dogs and dog owners around the world.
How to choose the best dog food for Border Collies?
When it comes to picking the best possible food for your Border, the first thing you should do is talk to the breeder you got the dog from, your vet, and a canine nutritionist. We know that might be impossible, so even talking to one of these people is an excellent first step. They can tell you their experience and what reactions they noticed in Borders.
Listen to their advice. In the meantime, you can try any of the foods we recommend, and you can be sure you won't make a mistake. Here are some other things you might want to consider;
1. Dog's age
One of the first things you should consider is the dog's age. Puppies, adults, and seniors have different nutritional needs. They need different things from their food, and you should always go for age-appropriate dog food.
2. Ingredient list
If you decide to get other dog foods, you should check the ingredient list first. Look for clearly defined ingredients and avoid confusing ingredients that sound suspicious. The best dog foods have clearly stated ingredients. Avoid artificial colorings, preservatives, and taste inhibitors.
3. Food origin
This might sound snobby from us, but you should look for the country of origin. There is a simple reason for it - laws and regulations. Some countries have strict laws and regulations for food manufacturing and always look for food from those countries.
World Dog Finder team