Best Ear Cleaners For Dogs
---
If you are a dog owner, you should be pretty well aware of how important proper dog hygiene and care are, and ear cleaners for dogs should be an essential part of it. Dogs have delicate ears and are prone to different problems, especially infections either from bacteria or yeast.
You can use different products, and knowing which product to use and what it does to your dog is rather important. Different products have different effects, and you should know which product has preventive effects and are good for clearing ear wax.
After talking to different vets and dog owners, we bring you our 5 favorite ear cleaning products that are great for dogs, and some are even good for cats.
Our top pick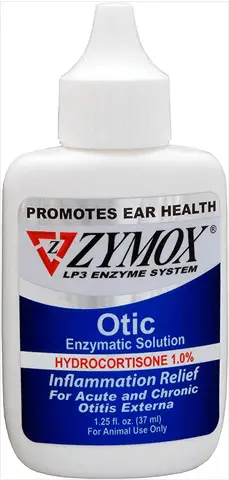 Whenever our dog has ear problems (often since it is a Basset Hound), we treat it with Zymox ear solution. This is a dog ear cleaner that is extremely effective and definitely our go-to product for all ear infections. It contains an active solution that will ease any ear problems in a matter of days. Zymox has a patent, and it is their LP3 Enzyme System that helps you battle all the nasty ear secretions and promotes ear health and wellbeing.
Pros of using ZYMOX Ear Solution
There are different solutions and products for maintaining your dog's ear health, and some are difficult to read if you are not a chemist or a college-educated veterinarian. Here are the pros of this ear cleaner:
4 oz package
For dogs and cats
Not as aggressive as antibiotics
1% of Hydrocortisone for itch relief
Patented antimicrobial LP3 Enzyme System
For viral, bacterial, and yeast infections
Comes in different-sized packages
Cons of using this ear cleaner 
All products have a negative side, and there are some cons, even when it comes to this amazing product. These are the negatives we were able to notice;
Pricey
Shouldn't be used longer than 7 days
It has a slightly higher price, but if the 4 oz package is too large for you, or you have a small dog that doesn't need such a large package, you can easily opt for smaller packages. Hydrocortisone might be great for treating different problems, but it shouldn't be used too long, so keep in mind that you stop using it after 7 days.

The Virbac Epi-Otic Advanced is highly recommended by vets and dog owners alike. It is a great dog ear cleaner with low pH levels, which means it will ease your dog's pain, but won't mess with the natural balance of the skin inside the ear. This product is even selected by Amazon and has a 4.5 rating.
Pros of using Virbac Epi-Otic Advanced
This is an interesting product, and you can be sure you won't make a mistake if you choose to go for this ear cleaning solution. The Virbac can be used regularly and can be included in your dog's care routine. This ear cleaner helps dry the ear and contributes to creating an unsuitable environment for bacteria and yeast. It also comes in different sizes and is suitable for both dogs and cats. Here are all pros conveniently listed;
For dogs and cats
8 oz option
Affordable
Vets recommend it
Can be used regularly
Helps with inflammation
Stops bacteria and yeast from spreading
Cons of this ear cleaner
There are some negative sites when using the Virbac ear cleaner, and the biggest one is that it shouldn't be used on dogs with allergies. One user said that it did, in fact, help cleaned her dog's ears, but it also caused them to get an allergic reaction. You should ask your vet for advice before using this product, but if your dog doesn't have significant allergy reactions, you should be good to go. Here is the con of Virbac neatly listed.
Can cause allergies
Has a new formula
Best for different animals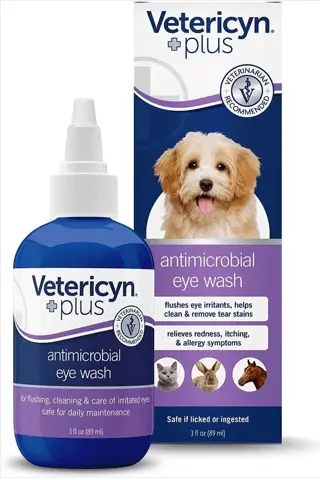 If you are a pet parent with different animals at home, we can only imagine how active and happy your home is. But that would also mean that you have a lot more ears to clean and mouths to feed. You might need a good partner for that, and that is where Vetericyn Plus Ear cleaner comes in handy. This product can be used on different animals such as dogs, cats, horses, bunnies, etc. It is one solution for all.
Pros of using this ear cleaner
Obviously, the best part is that this solution is great for different animals, and you can easily use this product for all your pets. It is made in the US and is strictly FDA controlled and approved. Veterinarians often recommend the Vetericyn, and this is a handy package on offer on Amazon. If you have more pets, you can easily pick up a 3-pack and not worry about running out of dog ear cleaners. Here are the pros easily listed;
Doesn't sting when applied
Eases inflammation
For regular use
No alcohol, steroids, and antibiotics
No sting or burn formula
Made in the US
Cons of using this product
Vetericyn comes with one flaw, the gel has trouble getting through the small hole on top. Some users said they had to transfer the solution to a different package to get it out easier. Here is it listed if you don't want to read the longer version;
Sometimes not leaking properly
Also called Vetoniquol, this ear cleaner has some really positive reviews. Users said it is more effective and works miracles after only one day of use. It can be used on both cats and dogs and is suitable for everyday use. Not only does it smell good, but it also helps create an environment that doesn't allow yeast and bacteria to grow and multiply.
Pros of using Vetoniquol
There are plenty of good things when it comes to this ear cleaner for dogs, and the best one is obviously that it works really fast and helps dogs with ear problems. Other solutions might have an unpleasant smell, but the Vetoniquol smells pretty good. Here are all the pros of using this product;
16 oz package
Affordable
Easy use
Smells nice
Antibacterial and anti-yeast
For dogs and cats
Cons of using this ear cleaner
Unlike other products, the Vetoniquol has a more aggressive formula that attacks the problem with chemicals that should be safe for your dog, unless they have an allergic reaction. This product contains alcohol. Here are some negative sides we could notice;
Contains alcohol
Can cause allergies and reactions
Aggressive effect for quicker results

The Nutri-Vet is a well-known manufacturer of pet products and a trusted one. They are known for their quality, and they make great dog ear cleaners. One of the best things is that this product is specialized for dogs, so if you are looking to buy something that is not for all pets, the Nutri-Vet ear cleaner might be the product for you.
Pros of using Nutri-Vet Ear Cleanse for Dogs
One of the things we really like about this product is that it is specially made for dogs. We tend to trust things that are made specially for something, and this seems to be it. This dog ear cleaner helps clean and deodorize the dog's ears, and it has a soothing effect since it's based on Aloe Vera. Here are all the benefits;
Based on Aloe Vera
Smells nice
Helps with itching
Made by vets
US product
Cons of this ear cleaner for dogs
All products come with some negative side, and some product can work for 99% of dogs, but it doesn't work for your dog. All dogs are unique and can have different reactions to the same products. Here are the cons we could spot;
Contains alcohol
Easily damaged when shipped
Cleaning your dog's ears is important and make sure it is a part of your daily routine. To help you a bit more, we will include the list of all five ear cleaners we recommend; plus, it might be interesting to look at different antibacterial wet wipes you can use as ear cleaners for dogs. Here are the five products;
ZYMOX Ear Solution
Virbac Epi-Otic Advanced ear cleaner
Vetericyn Plus Ear cleaner
Vet Solutions Ear Cleansing Solution
Nutri-Vet Ear Cleanse for Dogs
World Dog Finder team