5 Best Dog Food for Poodles & What To Consider
30.11.2021.
Every product and service on World Dog Finder is independently selected by our editors, contributors, and experts. If you purchase something through our links, we may earn a referral fee. Learn more
---
Poodles are one of our favorite dog breeds. These dogs are not only handsome and have a cool hairdo, but they are also incredibly smart. Many dog owners don't know that Poodles are among the top three most intelligent dog breeds. They are right behind the Border Collie and the German Shepherd.
Poodles were originally bred as active, versatile gun dogs that can perform different tasks hunters ask of them. These days, they are mostly family pets and show dogs that remain one of the most elegant dog breeds in the world. If you're a Poodle owner, you want to take care of your dog properly, and that starts with nutrition. You have to choose the best dog food for Poodles, and here are a few recommendations;
The best dog food for Poodles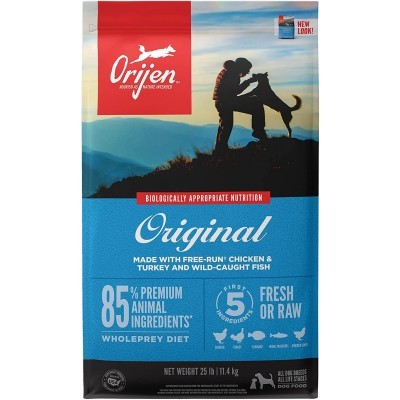 As our top pick for the best dog food for Poodles, we recommend the fantastic ORIJEN Dry Dog Food Chicken, Turkey, Fish recipe. This unique recipe uses organic ingredients and superior protein sources. It uses chicken, turkey, flounder, mackerel, herring, and various organs as main protein sources, which is not something you will find in many dog foods. One of our favorite things about this food is that it is appropriate for all life stages, which means you can feed it to your puppy and your adult Poodle. It is absolutely packed with healthy nutrients, and that will be reflected in your Poodle's health. The only downside is the higher price.
Since most Poodles are Toy or Miniature versions, we decided to include Wellness CORE Grain-Free Dry Dog Food as the best pick for smaller versions of the breed. Your Toy or Miniature Poodle will absolutely thrive on the Wellness diet. Your dog will be more than happy at each mealtime. This recipe contains turkey and chicken as its primary animal protein source. You can be pretty sure your dog will love the taste and reap all the benefits this food has to offer. Plus, it is made right here in the US.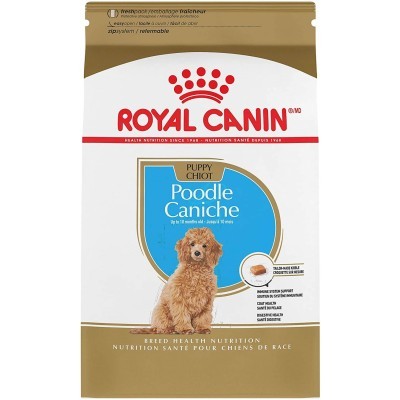 We are not the biggest Royal Canin fans, but we have to give them credit where credit is due. Their Breed Health Nutrition line is absolutely fantastic. They created tailor-made recipes based on the unique needs of different dog breeds, and Poodles are one of them. Their puppy version of this food includes additional vitamin E, DHA, EPA, high-quality proteins, antioxidants, and prebiotics that will boost your puppy's overall health and development. This is not something other dog food brands do, and Royal Canin really made an effort with this line. It is an excellent choice for all Poodle owners.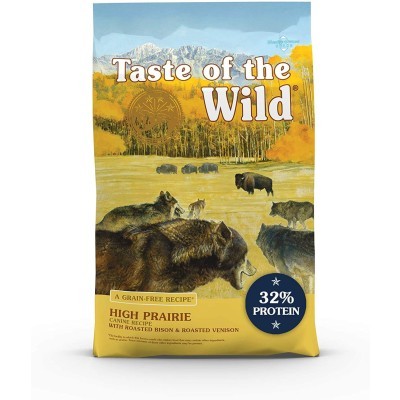 If you're looking for dog food that contains unusual protein sources that will connect your dog to their ancestor's diet, look no further than the Taste of the Wild Dry Dog Food. You can choose anything from their High Prairie or Ancient Praire lines, and you won't make a wrong decision. This is a fantastic choice for Poodles of all sizes, and you can be sure your dog will love the taste of things like venison or bison. There are grain-inclusive and grain-free options, and you should talk to your vet to see which is a better option for your dog.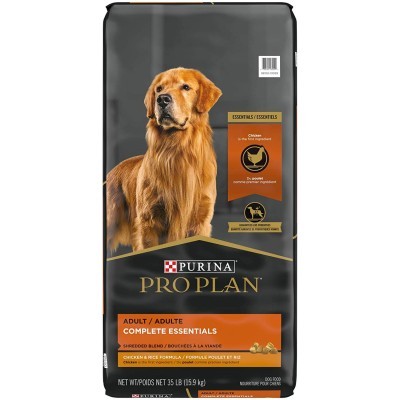 The Purina Pro Plan with Probiotics is another excellent choice for all Poodles. This dog food has a unique recipe that will allow your dog to enjoy the taste of shredded chicken. If we're sure about one thing. It's that dogs love chicken, and expert nutritionists at Purina are aware of that. This food gets its protein from chicken and the high fiber content from rice. It is ideal for your Poodle's digestion since fiber can help digestion work properly. Plus, it comes at a price that won't break the bank, so you should fit this food into your budget without much problem.
How to pick the best food for Poodles?
The first thing all new Poodle owners should do is talk to their breeders and vets. Ask for their advice regarding your new puppy's diet, food brands, nutritional needs, and anything else you might want to know about Poodles. These people are your allies, so make sure you keep them in your corner. Here is what they might tell you to look for in the best food for Poodles;
1. Protein source
Proteins are the most essential part of any dog's diet. Ensure you get dog foods with clearly defined protein sources on their ingredient list. Avoid meat by-products and vaguely described ingredients. Always look for high-quality animal protein sources like chicken, turkey, bison, fish, beef, lamb, salmon, or venison.
2. Carbohydrates
Carbs are a fantastic energy source. Dogs that are as active as Poodles need diets that will support their lifestyle and physical activity. If you live an active life and your dog is next to you on your adventures or jogs, look for foods with more carbs. However, if you have a calmer Poodle that plays in and around your home, look for foods with fewer calories and carbs.
3. Fatty acids
Essential fatty acids like omega-3 or omega-6 are vital for different body functions and health. Poodles can be prone to skin issues, which means their food needs to contain fatty acids that benefit the dog's skin and coat. Always look for foods that contain essential fatty acids.
4. Antioxidants, vitamins, supplements
These nutrients are essential throughout your dog's life, but even more so when the dog reaches its old age. You need to look for antioxidants that will prevent the dog from developing cancers, vitamins to keep their immune system healthy, and supplements like glucosamine to keep the dog's joints running smoothly and prevent arthritic pains.
World Dog Finder team