How to Choose the Best Dog Food for Hypothyroidism?
28.01.2022.
Every product and service on World Dog Finder is independently selected by our editors, contributors, and experts. If you purchase something through our links, we may earn a referral fee. Learn more
---
One of the most common health issues in dogs is hypothyroidism. This condition can be very scary to dog owners that don't know what they're dealing with. Luckily, this health condition can be kept under control if you follow your vet's advice and keep your dog on a healthy, balanced diet. That's why picking the best dog food for hypothyroidism is so crucial.
Dogs with this health condition will have certain dietary restrictions. To keep the dog as healthy as possible, you will need to provide them with high-quality dog food. Naturally, the first thing you want to do is talk to your vet. Ask for their advice and guidance. In the meantime, World Dog Finder prepared a helpful and knowledgeable list of the best dog foods for dogs with hypothyroidism.
The best foods for hypothyroidism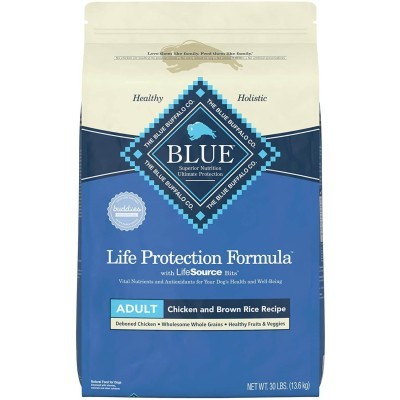 If you have a dog with health issues, the best thing you can do, after providing the necessary medical care, is to provide high-quality nutrition that will help the dog fight whatever problem it is facing. Our top pick in the category of the best dog foods for hypothyroidism is the Blue Buffalo Life Protection Formula. The chicken and brown rice recipe is absolutely fantastic, and it will provide your dog with the necessary energy to fight this issue. This is a great pick and a top recommendation.
Dog owners that have dogs with hypothyroidism say this is an excellent choice. The chicken and veggie recipe provides dogs with high-quality protein, vitamins, minerals, and antioxidants they need to be as healthy as possible. Chicken is a common protein source manufacturers use in their dog foods. Plus, the Rachael Ray Nutrish Dry Dog Food, Chicken & Veggies dog food contains natural probiotics that help with the dog's digestion. It is a great choice that comes at a reasonable price.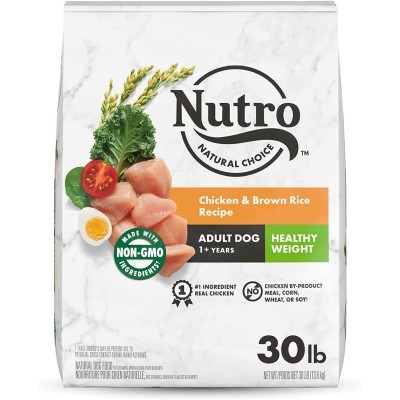 Another fantastic choice for dogs with hypothyroidism is NUTRO NATURAL CHOICE Adult Healthy Weight Dry Dog Food. This manufacturer made an amazing recipe that will provide your dog with all the necessary, high-quality nutrients. You can even choose between two recipes that include different primary protein sources. We decided to include chicken, but the lamb option is equally good. This food delivers a healthy omega fatty acid, antioxidant, and supplement punch your dog will benefit from.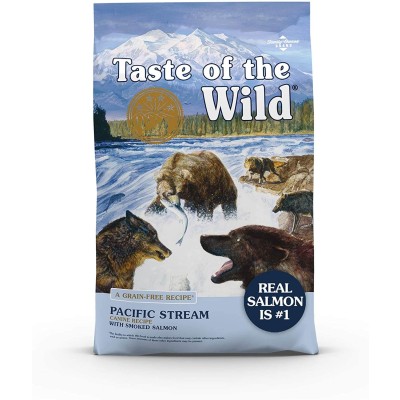 If you want something other than chicken as the main ingredient, you should seriously consider Taste of the Wild Smoked Salmon. Like the name says, the primary ingredient and protein source is salmon, which is extremely healthy for all dogs, especially for those with hypothyroidism. Salmon is extremely rich in healthy fats and omega fatty acids, which is something sick dogs might need. Plus, it will do wonders for the dog's skin and coat.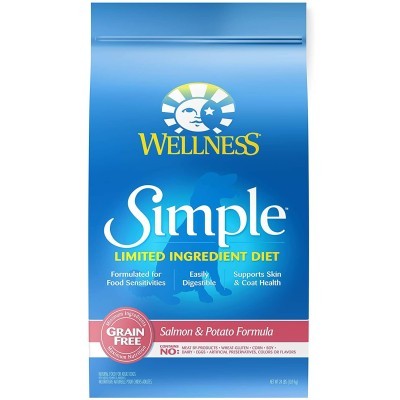 After talking with several vets on and outside of our team, we concluded that the Wellness Simple Natural Limited Ingredient Dry Dog Food was scored the highest. This dog food is based on salmon and potato, which makes it a great recipe. As we already mentioned, salmon is an excellent protein source, and potatoes will give your dog plenty of carbs and energy for their everyday activities. This food is slightly more expensive, but you will get fantastic ingredients with it.
How to choose the best dog food for hypothyroidism?
As you probably already know, not all dog foods are created equal. Some are simply better than others, and there are a few things you should consider when picking the best dog food for dogs with hypothyroidism. Here's what you should look for;
Beef
The most important thing to look for in dog foods for dogs with hypothyroidism is beef. Why? Because you need to avoid it. Beef products and by-products may cause thyroid issues in dogs.
Ingredient list
The most important thing to look at in any dog food is the whole ingredient list. Look for clearly defined ingredients and avoid artificial things like preservatives, food colorings, and taste inhibitors.
Origin
The origin of the dog food can be significant. Some countries have better food processing laws and controls. That means manufacturers can't put questionable ingredients in their food. Look for foods from the USA, the UK, Western Europe, Australia, New Zealand, and Scandinavia.
World Dog Finder team