5 Best Dog Food For Great Danes - Expert Pick
09.08.2022.
Every product and service on World Dog Finder is independently selected by our editors, contributors, and experts. If you purchase something through our links, we may earn a referral fee. Learn more
---
If you own a Great Dane, you can be pretty happy since these are one of the most lovable dog breeds in the world. Although they are giant, they are one of the most beautiful family dogs you can have. This giant dog breed requires proper nutrition to fulfill all its nutritional needs. Because of that, we gathered the best dog food for Great Danes - puppies, adult dogs, and seniors.
Best dog food for Great Danes
In today's world, where there is a majority of choices, it can be pretty hard to choose the best dog food for your Great Dane. All brands will promote their own food and claim that their food is the best. However, there is some dog food that will be most suitable for the majority of Great Danes. Of course, every dog is different, and this doesn't mean that this dog food will be good enough for your Great Dane.
Great Danes are prone to many health problems, and by ensuring proper and good nutrition for your dog, you can eliminate some health problems. It is your responsibility as a dog owner to find the best food you're your dog for him to lead a happy and healthy life.
Below we bring you the best dog food for Great Danes according to our experts. Here are our recommendations: whether you have a puppy, adult dog, or senior.
Best dog food for Great Dane puppy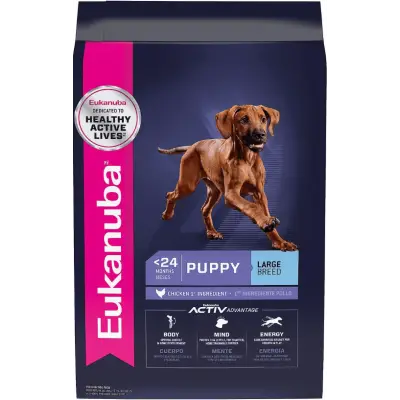 Your giant breed puppy is anything but ordinary, as seen by his boundless enthusiasm, tenacity, and wit. With this dry dog food, you can unleash all of his incredible potentials. This comprehensive and balanced puppy food will all nourish your growing pup's body, intellect, and energy. Optimal amounts of calcium and phosphorus are necessary for muscle growth and bone health to be maintained by high-quality animal proteins. The puppy dog food is designed to provide concentrated energy for your puppy's development and activity. Gentle digestion can be aided with natural fiber and prebiotic combinations. Your puppy's developing immune system is supported by vitamin E, which has been shown to have a protective effect.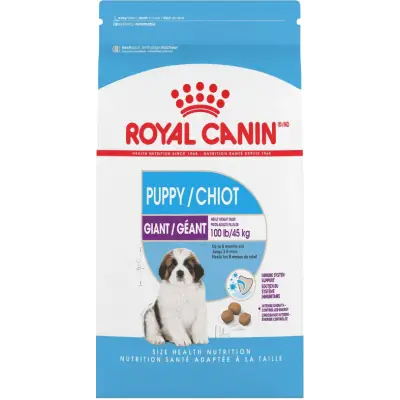 Specifically developed for the healthy growth and development of your adorable giant puppy, this dog food is a complete and balanced nutritional source. Bone and joint health are supported by its precise calcium and phosphorus levels as well as essential antioxidants and minerals that improve immunity and maintain large dog bodies developing strong. Prebiotics and highly digestible proteins also aid in the breakdown of food, ensuring a healthy digestive system and regular bowel movements. In addition, this particular dog kibble is made to fit the jaws of your huge developing dog, ensuring that he gets the nutrition he needs.
Best dog food for adult Great Dane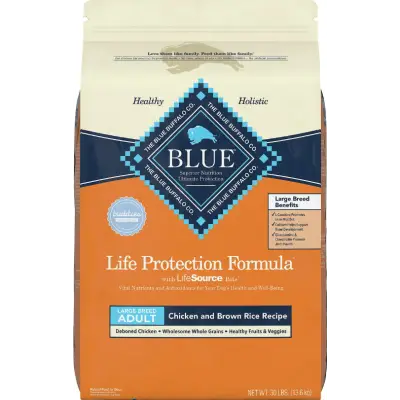 Dogs' health and well-being were top priorities when developing this meal. Added LifeSource Bits, a precise nutrient combination improved with a Super 7 package of antioxidant-rich substances, are the foundation of all recipes. Glucosamine and chondroitin are included in this recipe because they support the particular demands of large dogs.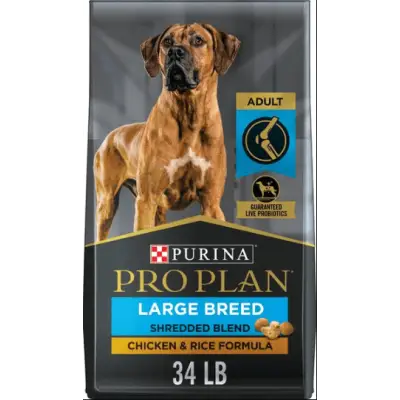 The first ingredient is real chicken, which provides the meaty flavor he craves and exceptional nourishment. Protein and fat levels in each serving are just right to help keep your dog's muscles and overall health in tip-top shape. Probiotics and prebiotic fiber, sourced from wheat bran, are added to this high-protein dog food composition to promote his digestive and immunological health. It's easy to relax knowing he'll get the nutrition he needs at mealtime with our super-premium dry adult dog food product. The combination of hard kibble and tender shredded bits in this dry dog food for large breeds provides a satisfying texture that dogs enjoy.
Best dog food for senior Great Dane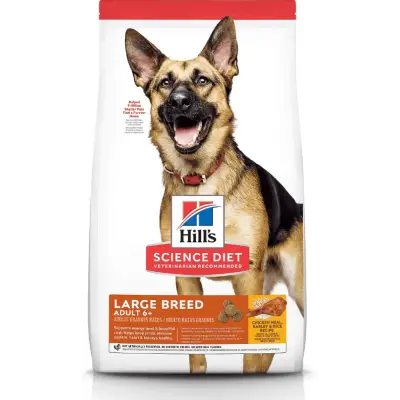 This meal is tailored to meet the specific nutritional needs of your dog so that he can lead a healthy life. Healthy ingredients like chicken meal, rice, and barley are used in this recipe to suit your pet's nutritional demands and support joints and cartilage. Every ingredient in this product is made in the United States and is held to the highest purity and nutrient content standards.
Conclusion
We hope this recommendation will help you choose the best dog food for your Great Dane. Selecting the right food can significantly benefit your dog when it comes to preventing many different health problems.
World Dog Finder team