The 5 Best Dog Food for Dachshund According to Experts
22.12.2021.
Every product and service on World Dog Finder is independently selected by our editors, contributors, and experts. If you purchase something through our links, we may earn a referral fee. Learn more
---
There is something really special about the charming Dachshund. The sausage dog slowly waddled into the hearts of owners across the globe. They can be sharp and dominant, but they are usually very friendly and affectionate with their family. Dachshund owners know how important it is to give their dogs the best possible dog food for Dachshunds. However, it is fairly easy to get confused when faced with so many options.
World Dog Finder is aware of that problem, which is why we dug into research mode and decided to learn which is the best dog food for Dachshunds. We spoke to numerous Doxie owners, vets, canine nutritionists, and experts on our team to decide which dog foods will make the cut. Here's what we learned.
The best dog food for Dachshunds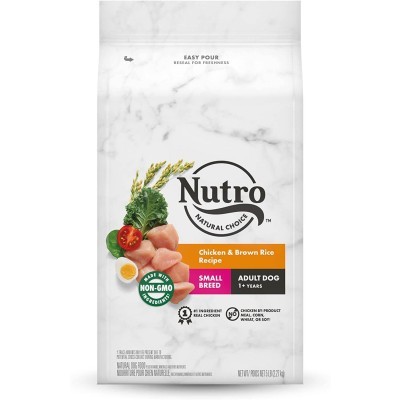 After interviewing different people regarding the best dog food for Dachshunds, we concluded the best choice is the Nutro Natural Choice Natural Adult & Senior Dry Dog Food. This is ideal for adult and senior Doxies. This food provides them with everything they need. This food gets its protein from chicken, and it doesn't include anything you don't want to see on the ingredient list. It even contains optimal levels of crude fats so that your Dachshund can live an active life meant for them. These dogs might not be hunters like they used to be, but they still have a decent amount of energy that needs to be spent.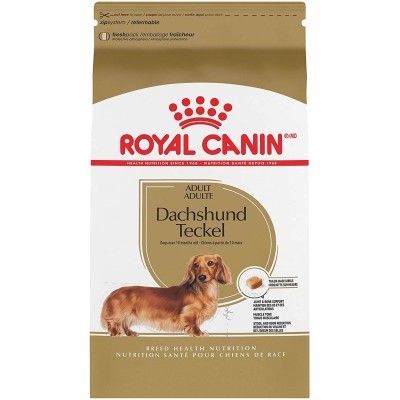 If you can choose something developed explicitly for the breed you have at home, you should go for it. Many Doxie owners recommend Royal Canin Dachshund breed-specific dog food. We might not be the biggest Royal Canin fans, but their Breed Health Nutrition line of products is outstanding. This recipe is tailor-made for Dachshunds, and it includes the optimal protein, fat, carbs, and calorie levels adult Doxies need. There are even special recipes from this line for puppies and senior dogs. It is an excellent recommendation, and Royal Canin guarantees you will be happy with the results.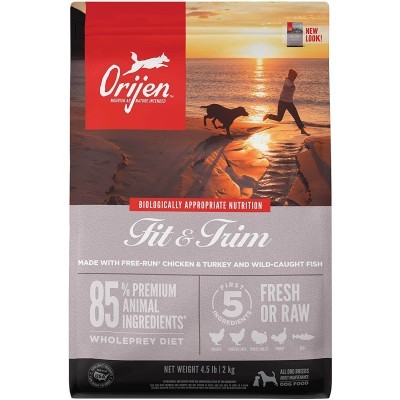 Many veterinarians we spoke to agree that Orijen makes fantastic dog food. They are most happy with the different protein sources this dog food uses. ORIJEN Fit and Trim Dog Food uses chicken, turkey, flounder, herring, and sardines to get the optimal protein amount for your Doxie. It is one of the best choices you can make for your dog. It is incredibly healthy and contains high-quality ingredients. However, there is a downside to this food - it comes with a hefty price tag.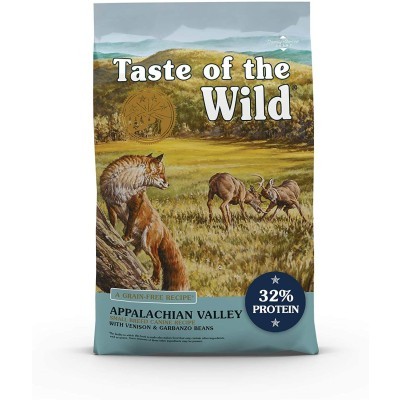 If you want a dog food that doesn't include traditional protein sources like chicken or turkey, you might want to consider Taste of the Wild Dry Dog Food With Roasted Venison. This dog uses venison and lamb as its primary protein source. The goal of this food is to mimic what wolves eat in the wild. We aren't sure if they managed to do that, but we do know Doxie owners are pretty happy with this food. It includes high-quality ingredients that are more than enough for Dachshunds. Plus, this recipe is specifically made for small breeds.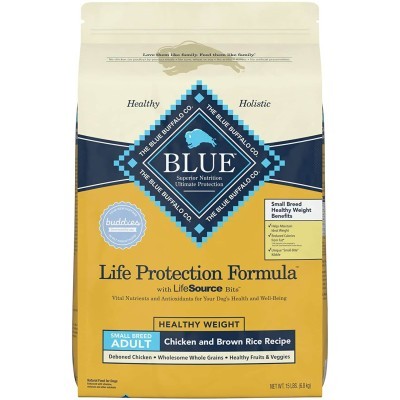 The Blue Buffalo Life Protection Formula dog food is not cheap, but it offers fantastic value. We love Blue Buffalo dog foods, and their Life Protection product line is impressive. This recipe for small breeds includes chicken, chicken meal, brown rice, barley, and pea starch as its five main ingredients. The recipe seems to be refined to perfection, and Dachshunds seem to react to it pretty well. However, some dogs may be allergic to chicken, which means this might not be a viable option for them. This food will make sure your Doxie keeps a healthy weight and remains in perfect shape and healthy.
How to pick the best dog food for Dachshunds?
As we already said, the best first step for picking the best dog food for your Dachshund would be to talk to your vet. They can tell you which dog foods are good in their opinion and what they noticed with their patients. Talk to a canine nutritionist and the dog's breeder, and listen to their advice as well. Here are some other things you might want to consider as well;
Dog's age
Dachshund puppies and seniors will not have the same dietary and nutritional needs. There are dog foods made specifically for puppies, adults, and seniors, and you should always pick age-appropriate dog foods.
Food's origin
This might seem less important, but some countries allow manufacturers to do whatever they like. Always choose dog foods that come from countries with strict food processing laws and regulations. Look for foods from the USA, Canada, New Zealand, Western Europe, Australia, and Scandinavia.
Ingredient list
No matter which dog food you get, the first thing you should do before you order it is to check the ingredient list. Make sure all the ingredients are clearly listed and described. Avoid artificial colors, preservatives, taste inhibitors, and meat by-products.
World Dog Finder team