7 Best Dog Foods For Chihuahua - Expert Pick 2023
28.03.2022.
Every product and service on World Dog Finder is independently selected by our editors, contributors, and experts. If you purchase something through our links, we may earn a referral fee. Learn more
---
Chihuahuas are the world's smallest breed of dog, but their personalities are much, much larger.
Chihuahuas have a diverse fanbase and somewhat of a bad reputation. Regardless, Chihuahua owners are always on the lookout for the best food. It can be challenging to find high-quality products if you are a Chi owner. Fortunately, we've done the legwork, so you don't have to.
Here is our list of the 7 best dog foods for Chihuahuas.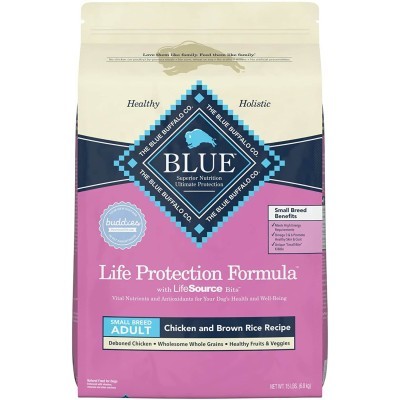 The Blue Buffalo Life Protection Formula is made with deboned chicken, whole grains, fruit, and vegetables. The food has a great taste and provides your dog with the essential amino acids they need to stay healthy, as it contains no poultry by-products, corn, wheat, or soy. Complex carbohydrates and high-quality protein ensure that your Chihuahua's energy requirements are met while also providing all the nutrients they require.
This dry food contains no artificial colors, flavors, or preservatives, which contributes to its superior taste. The food's nutrient-rich components are also processed at a lower temperature than the rest of the kibble to ensure that their potency is preserved.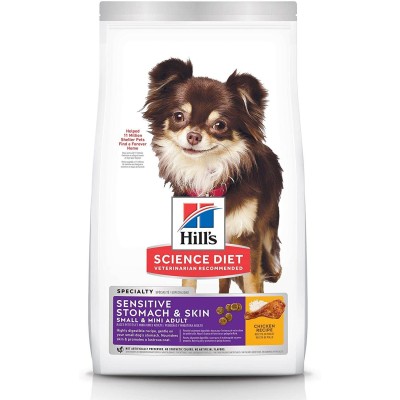 Hill's Science Diet has been designed specifically for toy and small breed dogs, taking into account their unique nutritional requirements. The dry food contains vitamins, minerals, and amino acids from high-quality and easily digestible ingredients. It also contains DHA from high-quality fish oil for healthy brain and eye development.
While there are no artificial colors, flavors, or preservatives in the kibble, it is made from a combination of chicken meal, fruits, vegetables, grains, and wheat. This means it may not be suitable for dogs with wheat or gluten intolerances or for those whose owners are concerned about feeding these ingredients to their dogs. Otherwise, your Chihuahua will appreciate the crunch and flavor combination.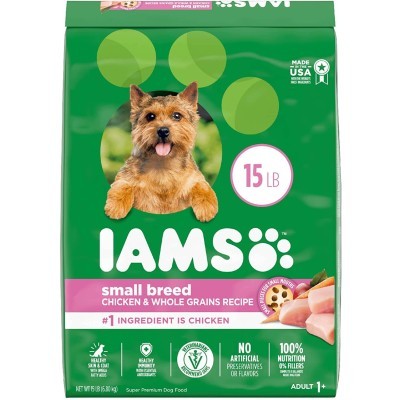 All dog breeds have different needs. Finding the best food for a Chihuahua is much easier now that kibble dog food brands have begun to recognize this by releasing breed-specific products. The first ingredient in Iams Adult Small Breed Dry Dog Food for Chihuahua is chicken, which is considered a high-quality meat product that helps your pup gain muscle mass.
This Chihuahua food diet contains no unnecessary fillers, soy, or wheat, so your dog will get the most out of their meal, feel fuller for longer, and stay healthy as a result. Chihuahuas are small dogs, but they have the same need for good food and proper nutrition as any other dog.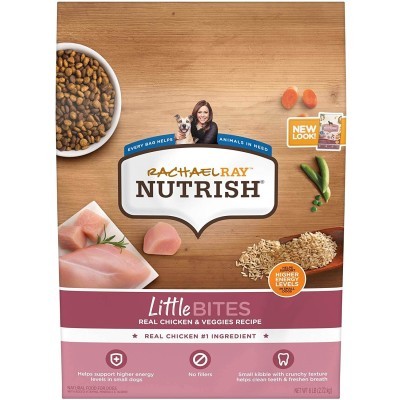 Rachael Ray Nutrish Little Bites Dry Dog Food is made with farm-raised chicken, which provides a lean protein source ideal for small breeds like Chihuahuas. This brand contains antioxidants, which can help your dog's brain function. The kibble is crunchy and bite-sized, making it easy for your Chihuahua to eat.
Rachael Ray Nutrish is also less expensive than other small breed dog food brands while maintaining high quality. Rachel Ray Nutrish contains corn and soy, so it may not be suitable for dogs allergic to these ingredients. As long as your dog can tolerate grains, this is one of the best Chihuahua dog foods available.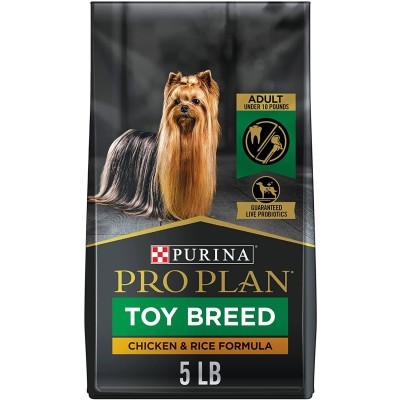 Purina Pro Plan Small & Toy Breed Formula is an excellent option for your dog. This food is made with only the best, all-natural ingredients. It's designed for small breeds and their dietary requirements, ensuring that your dog gets a complete and balanced diet.
Purina Pro Plan is made entirely of natural ingredients, with no fillers or preservatives. It's high in protein and Omega-6 fatty acids, which promote the immune system and coat health, making your dog's fur soft and shiny. Its only drawback is that it can be too rich for dogs with sensitive stomachs.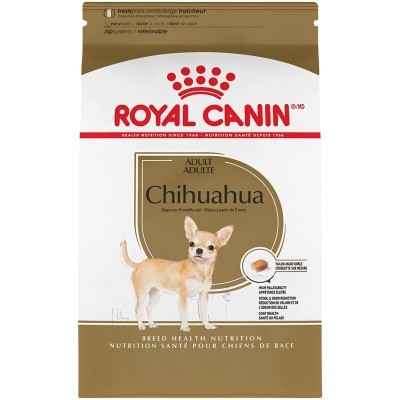 The Royal Canin Chihuahua food contains all of the nutrients your small companion requires to stay healthy! It is designed to meet the needs of Chihuahuas and their often picky taste, so you won't have to worry about whether your pup eats as much as they should, which is a common problem with Chihuahuas.
This dog food's kibble size is small enough to promote a healthy mouth, gums, and teeth. It also contains vitamins and minerals to promote healthy skin and a shiny puppy coat. Royal Canin even created a puppy version of the food, allowing you to feed the same brand to your Chihuahua puppy for years.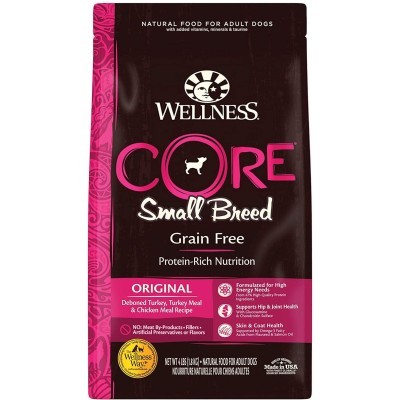 Wellness CORE is specifically designed to meet the higher energy requirements of small breeds like the Chihuahua. It is naturally high in protein and supports the increasingly popular raw feeding philosophy because it is made with premium chicken and turkey. This means it's free of grains, animal by-products, artificial colors, flavors, and preservatives.
The nutrient-dense kibble is designed for small teeth. It contains the ideal balance of essential vitamins, minerals, and fatty acids for your dog's coat and skin. Natural fiber, prebiotics, and probiotics all work together to improve and maintain digestive health. At the same time, high-quality protein and complex carbohydrates provide optimal energy levels.
Ingredients to look for in the best dog food for Chihuahuas
Chihuahuas have very specific dietary needs and can be extremely picky about what they eat. Given this, you must find high-quality food that meets their requirements and that they enjoy. A high-quality food will not contain any artificial preservatives, colors, or flavors, will not contain nutrient-poor but calorie-rich fillers, and will contain meat as one of the key ingredients. Here are a few more things to keep an eye out for:
1. Fruits, vegetables, whole grains
Chihuahuas are high-energy dogs who require a lot of protein and complex carbohydrates to keep their muscles healthy and their energy levels stable. When foods are high in processed carbohydrates, they, like humans, experience sharp ups and downs in energy. This has a negative impact on their physical and mental health. Whole grains, fruits, and veggies are excellent carbohydrate sources. Vegetables should account for approximately 40% of the ingredients in your Chihuahua's food.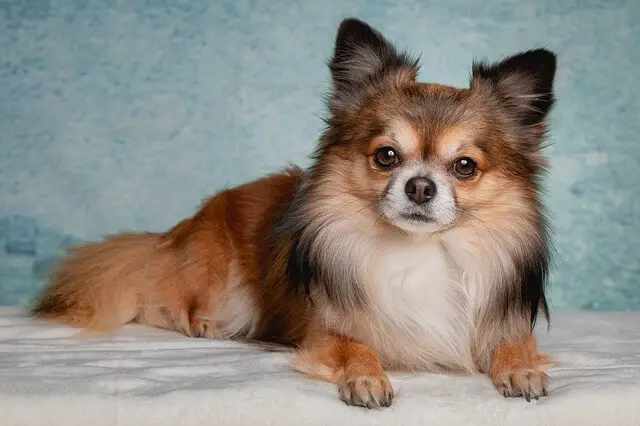 2. Fiber
Fiber aids in the passage of food through the digestive system. If you give your dog too little, they will most likely become constipated. However, the wrong type can cause them to become bloated. This is where whole grains and vegetables come into play once more.
3. Meat
It is worth emphasizing the importance of including a high meat content and high-quality meat in your dog's food. Meat should be the first ingredient on your dog's food's ingredient list. Avoid foods in which the majority of the meat is derived from by-products. You should ideally choose a food that contains no animal by-products, as these have little to no nutritional value.
Chihuahua dog food tips
The labels on dog foods can be pretty confusing because they include loads of different terminologies and confusing ingredient lists. Here are the most important things to look out for while choosing the best possible dog food for your Chihuahua.
1. PCS ratios
A good quality Chihuahua food has a protein/carb/starch (PCS) ratio of around 40/40/20. Protein should come from high-quality meat and fish, and carbohydrates should be complex carbohydrates derived from whole grains, fruits, and vegetables. Regular potatoes do not count as complex carbohydrates. If they are included, they should be considered starch, similar to pasta.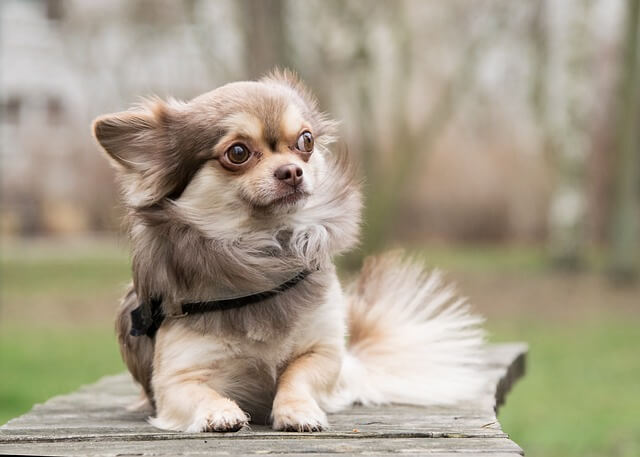 2. Amino acids
Because amino acids are the building blocks of protein, they are critical to your dog's health. To ensure that your dog gets the amino acids it requires, look for foods that list the specific meat sources.
3. Minerals and vitamins
Like any other breed, Chihuahuas require balanced dog food containing all the necessary vitamins and minerals their immune systems, coats, skins, and growth need. Quality foods should include plenty of vitamins A, E, C, and B-12. It should contain DHA omega acid, folic acid, and essential minerals such as sodium selenite and calcium iodate.
4. Size of the kibble
Because Chihuahuas only have small teeth and jaws, it is critical that the food you buy meets their needs. Kibble should be small and easy to bite for them. Dry food is preferable to wet food for Chihuahuas in general because it promotes healthy teeth and gums.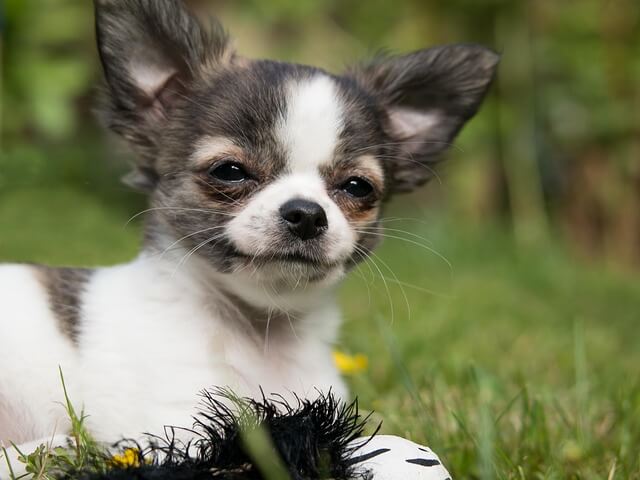 5. Grain and wheat
A growing number of dog foods are wheat-free or grain-free. There is no consensus on whether or not dogs should avoid grains unless they have a specific stomach or allergy problem. However, some owners prefer a completely grain-free diet. If you're going to buy food containing grains, choose one that uses whole grains because they're more nutritious and have more fiber.
In conclusion
Yes, Chihuahuas are tiny and adorable, but that is no excuse to ignore the fact that they are dogs, and dogs require proper nutrition. Examine the options available to you on the internet or wherever you intend to buy your dog's food, become acquainted with the benefits and what to look for, and make an informed decision about what to feed your best furry friend.
There are also solutions for picky eaters. If your little one isn't eating properly, it may be time to try a different Chihuahua breed dog food until you find the right one.
World Dog Finder team