Top 3 Best Carpet Cleaners for Dog Owners
24.05.2021.
Every product and service on World Dog Finder is independently selected by our editors, contributors, and experts. If you purchase something through our links, we may earn a referral fee. Learn more
---
Being a dog owner is often very messy, and if you want to keep your house, especially carpets, clean, you could use all the help you can get. One thing dog owners love is great carpet cleaners that will help them keep their carpets "alive" and stainless. However, this is not something you should buy randomly. Pet carpet cleaners can be costly, and you don't want to end up with an expensive product that doesn't do the job correctly.
What to look for in a pet carpet cleaner?
Not all carpet cleaners for pets are the same. Some are simply not strong enough to handle subtle odors dog urine can leave behind. Plus, dogs love "doing their business" in the same spot over and over, so it is vital you properly clean the spot and eliminate urine odor completely.
A good thing about carpet cleaners is that there are services that can rent you a carpet cleaner. However, picking the machine, dropping it off, buying carpet cleaning solutions, and the time required to do all that makes owning a pet carpet cleaner sound like a good idea. Plus, carpet cleaners for rent are probably quite used. If you are considering buying the best pet carpet cleaner, here are some things you should consider;
Weight
Consider the carpet cleaner's weight. These machines can be very heavy, and it makes no sense to get one that will be nearly impossible to use. Pet carpet cleaners need water, and once you add water to them, the machine will weigh even more.
Warranty and guidelines
Before you buy a pet carpet cleaner, make sure you read the manufacturer's warranty. Check how tricky the machine is to use, and make sure your warranty covers potential accidents. It is probably a good idea to check your carpet's warranty as well. You have to make sure you won't use products that will make the carpet's warranty invalid.
Features
All the best carpet cleaners for pets come with an abundance of helpful features that will make a dog owner's life easier. Look for things like rotating brushes, edge cleaning, attachments, and heater. Most of these machines come with different attachments that will help you clean small and tight spaces and a tiny bottle of carpet cleaning solution to get you started.
IMPORTANT NOTICE - You should clean your carpets at least once a year if you don't have a dog. If you have a dog that spends plenty of time on the carpet, it is a good idea to wash the carpet every 4 - 5 months with the pet carpet cleaner.
Now you know what to look for in the best carpet cleaners for pets. Check out these fantastic recommendations;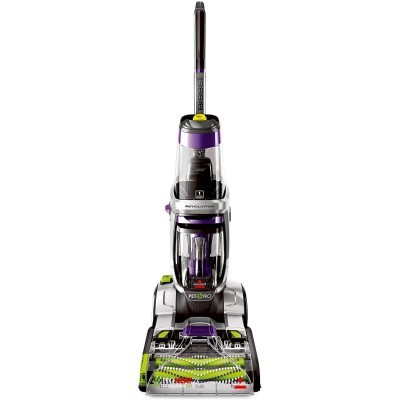 The best carpet cleaner for pets is the Bissell ProHeat 2X Revolution Pet Carpet Cleaner. This pet carpet cleaner comes with several cleaning options, and you can switch from deep cleaning to express mode for quick cleaning. The Bissell ProHeat comes with a pretreatment tool, a stair tool, a stain-trapping tool, and a two-in-one pet/upholstery tool. It has 12 rows of brushes and weighs only about 18 pounds.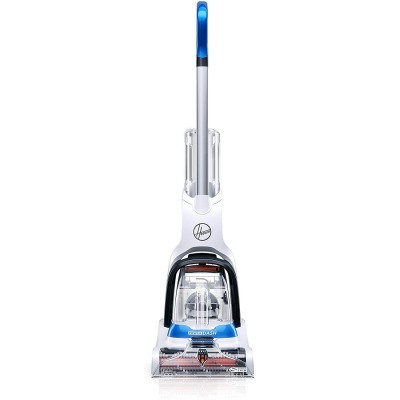 The main issue with most carpet cleaners is that they are fairly expensive. However, the Hoover PowerDash Pet Compact Carpet Cleaner comes with a much more reasonable price tag. This affordable pet carpet cleaner roll-washes the carpet, and the HeatForce technology makes sure the carpet will dry fast. This machine is lightweight, and there is not much that was sacrificed for a cheaper price tag. If you are looking for a budget-friendly carpet cleaner, there is nothing better than this Hoover model.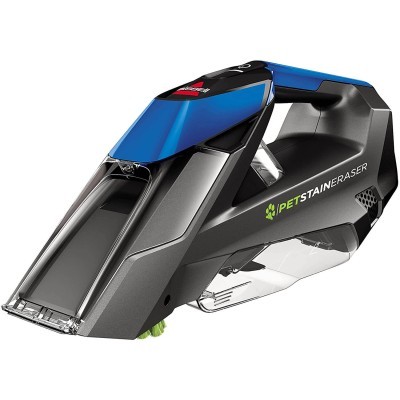 Some dog owners don't want to get out a huge carpet cleaning machine every time their dog has an accident. This is especially true if you have a puppy that is still potty training, and accidents are relatively frequent. Luckily, Bissell Pet Stain Eraser Portable Carpet Cleaner is light, portable, and very easy to use. This is an ideal solution for all those times when you need to clean something fairly quickly. You don't want to go through the whole process of taking out a huge carpet cleaner for minor accidents. This is an excellent choice for all puppy owners that want their carpets in the best shape possible.
World Dog Finder team