The 5 Best Bark Collars for Small Dogs
08.01.2022.
Every product and service on World Dog Finder is independently selected by our editors, contributors, and experts. If you purchase something through our links, we may earn a referral fee. Learn more
---
If you have a small dog at home, you are probably aware of just how noisy they can get. It can seem your dog is a battery-powered barking machine. This might be a complex problem to deal with, and many dog owners fail to deal with this issue with their dogs. One of the most effective ways to deal with excessive barking is with bark collars. However, not all owners are keen on using them.
What are bark collars?
If you're already looking for the best bark collars for small dogs, it is possible you already know what they are. However, not many owners know there are 4 different types of anti-bark or bark collars. The 4 types are;
Shock collars
Spray collars
Vibration collars
Ultrasonic beep collars
All of these collars have the same goal - to stop a dog from barking. The main difference is the way these collars work. An ultrasonic beep collar will produce ultrasonic sound dogs can hear. Spray collars will spray a bit of irritating liquid, vibration collars are pretty self-explanatory, and shock collars will create a static shock that will shock your dog every time it barks.
The best bark collars for small dogs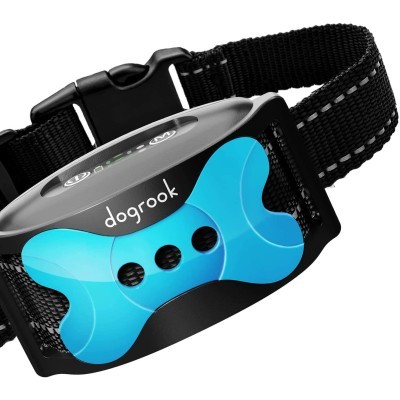 Our top pick for bark collars for small dogs is the DogRook Rechargeable Dog Bark Collar. If you don't like the idea of your dog getting shocked every time it barks, you can get this model that will produce vibrations and beeps that should take your dog's attention away from barking. It has a rechargeable battery that will last a long time. It can be used on dogs as small as 11 lb.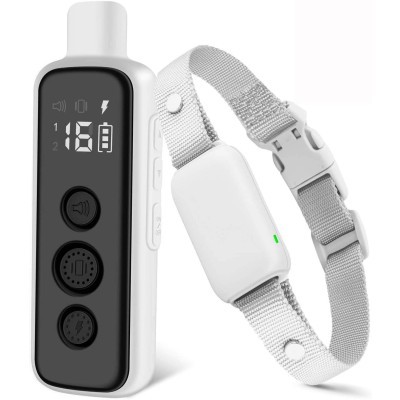 If you want something that is effective and stylish, you might want to consider Bousnic Shock Collar for Dogs. It has a beautiful design that will undoubtedly fit even the most fashionable dogs. This bark collar for small dogs has three functions - vibrations, beeps, and shock. If the first two don't work, you can adjust the shock from 1 - 16 levels. As soon as your dog learns that excessive barking is bad, you can switch to harmless options. Plus, it comes with a remote that will allow you to control the collar.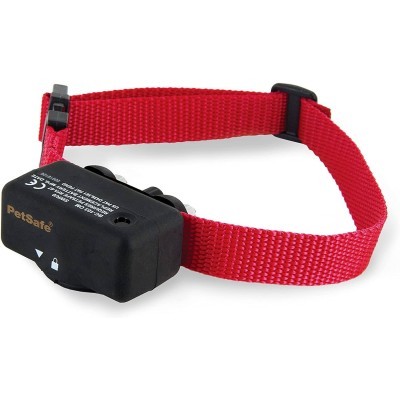 If you have already tried vibrations, beeps, and sprays and you noticed nothing works, you can go back to the basic model - the PetSafe Basic Bark Control Collar. This small dog bark collar can be used on dogs from 8 pounds. It will produce a static shock that will undoubtedly teach your dog not to bark. PetSafe has produced these collars for 25 years, and if you don't mind shocking your dog, you'll see they are pretty effective.
If you want to train your dog outside and on the inside, you might want to consider getting the Dog Training Collar by DOG CARE. This collar has three different correction options - vibrations, beeps, and shock. This model has a range of 1.000 feet, which means you can correct your dog's behavior even if they're far away from you. The shock levels can be adjusted, and you can set it from 1 - 99. It comes with a remote, and the collar is waterproof.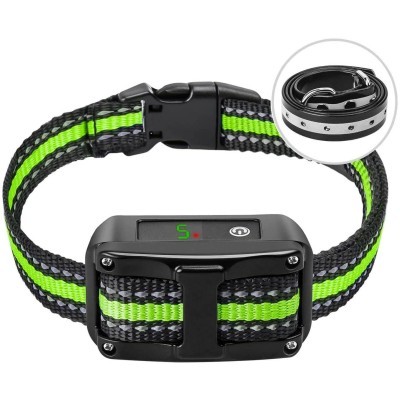 This is another dog bark collar that has three modes - beep, vibration, and shock. The AHJDL Dog Bark Collar has a cool design, and the manufacturer claims this collar has fewer accidental shocks. One of the most common problems with these products was that they were accidentally set off for no apparent reason. They say they finally managed to resolve this issue. It should be a good and quite stylish choice.
What to look for in the best bark collars for small dogs?
No matter which product you are going to use on your dog, you should never buy the first thing you come across. There is always something to discover, and some products are simply better than others. The same is true for shock collars for small dogs. Here is the most important thing you should focus on - the type of bark collar. We recommend getting the option of vibration, beep, and shock.
Is the shock safe for small dogs?
This is one of the first things most dog owners want to know. The truth is that the shock is safe. The amount the dog receives cannot hurt them and is medically OK. However, there is a question of whether or not it is moral. We will leave that to each dog owner to decide for themselves. One thing that we are sure of is that the bark collars are effective.
World Dog Finder team