3 Anti-Barking Device That Actually Work
10.05.2021.
Every product and service on World Dog Finder is independently selected by our editors, contributors, and experts. If you purchase something through our links, we may earn a referral fee. Learn more
---
No matter how good or responsible dog owners we might be, some dogs simply have barking in their nature. That is when anti-barking devices can make our life a little bit easier. Protective or nervous dogs can be prone to nuisance barking, which can cause problems with your family or neighbors.
We can use different things to stop our dogs from barking, and the first thing that comes to mind is anti-barking or shock collars. There is a lot of controversy surrounding those anti-barking devices. Some owners say it is inhumane to use them. Luckily, there are safer alternatives like ultrasonic bark devices that prevent the dog from barking by using sound.
Many dogs like to bark, and sometimes owners don't realize the real reason behind this behavior. To better understand why your dog could start barking, make sure to check this article - 7 Possible Reasons Why Dogs Bark
How do ultrasonic bark control devices work?
The ultrasonic bark control devices use ultrasonic sound to make your dog stop barking. These devices' sound is ultrasonic, which means humans cannot hear it. However, dogs can hear it, and it annoys them very much. The device will turn on as soon as it registers barking. When the dog stops barking, the machine will turn off, and the sound will stop.
Are these devices effective?
Before you decide to use the ultrasonic bark control device, you should talk to your vet or a dog trainer. The effectiveness of these devices is questionable, to say the least. Many owners said these devices have not worked for them. On the other hand, some owners are extremely satisfied with the effect ultrasonic bark control devices have on their dogs.
Teaching your dog to stop barking is not easy, but it can be done with time, patience, and proper training. The best way to discourage your dog from barking is by training and positive reinforcement. Anti-barking devices might have questionable success, but they might work for your dog.
RELATED: How To Stop A Dog From Barking?
Here are our top picks for anti-barking devices for homes or yards.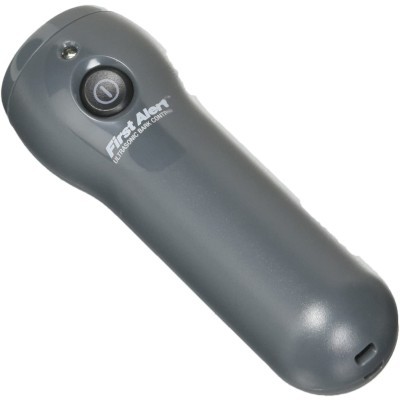 Our top pick for anti-barking devices is the FIRST ALERT Bark Genie. This is a fairly well-ordered product that has the highest Amazon rating. A good and promising thing about this ultrasonic anti-barking device is that most buyers were fairly satisfied with how it captured their barking dog's attention. The sound it emits is entirely safe for dogs and humans, and dogs cannot suffer any damage from it. This device is meant to be used in-hand, and you have complete control over it. Unlike many other anti-barking devices, you can be sure this one will not turn on for the wrong reasons (like TV, neighbor's dog, shower, or radio).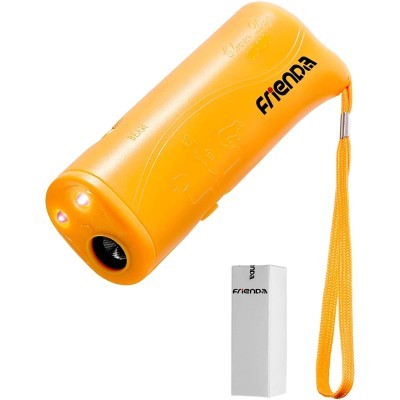 Our second pick that nearly missed the top pick spot is the Frienda LED Ultrasonic Dog Trainer Device. This is another hand-controlled device that will not turn on for no reason. This model also produces a high-pitched sound audible only to dogs. Humans cannot hear it. It will give you enough time to tell your dog the command you want them to learn and make sure they stop the unwanted behavior. It has fairly good reviews, and some owners reported they managed to completely stop nuisance barking in their dogs. Plus, this anti-barking device is really affordable.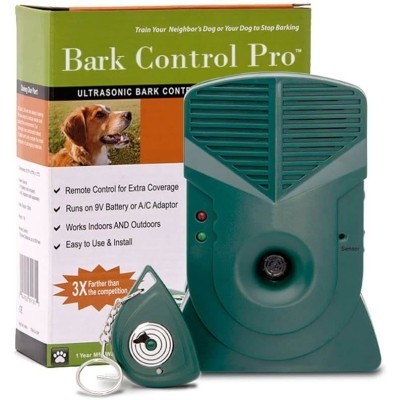 The Good Life, Inc Bark Control Pro is a device best for training your or your neighbor's dog. It has a range of 150 feet, and if your neighbor's dog is robbing you of your peace, you can turn this device on and teach them humanely to stop barking. It works the same way as other anti-barking devices - it produces high-pitched sound humans cannot hear, but it will bug the hell out of dogs. The only thing you need to do is point to the neighbor's dog and turn the device on. Keep in mind that it will probably get on your dog's nerves as well, so you might have to get creative with the placement of the device. It is probably a good idea to talk to your neighbor first.
World Dog Finder team