Acana Dog Food Review
15.06.2021.
Every product and service on World Dog Finder is independently selected by our editors, contributors, and experts. If you purchase something through our links, we may earn a referral fee. Learn more
---
There are many dog food brands you can pick, but there is a difference between making a choice and making the right choice. Acana is one of the most popular dog food brands many dog owners seem to praise and use for their dogs. However, just because something works for their dog doesn't mean it will work for yours. That is why we took a deeper look into this brand and made this helpful Acana dog food review that will help you decide whether Acana is good enough for your dog.
Company history
Acana has a parent company called Champion Petfoods, mainly known for bringing premium dog food brands like Orijen to the market. However, Orijen is pricey, and because Acana includes similar ingredients, it is considered a worthy replacement that comes with a more affordable price tag.
The company was founded in 1975 by Reinhard Muhlenfeld, a German Canadian, that wanted to create a company that produces animal food. In 1985. the company completely shifted to pet food production, focusing on dogs and cats. Reinhard Muhlenfeld's philosophy was that locally sourced food was better, so he approached farmers and businesses intending to get ingredients and sell his products. Needless to say, his company had great success and can now be found in 60 countries worldwide.
Acana dog food lawsuit
Unfortunately, the company's history is not without controversy. In 2018, Acana and Orijen were the targets of a class-action lawsuit that stated their dog food has dangerous levels of heavy metals in them. Some of the heavy metals found in the food were mercury, arsenic, lead, cadmium, and even BPA.
The good news is that the first lawsuit was thrown out by a judge in Wisconsin, and Champion Petfoods won the first legal battle. People that sued them even changed their narrative. They switched to mainly talking about false advertising in the middle of the trial. However, dry dog food analysis showed that the two brands, Orijen and Acana, had higher levels of heavy metals. Since then, the company has tried making things right and lower the amount of heavy metals found in their dog food.
IMPORTANT NOTICE: Finding heavy metals in dog food can sound terrifying, but heavy metals can be found in dog food and human food worldwide. If the lawsuit wasn't frivolous, the judges wouldn't rule in favor of Acana.
Recall history
Producing dog food on a large scale is a complicated process. Whenever humans are involved in the manufacturing process, accidents and mistakes can happen. We try not to judge a company by its recall history but rather to their response once they inevitably run into problems. Acana dog food review demanded we look into their recall history, and the good news is - Acana didn't have a single recall for at least 20 years. However, there were some things you should know about;
January 2011 - FDA tested a single Acana sample and suspected it contained Salmonella. However, there weren't any recorded infections, both human and dogs.
June 2019 - FDA made a study aimed at proving the connection between a dog's diet and DCM. Their June 2019 study showed Acana as being the dog food most dogs with DCM ate. However, FDA noticed that DCM in dogs is a complex matter that cannot be blamed only on the diet. There are many factors we have to look into and account for.
Why pick Acana?
Despite having controversies, Acana is still a great dog food brand. They source all the ingredients from local Canadian farms, and the company continuously works on creating high-quality dog foods. They might have had a dent in their reputation, but if you judge a dog food brand based on dogs eating it, Acana would pass with flying colors. Most dogs enjoy the taste of Acana dog food, and they seem very healthy and happy. Plus, the Acana dog food review clearly tells us this brand is up there with the best of them when it comes to value-for-money.
If you are considering Acana for your dog, here are some of our favorite picks;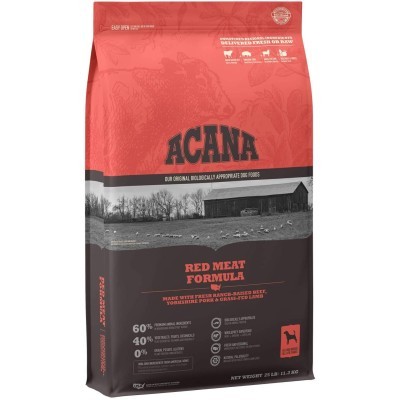 The ACANA Crunchy Biscuits Dog Treats and Dog Food is our favorite Acana dog food. This recipe gets its protein from beef, which is locally sourced and produced in the US. It doesn't include taste inhibitors and artificial colorings, but it is packed with healthy nutrients adult dogs need. This is a grain-free formula, and it is an excellent choice for dogs that have grain allergies.
Our second pick is the Acana Singles Limited Ingredient Dry Dog Food. This dog food recipe gets its protein from grass-fed lamb, which is less likely to cause allergic reactions. The interesting thing in this dog food recipe is red apples. They are packed with vitamins and minerals. That is something all dogs need for healthy development and a strong immune system. The food is palatable, and dogs seem to have no issues with it.
The third pick is the Acana Grasslands  Grain-Free Dry Dog Food. The Acana dog food review tells us this dog food recipe includes different protein sources. It gets its protein from grass-fed lamb, rainbow trout, free-run quail, and Muscovy duck. This might not be a good choice for dogs with food allergies, but if your dog doesn't have any issues, they will absolutely love this dog food. This product is very well-balanced, and it doesn't include gluten.
World Dog Finder team