Best Dog Food for Pit Bulls [2023 Guide]
29.04.2021.
Every product and service on World Dog Finder is independently selected by our editors, contributors, and experts. If you purchase something through our links, we may earn a referral fee. Learn more
---
Like any other dog breed, Pit Bulls need to have a balanced and high-quality diet. As a Pittie owner, you should look for the best dog food for Pit Bulls, and that might require some research and time from your side. Luckily, dog owners will do anything for their dogs, and researching the best possible dog food is only one of those things. When it comes to picking the best dog food for your Pit Bull, make sure you keep a close eye on the ingredients and general guides for the mid-sized Pit Bull diet.
What to look for in Pit Bull dog food?
Like any other dog breed, Pit Bulls have a unique set of needs and requirements, as well as certain health concerns you should keep an eye on. You can certainly pick any food from trusted manufacturers and be sure you won't get it wrong. However, carefully choosing dog food can save you a lot of trouble and vet visits in the future. Here are some things to look for when choosing the best dog food for Pit Bulls;
Protein source
Like all other dogs, Pit Bull's dog food should contain a high-quality protein source. Look for protein sources clearly defined on the food's label, and make sure to avoid vague terms like "animal-sourced" and look for clearly defined protein sources like chicken, turkey, or lamb.
Supplements
The Food and Drug Administration (FDA) doesn't require manufacturers to include different supplements like glucosamine or omega fatty acids in their dog food. However, Pit Bulls are susceptible to joint and arthritic issues, so picking dog food that contains these things is a good idea.
Grain or no grain
Grain-free food is not necessarily a good thing; grain can be an excellent carbohydrate source. However, you should look for specific and healthy grain in the dog food of your choosing. Keep in mind that Pit Bulls are prone to food allergies, so make sure your dog is not allergic to any of the ingredients in the dog food you chose for them.
Country of origin
While all manufacturers can be great, responsible, and produce fantastic dog food, we always prefer those made in countries with strict rules. Choose dog food made in the USA, Canada, Australia, New Zealand, the UK, or Western Europe.
Now that you know what the most important things in Pit Bull's dog food are, check out these amazing recommendations.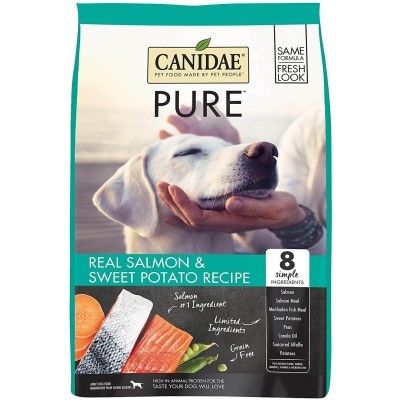 Canidae is our top pick for the best dog food for Pit Bulls. This dog food has a different approach. It is ideal for dog owners who want to put their Pitties on a diet that includes additional supplements and is rich in omega fatty acids. The Canidae PURE Grain Free gets most of its protein from Salmon, but it also offers dog foods with chicken, lamb, duck, goat, and venison. It has a healthy carbohydrate source - sweet potato. Canidae is a trusted manufacturer that uses only the highest-quality ingredients. Dog owners and their dogs seem to love this food.
Pros
Salmon
Includes supplements
Palatable
High-quality ingredients
Cons
High fiber content might cause GI upset at the beginning
Pricey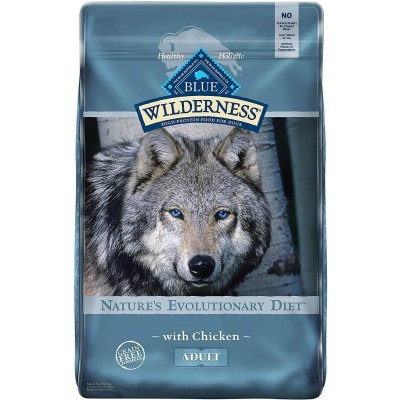 Blue Buffalo is another trusted dog food manufacturer that makes fantastic dog food. Not only do dogs love the taste, but it also offers plenty of health benefits for dogs. However, this recipe gets its protein from chicken, and some dogs might have chicken allergies. Make sure your Pittie is not allergic to chicken meat before deciding to put them on Blue Buffalo Wilderness Chicken Recipe. The manufacturer stated their food promotes healthy muscle development and includes anti-inflammatory ingredients Pit Bulls will benefit from.
Pros
Includes supplements
High-quality ingredients
Great protein source
Grain-free
Includes fish-meal
Cons
Takes longer to adapt to the taste
Not for puppies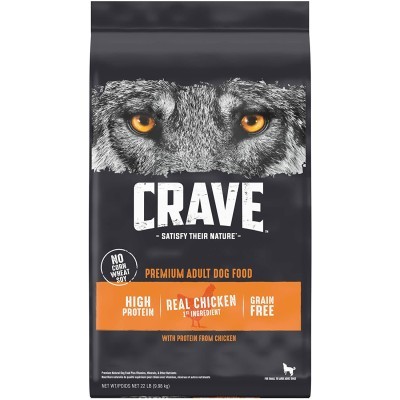 If your Pit Bull doesn't have food allergies, this might be the right choice for their dog food. The CRAVE Grain Free High Protein Dog Food gets its protein from chicken and beef, and most owners are aware those are excellent protein sources. You can choose either one, but both choices are fantastic for Pitties. This dog food includes one of the highest omega-6 fatty acid contents, which promotes coat, joint, and skin health - potential problem areas for Pit Bull Terriers. This dog food comes highly recommended by Pit Bull owners, and you can be sure you will not make a mistake if you go for this dog food.
Pros
Omega fatty acids
Palatable
Great protein sources
Grain-free
Cons
Chicken can be an allergen
High fiber content can cause GI distress when switching foods
Want to read more about Pit Bulls? Check out this article - 7 Pit Bull fun facts.
World Dog Finder team