5 Best Kayaks for Dogs & How to Pick One
24.12.2021.
Every product and service on World Dog Finder is independently selected by our editors, contributors, and experts. If you purchase something through our links, we may earn a referral fee. Learn more
---
If you're a fan of sports on water or simply enjoy kayaking, you should know there is a way to safely include your dog in your activities. However, you will need specific equipment that can take your dog safely with you. One of the things you will need is a dog life jacket, and the second thing is a good, high-quality kayak for dogs.
How to pick the best kayak for dogs?
Just like you wouldn't pick the first dog food for your dog, you shouldn't pick other things your dog will use lightly. Before we go into the exact products we recommend, here are a few things you should consider when picking the best kayak for dogs;
Stability
As an experienced kayaker, you probably know that all kayaks aren't equally stable. When picking one for your dog, you should choose the most stable one there is. Your dog won't sit peacefully while you're kayaking, so stability should be one of the top priorities.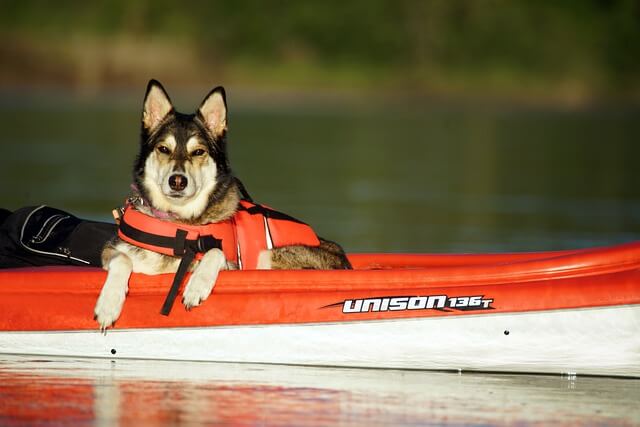 Size
Naturally, you need to account for the size of your dog. A smaller kayak might be good for small breed dog boaters. Still, if you have an enthusiastic Doberman or a Golden Retriever, you will need a bigger kayak.
Durability
One of the critical things you should consider is durability. Your dog's nails can do significant damage to the kayak, so you need to look for durable and sturdy materials. Another thing you can do is clip your dog's nails before you go on the water.
Weight limit
The biggest issue with kayaks is that they have weight limits. If you have a partner and a dog, you will need something to take on a lot more weight. Make sure you calculate your weight, your partner's weight, and your dog's weight.
VET TIP: One of the things you should account for is the sun. Your dog will be exposed to the sun for a long time, so make sure you use sun protection for your dog. Keep their nose, paws, lips, and eyes safe. You can even get a hat for your dog.
Here are the best kayaks for dogs;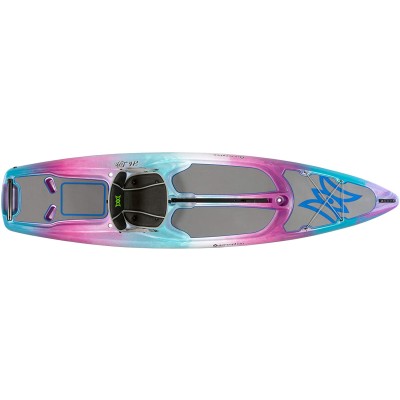 When it comes to picking the best kayak for dogs, our personal favorite is the Perception Hi Life 11. This is not only a kayak, but it is also a stand-up paddleboard. You can easily place your dog in front or in the back. It is made of polyethylene, so it is incredibly light but sturdy. The manufacturer claims it is ideal for slow-moving, calm coastal waters. Still, experienced kayakers can take it to different areas. This American product earned the 2018 International design excellence Award (idea) in the sports, leisure, and recreation category bronze medal.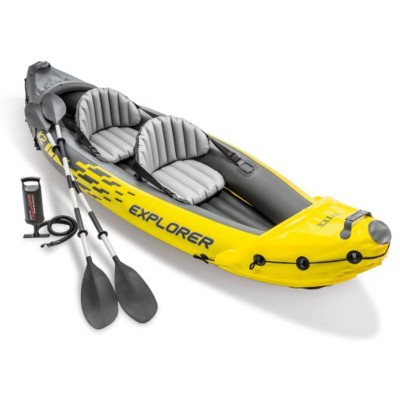 The Intex Explorer K2 Kayak is one of the best and affordable choices you can get. However, this is an inflatable model, which means it is better for smaller dogs. Of course, you need to clip your dog's nails and make sure they won't accidentally puncture the kayak. It is a great choice that comes at a reasonable price. However, if you're thinking about kayaking with a larger, heavier dog, we recommend getting something else.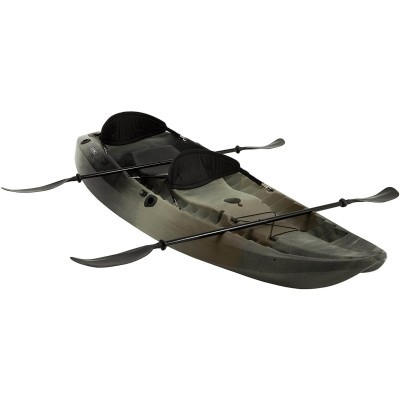 One of the best kayaks for dogs is the Lifetime 10 Foot Fishing Kayak. Its original purpose is fishing, but it just so happens to tick a few boxes we'd want for our kayaking dogs. The kayak is adjustable for solo or tandem paddling, making it ideal even for some larger dogs. It has a storage where you can place enough water and food for yourself and your dog. It is an excellent piece of equipment if you're looking to take your dog on an adventure. Plus, you can always turn to fishing, and this kayak will be of use.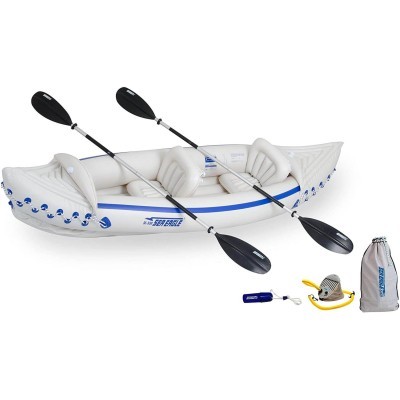 If you have a small or medium-sized dog that loves nothing more than kayaking with you, the Sea Eagle 2 Person Inflatable Sport Kayak might be the right choice for you. Small, active breeds like the Jack Russell or Toy Fox Terrier might enjoy the amount of space they get on a Sea Eagle. It's made of synthetic material, so you will have to keep an eye on your dog's nails. This is one of the most popular models out there, and it is a fantastic choice for kayaking beginners.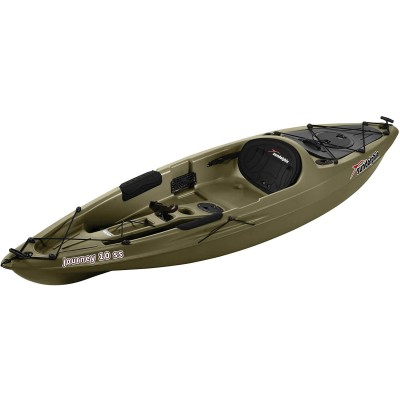 Another fantastic, durable choice for you and your dog is the Sun Dolphin Journey 10-Foot kayak. This is a fishing kayak, which means it comes with fishing pole holders, a comfy seat, and plenty of space for your pooch in the front. This kayak offers maximum stability, but it is only for one person and a dog. It has a capacity of 250 pounds, which means that Great Danes might be too heavy for it. However, most regular-sized dogs will comfortably sit and enjoy this cool-looking kayak.
World Dog Finder team