President Biden's New Therapy Dog Law
---
What better day to announce President Biden's new "PAWS for Veterans" law than International Dog Day?!
President Biden, who already has two German Shepherds, Major and Champ, is well aware of what benefits dogs can provide, so it doesn't come as a huge surprise he signed the "Puppies Assisting Wounded Servicemembers" (PAWS) bill into law.
PAWS for Veterans
A five-year pilot project was signed into law yesterday, August 25th, when President Biden, alongside Rep. Mikie Sherrill, D-N.J., a Navy veteran, signed the bill Rep. Slotkin introduced to the US Senate.
Since 2005, nearly 90.000 US veterans have committed suicide due to PTSD. One of the proven ways to deal with PTSD is through the help of a service dog. However, service dogs need to be trained, and they cost a lot. Not everyone could afford them, so this new law couldn't come any sooner.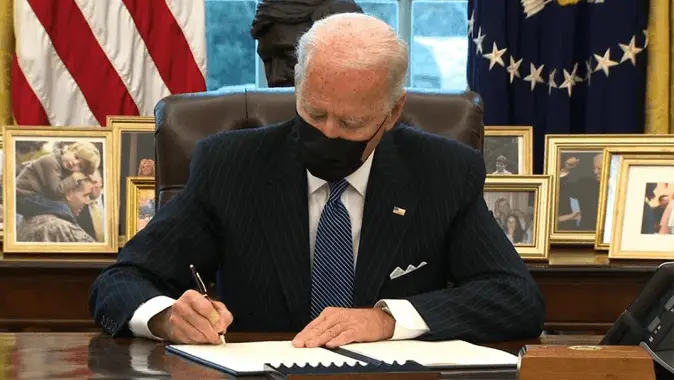 Courtesy of CNN
Want to know more about service dog training? Check out this article - Service Dog Training.
How can service dogs help veterans?
According to the American's with Disabilities Act, service dogs need to provide specific assistance to a disabled person. In this case, it can be a physical disability that many veterans have to deal with after serving or PTSD. Service dogs have to be carefully trained, and they can provide assistance in different areas of a veteran's life. For example, service dogs can;
Alerting before a panic attack - Service dogs can be trained to alert a person about an upcoming panic episode.
Help with a person's balance - People who need to take tranquilizer medication might need help with walking.
Locate a person or space - People suffering from depression or anxiety can get overwhelmed in large crowds. Service dogs can help track a person or a space that will help their handler.
Calm and reorient - People suffering from anxiety attacks can space out during an episode. Psychiatric service dogs can help them come to a more "present state of mind:"
Interruption and redirection - A psychiatric service dog can interrupt self-harming behavior and limit the effect OCD has on a person.
Navigation - Psychiatric service dog will lead their handler through stressful situations and provide comfort and confidence.
Medications - A service dog will help a person retrieve medication or even ring a bell to remind them they should take medications.
Room search - This is a task mostly PTSD service dogs do. They can search an entire room to help people who have PTSD feel safer.
You can read more about psychiatric service dogs here - How Psychiatric Service Dogs Help People.
International Dog Day
Each year on August 26th, we "celebrate" International Dog Day. The idea behind this day is to celebrate all dogs; it doesn't matter if they are pureblooded or mixed. Dogs are our best friends, and they provide us with emotional support, company, and comfort when we need them most.
On this special day for us at World Dog Finder, we would love to move a bit of attention to all the dogs in need of new homes, food, or medications. We try to do our part through donations, fostering, and rescuing, but it is up to all of us to make this world a better place for our four-legged companions.
On this day, we remember everything dogs do for us. We use dogs for service work, herding, police and military jobs, saving people from natural disasters, but most of all, for company. Dogs are the most popular pets in the world, which is entirely understandable since they are absolutely fantastic. Get in touch with your local shelter and help a dog today. Even a small donation can go a long way.
President Biden and dogs
President Biden is a known dog lover. Even though his dog, Major, had a couple of biting incidents in the White House, it doesn't mean he is a bad dog. German Shepherds can be protective of their owners, and being surrounded by so many unknown secret service agents can be stressful. Who knows, maybe the secret service should use a code name "Nibbler" for Major.
President Biden adopted Major from the Delaware Humane Association, making Major the first shelter dog to live in the White House. Unfortunately, due to the biting incidents, dogs were relocated. 
The PAWS for Veterans Therapy Act will start in 2022, and it will be carried by at least 5 VA medical centers. These facilities will partner with specialized service dog organizations and provide therapy and support to veterans included in their program. We have absolutely no doubt this program will be a massive success since the benefits of having a service dog are widely known and tested.
This is excellent news, and it could not be announced on a better day than International Dog Day!
World Dog Finder team