Simply Nourish - Could It Be Right Food For Your Dog?
23.05.2021.
Every product and service on World Dog Finder is independently selected by our editors, contributors, and experts. If you purchase something through our links, we may earn a referral fee. Learn more
---
When it comes to dog food, dog owners have many options available. One of them is Simply Nourish dog food. If you are a responsible dog owner, you will most likely research the dog food you will pick for your dog. We would urge you to talk to your vet and ask for advice and recommendations. In the meantime, we will tell you a bit more about Simply Nourish dog food.
Is Simply Nourish a good brand?
Simply Nourish is an amazing dog food manufacturer that makes high-quality dog food. They have 15 different dry dog food recipes. They have dog food toppers, treats, and all sorts of edible dog products. Their recipes use high-quality ingredients, and we will tell you more about their best-seller in a few moments.
Where does Simply Nourish come from?
The first thing you should know is a little bit more about the company that stands behind the Simply Nourish brand of dog food. It's made by a company called American Nutrition, which was founded in 1972. It has a long history of dog food production, which is always a good sign in our eyes. All of their products meet the strictest AAFCO, FDA, and USDA standards for food production.

When we talk about dog food manufacturers and brands, our general advice is to always look for brands produced in countries with strict manufacturing rules and guidelines. You should always look for brands that come from trusted countries, and they include;
United States of America
United Kingdom
Canada
Australia
New Zealand
Western Europe (Spain, France, Germany, whole Scandinavia, Austria…)
These countries have strict laws which prevent manufacturers from using low-quality products in dog foods, so you should always go for brands made in these countries. The good news is that Simply Nourish prepares its food in the United States. However, they source ingredients worldwide, which is not necessarily bad. If the ingredients were bad, they would not be allowed to put them in their food.
Production facilities
Another huge plus is - they produce their food right here in the USA. Some manufacturers move their production facilities overseas, mainly to use a cheaper labor force and make more money. That might be understandable from a business point of view. However, some countries don't have such strict production laws and requirements. When picking a dog food brand, always go for those that make their food in countries with strict food production and processing laws. American Nutrition produces Simply Nourish in three facilities;
Woodland, WA
Hazelton, PA
Ogden, UT
Simply Nourish recall history
Unfortunately, recalls are an essential part of working with and producing food. Sometimes, it's not even the manufacturer's fault the food has to be recalled. However, it is wise to check the company's recall history, reactions, and severity. You don't want to buy dog food that gets recalled very often. Plus, we never judge a company by its recall policy; we only judge them based on their reactions and actions regarding those recalls. Here are the Simply Nourish dog food recalls;
Simply Nourish Dog Food Recall 8/15/2021
Certain Lots of Simply Nourish Dog Treats 10/8/2014
As you can see, the manufacturer's recall history is close to perfect. The first recall happened because food had elevated vitamin D levels, and the second one was because of mold. The company reacted fast and avoided causing even a single problem to dogs or dog owners in both cases.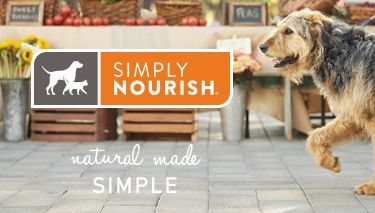 Does Simply Nourish use high-quality ingredients?
The ingredient list is one of the most important things to look for in any dog food brand, including Simply Nourish. It doesn't really matter where they produce their food if the ingredients they use are sketchy and of low quality. Dog food should contain all the ingredients a dog needs. However, you want to pick dog food that contains ingredients that will make your dog thrive! Here are the most important things to look for in Simply Nourish dog food;
Protein - Proteins are the most important ingredient in any dog's diet. Look for animal protein that comes from good sources. Chicken, turkey, fish, lamb, bison, venison, or duck are great primary protein sources.
Carbs - Carbs are necessary for dogs. They are a fantastic energy source, so if you have an active dog breed, you should look for dog food that uses high-quality sources of carbohydrates. Look for barley, brown rice, oats, potato, sweet potato, whole wheat, whole corn, or millet. There are more carb sources, but these are our favorite ones which we always recommend.
Fats - Healthy fats are crucial for your dog's diet. Dog owners that aren't fully aware of canine nutrition requirements might think fats are bad. However, healthy fats will encourage healthy cell production, coat health, and cognitive functions. Look for fats from meat, and look for flaxseed, coconut, fish, or olive oils.
Fiber - Another essential thing you should look for on the ingredient list is fiber. Fiber is vital for healthy digestion, which is why you should even include it in your own diet. Fiber will help your dog avoid obesity and prevent anal gland diseases. You can check the best fiber sources here - The best sources of fiber for dogs.
Vitamins, minerals, fatty acids - These three nutrients include different things. Most of them come from meat and carb sources, but the best dog foods include additional vitamins, minerals, and essential fatty acids.
Supplements - Another thing that might be good for your dog is supplements. If you have an older dog, look for foods that include glucosamine and chondroitin. They will help with the dog's joint health and keep their aging body running smoothly for as long as possible.
Simply Nourish Small Breed Adult Chicken and Brown Rice
Simply Nourish's best-selling dog food is their Chicken and Brown Rice recipe. This is a dog food developed explicitly for smaller breeds like the Dachshund, Pomeranian, or Chihuahua. We will go through some of the main ingredients you should look at if you are considering this dog food for your dog. The dry matter analysis looks like this;
1. Deboned chicken
Chicken is probably the most popular ingredient in dog food. It is a high-quality protein source, and it is relatively inexpensive for manufacturers. However, chicken is a common allergen for dogs. This might be good dog food, but your dog might have to go for an alternative protein source.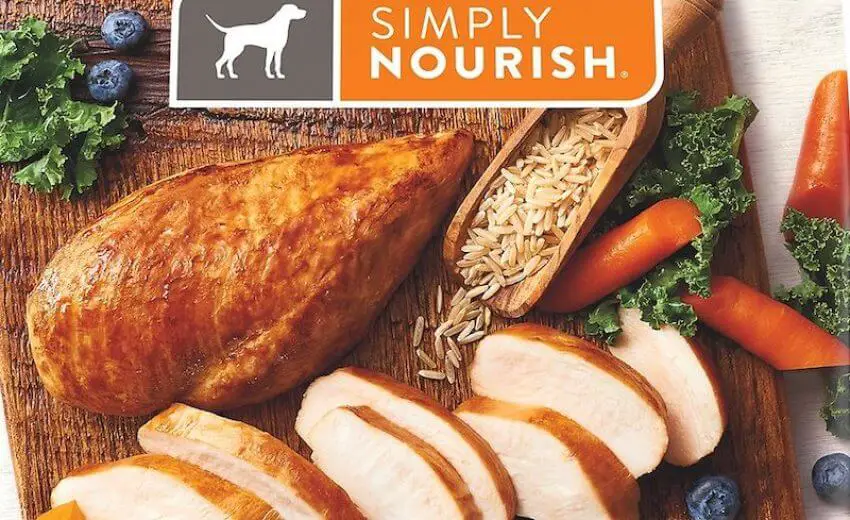 2. Chicken meal
Chicken meal is a meat concentrate. It contains around 300% more protein than just pure chicken meat. Meat meal is a by-product produced by making a chicken stew, cooking away the water, and baking the residue. You are left with a highly concentrated protein powder or chicken meal. Keep in mind that fresh, whole ingredients are always better. However, some chicken meals might be good; it will depend on the ingredients used for the stew. Luckily, this one has a passing grade.
RELATED: Do You Know What Chicken Meal In Dog Food Is? Is It Even Safe?
3. Brown rice
Brown rice is the third main ingredient in this Simply Nourish dog food recipe. Brown rice is a complex carbohydrate, and the good news is dogs can easily digest it. It is a relatively safe carbohydrate source, but the issue is that it doesn't offer much nutritional value.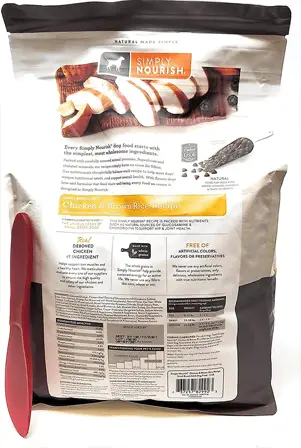 4. Oatmeal
Oatmeal is a grain that is packed with dietary fiber. Fiber is often overlooked in dog diets, but it is one of the most important things for proper digestion. Oatmeal in Simply Nourish dog food is packed with vitamin B, fiber, and can be gluten-free (depending on how pure it is).
RELATED: Can Dogs Eat Oatmeal - Is it Safe For Them?
Chicken fat
Chicken fat might sound a bit disgusting, but it is actually a high-quality ingredient. It is produced similarly to how soups are made. Chicken fat is included in Simply Nourish dog food because it contains omega fatty acids, more precisely - linoleic acid. Plus, dogs love the taste of it.
Should you buy it?
Simply Nourish is a great dog food manufacturer. Their Chicken and Brown Rice recipe received 4.6 out of 5 from us, which is a pretty high score. They use high-quality ingredients. Even if your dog can't eat chicken, you can choose high-quality Simply Nourish dog food recipes with alternative protein sources. This is an excellent recommendation and a great pick for you and your dog.
Other Simply Nourish dog foods
Overall, we think Simply Nourish is a fantastic dog food brand. The ingredients they use in their recipes are excellent. Dogs seem to love the taste of it, and dog owners are delighted with the food. If you're considering putting your dog on the Simply Nourish diet, here are a few other recipes you might want to consider;
1. Simply Nourish® Adult Dry Dog Food - Natural, Lamb & Oatmeal
2. Simply Nourish® Adult Dry Dog Food - Natural, Grain Free, Chicken, Peas & Potato
3. Simply Nourish® Healthy Weight Adult Dry Dog Food - Turkey & Brown Rice
World Dog Finder team