Best Dog Purses for the 2023 Season
28.04.2021.
Every product and service on World Dog Finder is independently selected by our editors, contributors, and experts. If you purchase something through our links, we may earn a referral fee. Learn more
---
If you share your home and your life with a tiny velcro dog that wants to go everywhere with you, you might want to consider getting a dog purse. This is an elegant solution that can be practical and stylish at the same time. The only problem with them is - they can't fit bigger dogs.
Dog purses are an excellent solution for owners with a teacup dog or a tiny dog breed like the Chihuahua. These purses will usually only carry dogs up to 15 pounds, so it is not very practical if you have a larger dog. Nevertheless, we are huge fans of dog purses, so we prepared a short list of recommendations for our favorite dog purses.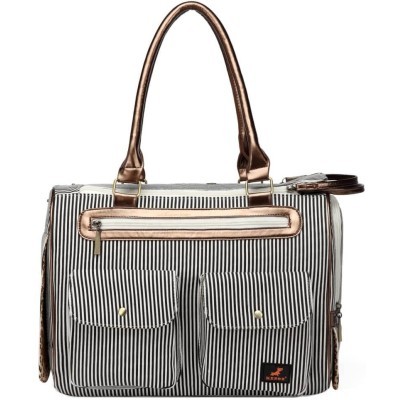 Our top pick for dog purses is the Kenox Fashion Dog Carrier Bag. Not only is it very stylish, but it is also very practical. This dog purse has a side zipper where you can fit dog treats, bags, or toys. This dog purse has a weight capacity of 16 pounds, which is more than usual.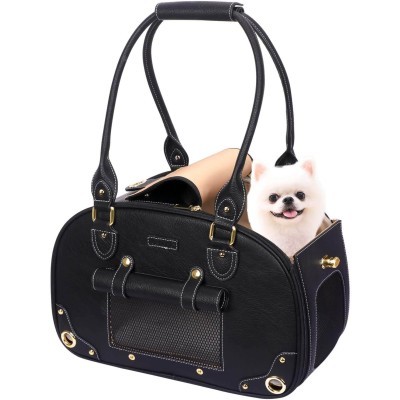 The PetsHome Dog Purse is a handmade dog purse that will fit your small dog comfortably. Not only is it safe and practical, but it is also absolutely gorgeous. Made of high-quality leather, this dog purse has mesh side "windows" your dog can look through and be adequately ventilated. This is another fantastic recommendation we are sure you will love.
The MG Collection Dog Hand Bag can easily pass for a "normal" purse. This two-tone designer dog purse can be completely closed, so your tiny friend can have some peace and not be bothered while waiting for you. This dog purse includes a mesh side for ventilation, but that side can be closed for discretion and doggie privacy.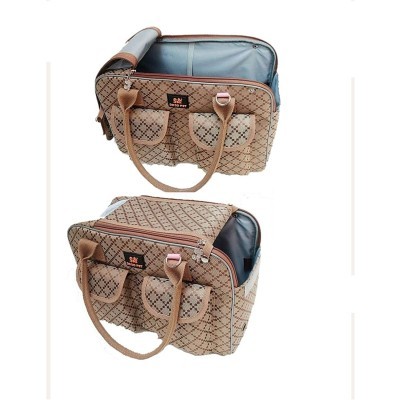 If you are looking for a well-designed handbag that can carry your four-legged friend, then the Hubulk Dog Bag might interest you. This stylish dog purse comes with a practical purpose; it includes enough storage space for all of your things. Plus, the interior of the bag can be removed and washed separately.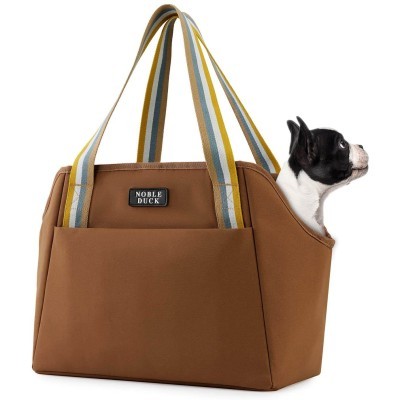 If you are looking for a stylish, budget-friendly dog purse, the NOBLE DUCK Small Dog Purse has you covered. It comes in brown and black, and the best thing about it is - it has a very budget-friendly price tag. This dog purse offers superior comfort, and dog owners seem to love it. Not only is it stylish, but it is also very sturdy and durable.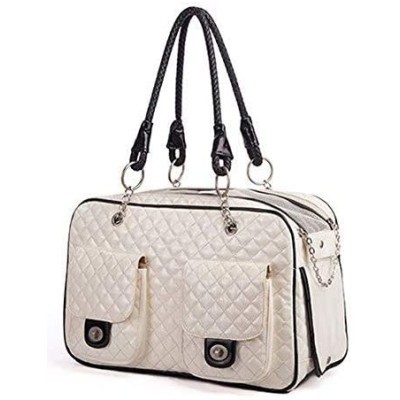 Want to take your dog everywhere with you but not compromise your style? Check out the BETOP HOUSE Soft-Sided Dog Purse. This dog purse is made of durable faux leather, so you can be sure you are getting a long-lasting, well-designed product. The price is very acceptable, and it includes a secure leash for the additional safety of your small pooch.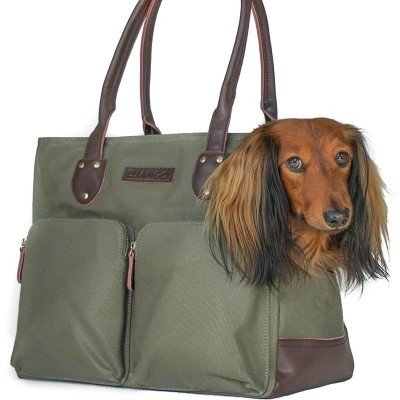 Our last recommendation is the DJANGO Dog Carrier Bag. This is a stylish, luxurious, and durable dog purse that will keep your dog safe and comfy no matter where you go. This dog purse includes materials like water-resistant fabrics, cotton, and leather. You can be sure you are getting your money's worth with this model. It is an ideal piece that can carry a dog up to 15 pounds.
World Dog Finder team