Best Ceramic Dog Bowls for Your Dog
15.10.2021.
Every product and service on World Dog Finder is independently selected by our editors, contributors, and experts. If you purchase something through our links, we may earn a referral fee. Learn more
---
Choosing the right dog bowl can be challenging because of the sheer volume of available options. Some dogs are "wild" eaters, and they flip their bowls often. Ceramic dog bowls are not the best option for them. However, if you have a dog that behaves adequately while eating and drinking, ceramic dog bowls can be an excellent option for them. If you're interested in ceramic dog bowls, here are a few things to look for.
What to look for in ceramic dog bowls?
One of the biggest downsides to ceramic dog bowls is - they can break. It is certainly not the best option for all dogs and their owners. However, different benefits come with ceramic bowls. That is why many dog owners prefer them. Here are some of the best things about them;
Design
Ceramic dog bowls come in all sorts of colors and designs. That is nearly impossible to have with metallic bowls. If you love having options, ceramic bowls can undoubtedly offer some.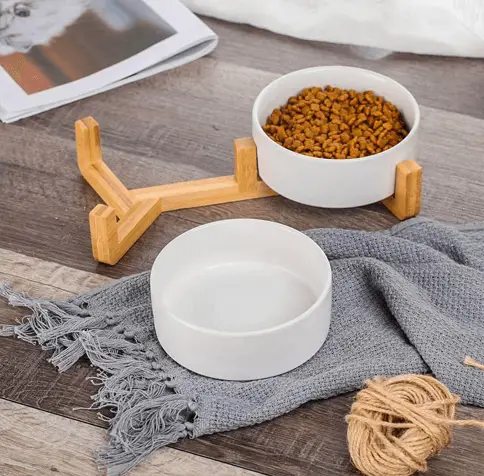 Easy to clean
These types of bowls are very easy to clean. The glaze makes them easy to wipe down, and all ceramic dog bowls are dishwasher-safe.
Non-porous
Probably the most significant advantage of these bowls is - they are non-porous. Bacteria and food residue will not remain after the bowl's been used.
Weight
Metallic bowls are usually very light, making them easy to flip and move. Unlike them, ceramic dog bowls are generally very heavy. That is a great thing, even for dogs that push the bowl while they eat.
SAFETY TIP: We are aware that many products we order online come from China. The manufacturing laws are not so strict, and some ceramic bowls have lead-based paint. If possible, avoid that since it can be toxic to you and your dog.
Ceramic dog bowls
If you want to get a ceramic dog bowl, make sure your dog behaves properly during meal time. If they don't, we recommend training them and postponing your purchase. However, if your dog is ready to style up their bowl game, here are our recommendations;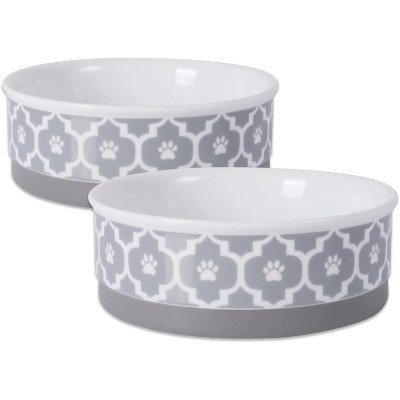 Our top pick is the Bone Dry Lattice Collection Pet Bowl & Canister. These are high-quality dog bowls, well-made, and sturdy. Not only are they well designed, but they are also the best on the market so far. They come in 7 different colors and 3 sizes. You can even order additional pieces if something happens to other ones. Available sizes are small, medium, and large, so these bowls have you covered no matter what breed you have at home.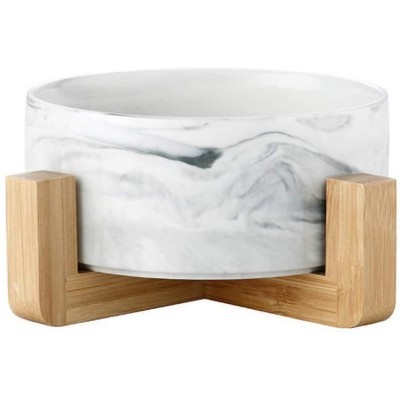 If you're looking for a stylish ceramic dog bowl, we highly recommend the AG-UNICORN Ceramic Pet Bowls. This model comes with a bamboo stand that will keep it in place even if your dog pushes the bowl while eating or drinking. It comes in single and double packs, and the bowl's weight prevents it from being tipped over. It has a beautiful marble texture, and when you need to clean it, simply place it in your dishwasher. Each marble texture is unique, and no two dog bowls are the same. Plus, the price for such a stylish piece is excellent.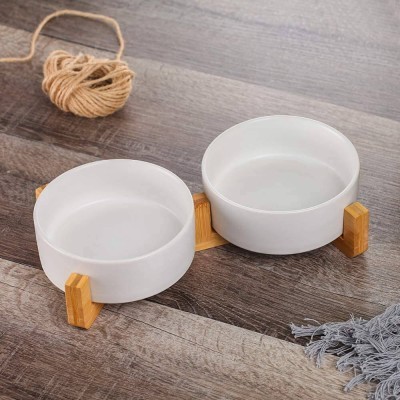 If you're looking for a set that looks good, doesn't cost much, and is nearly impossible to tip over, this might be the right choice for you. The LIONWEI LIONWELI Ceramic Dog Bowl is a high-quality piece that looks great in all interiors. The bamboo stand has a special coating that prevents mold, bacteria, and slipping. This is an ideal choice for medium-sized dogs. The raised bowls will keep your dog's posture while eating. This model is not made with lead-based paint. Since this is the one we have, we can feel good to recommend it.
World Dog Finder team