6 Best Dog Food for Siberian Huskies {Owners Choice}
---
Siberian Huskies are one of the most popular dog breeds in the world. Many owners love this breed because they remind them of wolves. They have many similar characteristics to wolves, and they are undoubtedly a wonderful breed. However, Huskies are incredibly active. They are a working breed used for pulling heavy loads over vast distances. Their active lifestyle needs to be supported by their diet. If you're looking for the best dog food for Siberian Huskies, you came to the right place.
What to look for in food for Huskies?
The ideal dog food for Siberian Huskies should be age-appropriate. Puppies, adults, and seniors have different nutritional needs. Their diet should support their development and provide them with all the necessary nutrients they might need.
For example, puppies are still developing, and their diet must provide them with enough minerals like calcium for their bones. Senior dogs actually need more protein than adult dogs because they have to replace the lost muscle mass. Here are the most important things to look for in the best food for Huskies;
Protein
Proteins are the most important part of any dog's diet. However, it is even more vital for working breeds that live an active lifestyle. If you're a responsible Husky owner, you know you have to provide your dog with a lot of exercises. That means your dog will need high-quality protein. For Huskies, experts recommend at least two different sources of protein (chicken, lamb, turkey, fish, bison, or venison)
Fats
Most of us think fats are not something overly healthy. However, healthy fats will make sure your dog has plenty of energy throughout the whole day. They will "slowly burn up" and convert through energy over long periods. Plus, they are great for their brain and heart.
Omega fatty acids
Omega-3 and Omega-6 fatty acids do wonders for the dog's coat, skin, and brain. Huskies can develop skin issues, and giving them an omega-rich diet will benefit them.
Carbs
Humans avoid carbs if they're on a weight-loss regimen. However, dogs need them in their diet. Carbs are an energy source, and they help the dog balance their blood sugar levels.
Calories
Calories are essential in a Husky's diet. These dogs often skip meals, and when that happens (and it will), you want to make sure the dog consumes enough calories that will support them even if they skipped a meal.
OWNER TIP: One of the great Husky characteristics is that they control their eating. That means these dogs eat until they're full. Other dogs will eat everything you put on their plate, even if it makes them vomit. Huskies won't overeat, so free feeding is an option.
The best dog food for Siberian Huskies
When choosing the best possible dog food for your Siberian Husky, you need to make sure it is age-appropriate, has healthy ingredients, and supports their lifestyle. This is a special breed, and feeding them something random is not the best or healthiest option. Studies suggest that Huskies who were fed high-quality food with two or more protein sources live 2 years longer on average. Here are the best dog foods for Siberian Huskies based on their age;
Best dog food for Siberian Husky puppies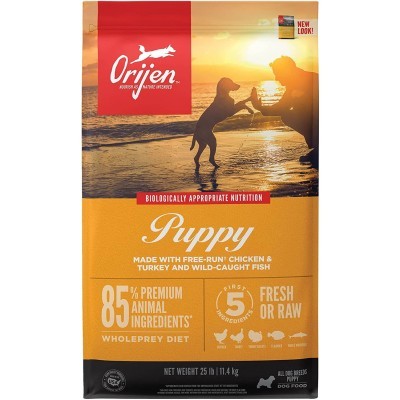 There is nothing better for your Husky puppy than the ORIJEN Puppy Grain-Free. It includes 85% animal ingredients, which include cartilage, bone, meat, and organs. We are fans of Orijen, and they are one of the best dog food manufacturers out there. If you're looking for the best dog food for your Siberian Husky puppy, you can be sure this is a great option.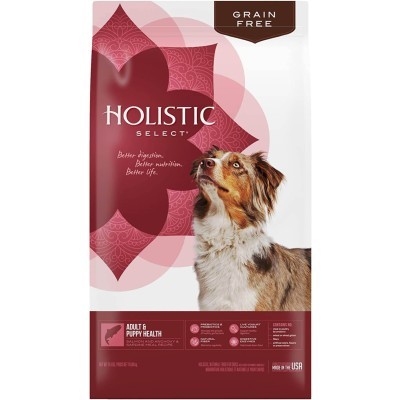 We spoke to the vets on our team about this food. They analyzed the recipe and ingredients, and they all agree this is a great choice. Holistic Select Natural Grain Free dog food includes 3 different fish as main protein sources. However, the best thing about this food is that you can easily continue feeding it to your adult Husky. There will be no hassle around switching foods, which is a significant upside.
Best dog food for adult Huskies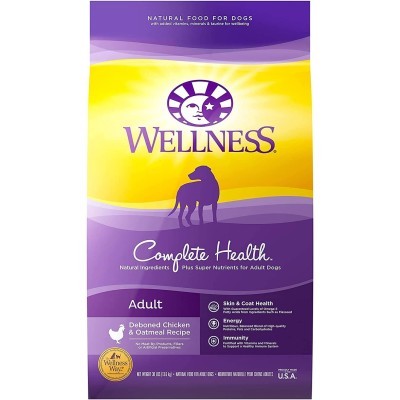 Wellness Complete Health Adult dog food is ideal for adult Huskies. This brand gets the majority of its animal protein from chicken and chicken meal, and we already know chicken is a fantastic protein source. Nutritionists at Wellness made a recipe rich in whole grain, antioxidants, glucosamine, omega fatty acids, taurine, and probiotics. It is one of the best dog foods you can choose for your dog, no matter what breed they might be.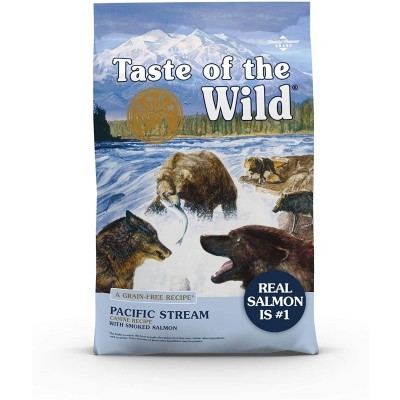 The Taste of the Wild Dry Dog Food With Smoked Salmon is included simply because it is affordable and contains high-quality protein. It is based on wild and smoked salmon. Many dog owners reported their Huskies absolutely love the taste of this dog food. It is rich in antioxidants, minerals, vitamins, and probiotics. An excellent choice for Huskies and their owners.
Best food for senior Huskies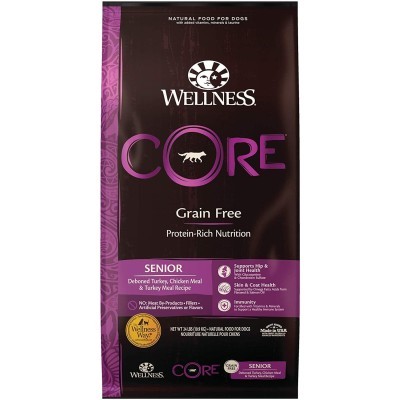 If you have a senior Husky at home, you might be looking for the best dog food option. This is another case where Wellness comes up on top with their CORE Natural Grain Free Senior dog food. This recipe includes more protein, which is something older dogs need to retain their muscle mass. They will consume fewer calories, but the recipe contains glucosamine, chondroitin, omega fatty acids, antioxidants, and essential vitamins and minerals. A fantastic pick for all senior dogs, Huskies are included.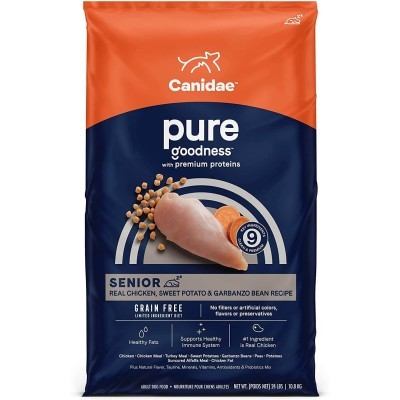 As we already mentioned, Huskies will benefit from two or more animal protein sources in their dog food. CANIDAE Pure Senior Recipe includes exactly that - turkey and chicken. Both are high-quality protein sources and you can be sure you will make the right decision if you go for this brand. Canidae is a trusted manufacturer with years of experience. Their senior dog food includes omega fatty acids, vitamins, antioxidants, and probiotics.
World Dog Finder team