Welactin For Dogs - Types, Dosage & Side Effects
01.11.2022.
Every product and service on World Dog Finder is independently selected by our editors, contributors, and experts. If you purchase something through our links, we may earn a referral fee. Learn more
---
As a dog owner, it is our responsibility to keep our dogs healthiest as possible. This doesn't mean we should start taking care of them when they show symptoms of diseases. Our main goal is to potentially prevent any possible health issues that our dogs can experience.
We know that sometimes this can be pretty hard, and for some diseases, practically impossible, but for others, there are things and steps we can do to ensure their health.
One of our main concerns should be keeping their coat and skin healthy. There are many different breeds with different coat types, all of which serve a specific purpose. That said, we must find a way to prevent any possible health problem affecting our dogs' skin and fur.
To make your job easier, we searched for one supplement that can be a great addition to your dog's diet – Welactin for dogs.
This product is an excellent supplement that contains a great amount of omega-3- fatty acids, and it provides great support for your dog's coat and skin. Many dog owners discovered this supplement and claimed it helped their dogs.
What is Welactin for dogs?
Welactin for dogs is a supplement designed to care for your dog's skin and coat. However, this supplement will also provide health benefits for other health aspects, including
Immune system
Eye vision
Brain functions
Kidney health
Heart health
Joint health
Welactin for dogs contain omega-3 fatty acids, a must-have supplement for your dog's diet since the omega-3 fatty acids will not naturally appear in the dog's body; rather, you should provide them as a form of a balanced dog diet.
Why should I consider using Welactin for my dog?
Adding certain supplements to your dog's diet is always a great idea. Sometimes it can take effort to choose what is best for your dog since there are many choices. Your vet should be your ally for every health-related question about your dog and his diet.
Welactin will provide much-needed support for your dog's skin and coat that he could receive just from his regular dog food. Many vets will likely prescribe you Welactin since it provides much-needed health benefits.
Many researchers have proven that consuming certain omega-3 fatty acids can prolong your pet's life since it benefits dog health.
How many types of Welactin are there?
We all know that majority of dogs don't like to take pills. We always try a different way of tricking them into swallowing the pill, and sometimes that doesn't work.
The great thing about Welactin for dogs is that it comes in forms that your dog will easily ingest, and you will not have to fight your dog to swallow it.
Welactin for dogs comes in:
Liquid form – pour the recommended dosage over your dog's regular kibble, and your dog will gladly eat his food as they will notice something new in it.
Softgel – this is one unique way of supplement since it will provide your dog with a different and fun way to take his supplement. These soft gel tablets are chewable, and dog owners reported that their dogs love them.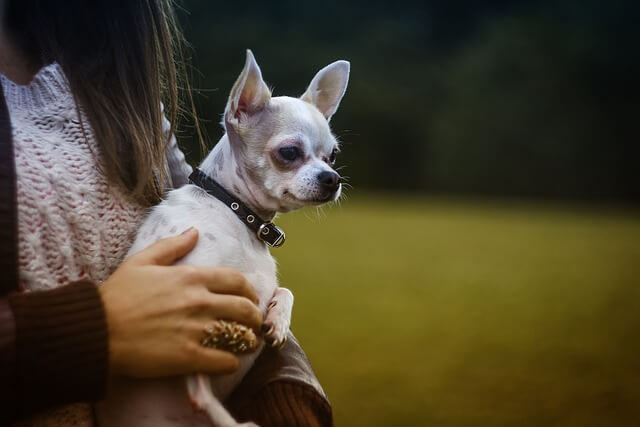 What is the proper dosage?
As with any supplement or medication, you shouldn't take things alone; you should always contact your vet and ask for advice. Although there is a known dosage for different dogs based on their weight, it is always advised to seek information from your vet.
Your vet will know your dog's medical history and can easily suggest what dosage will suit him best.
This is the manufacturer's table of dosage.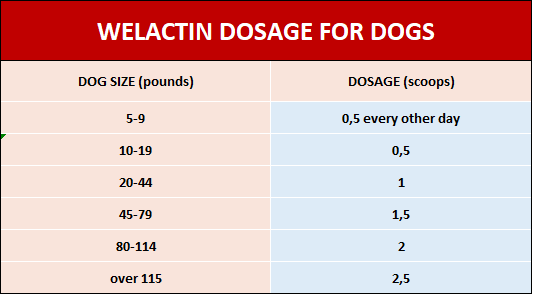 Note: a scoop of liquid equals approximately 6 ml.
If you prefer giving your dog soft gel welactin, the proper dosage will be one soft gel for every 20 pounds of dog weight per day.
Are there any side effects?
As with any medication or supplement, there could be a situation where your dog will experience some side effects, but they are pretty rare and not so dangerous.
The most common side effect of taking Welactin for dogs is diarrhea since certain dogs cannot properly digest fish products. Often time diarrhea will happen because the recommended dosage is not administered, and owners excessively give their dogs Welactin with not caring about the proper dosage.
Besides diarrhea, in some rare cases, your dog could experience
Allergies
Vomiting
Fishy breath
What is important to know is that these symptoms are so rare that you don't have to worry about your dog getting any of them.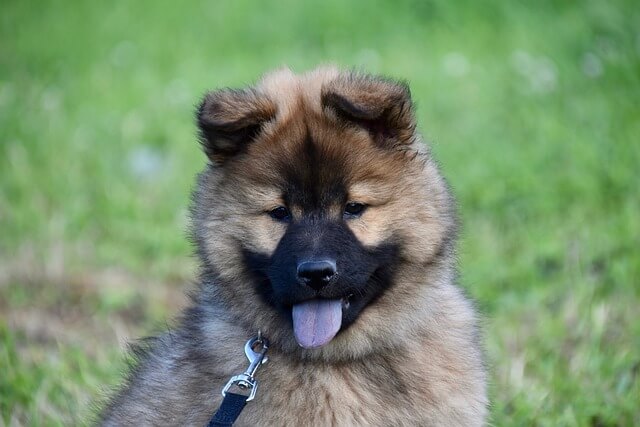 Where to buy?
Buyers reviews
Ripley Said on Jun 25, 2022
I've been putting this on their dry food for years. It has helped with dry skin and as they get older I hope it helps their joints.
Austinandcampbell Said on Jun 10, 2022
Our 11 year old arthritic pup LOVES his Welactin serum. Not only does it add a yummy flavor to his kibble, but we have noticed a difference in his ability to take longer walks/limp less getting out of bed or off of the floor.
Patty Said on Jan 21, 2022
This supplement is great, it only took a couple of days before I saw a huge difference in our Rubys coat and skin. I highly recommend it
Sylvie Said on Jan 3, 2022
Our girl Meah is suffering from joint issues and the Vet Specialist has recommended a large dose (3.5 scoops) spread over 2 feedings. Meah has been on this omega-3 for 3 months and is definitely moving better. This item helps with skin and coat conditions and can provide additional support for joint issues when prescribed by a Vet Specialist.
Ginger Said on Dec 6, 2021
I absolutely love this product!!! My dog has suffered with the scratching every fall and winter and I have tried so many things to help and this is the only thing I have used that began to help immediately. Her coat is silky soft and no more dry skin. Thank you so much Welactin.
Jlec Said on Nov 27, 2021
Great product. Used it several years ago and my vet just recommended I use again.
Omegas Said on Oct 25, 2021
We have been using this for our St. Bernard and great Danes for years. Not only does it help their insides but their coats are soft and shiny! And I think I actually like it!
Rachel Said on Oct 10, 2021
This product was recommended by our vet for our puppy who would itch like crazy and cry! We could not determine an obvious cause. We felt so bad we considered using an off label allergy medication. Instead just by adding this to her food her itching went away. Now our puppy is an adult and we still use the product to keep her seasonal itching at bay.
Babs Said on Jul 4, 2021
Recommended by my vet. I have been using this product for years. It's good for the dog's insides as well as their coat.
By Gabby Said on Jun 2, 2021
My dog loves this stuff! She will either have it over her food or just in a small bowl! Keeps her fur soft and she doesn't itch!
World Dog Finder team