The 5 Best Stool Softeners for Dogs
19.12.2021.
Every product and service on World Dog Finder is independently selected by our editors, contributors, and experts. If you purchase something through our links, we may earn a referral fee. Learn more
---
Like us, our furry four-legged friends can get constipated. If you notice your dog can't do their business as it should, you might get worried. Most of us will want to help our dogs any way we can. One of the ways you might help your dog's digestion is by getting a stool softener for dogs. Before we go into details about the best stool softeners for dogs, here are a few things you should know. These things will help you make the best possible decision about these products, and you can use them as a stool softener shopping guide.
What are stool softeners for dogs?
The easiest way to describe stool softeners for dogs is as medications that will help them pass stool. These drugs are given to dogs with issues defecating or who haven't been able to defecate for a couple of days.
How do stool softeners work?
The basic principle of how stool softeners for dogs help them is pretty basic. Their main job is to draw fluids and fats into the fecal matter. By doing so, the medication should soften the dog's fecal matter and help things get back on track.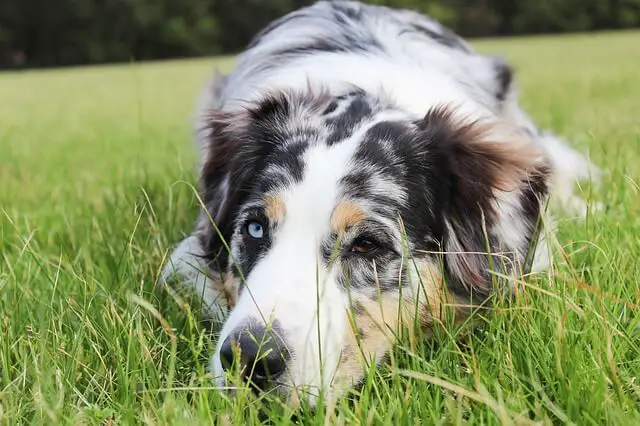 What causes constipation in dogs?
The best thing you could do is learn why dogs get constipated and see if there is anything you can do to help prevent it from happening. Dogs can get constipated for various reasons, and you can read more about it here - Dog constipation. In the meantime, here are the main reasons dogs get constipated;
Insufficient water intake
Medications
Obstructions (like grass)
Eating inedible objects (toys, paper, etc.)
Colon motility disorders
Arthritis (lower back or hip pain)
Dietary indiscretion (some human foods can cause constipation)
Physical disorders or illnesses
Insufficient exercise
VET TIP: Many constipation cases in dogs can be resolved by taking care of these things. For example, if you have a senior dog with arthritis who cannot defecate, the dog might need arthritic medications and not stool softeners.
The best stool softeners for dogs
If you're looking for the best and safest option of stool softeners for your dog, you should know what to look for. Just like with any other product for dogs, some are simply better than others. Here are the active ingredients you should look for in stool softeners for dogs;
Lactulose - This is a human medication that is used for treating liver problems and constipation.
Bisacodyl - Bisacodyl is a dog laxative that will stimulate the dog's bowels for a "quick release."
Docusate Sodium - This is a stool softener for dogs that will increase water absorption and soften the fecal matter so the dog can pass it easier.
Human medications - There are human drugs that dogs could potentially take safely.
VET TIP: Human medications might be safe for dogs, but never try to medicate the dog yourself. Talk to your vet and make sure the dosage and the drug are safe for your pup.
Here are the best stool softeners for dogs;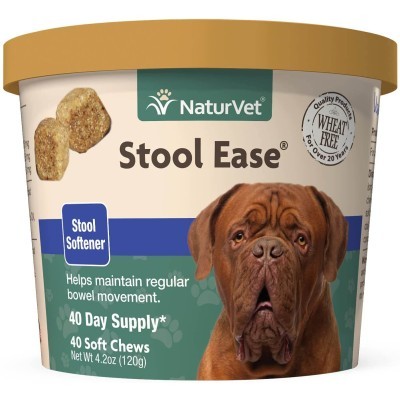 Our top pick is the NaturVet Stool Ease for Dogs. This product comes in the form of chewable tablets, so the administration is easy and delicious to dogs. This container pack 40 chewables, and since this product can be taken daily, it is more than a month's supply. It contains fiber, and it was formulated by vets, so you can be sure this stool softener is safe and effective.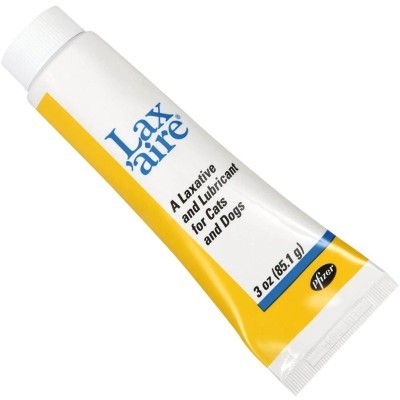 Many dog owners have experience with Lax'Aire Gentle Laxative and Lubricant. They were pretty happy with how this product helped their dogs, and they would highly recommend it. Even a tiny dose can result in a couple of days of regular bowel movement. Like with any other product on this list, make sure you talk to your vet before using it on your dog.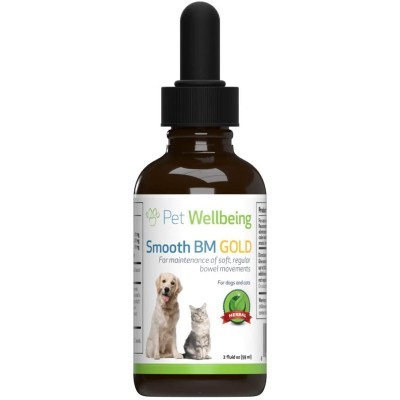 Pet Wellbeing Smooth BM is a stool softener that will support your dog's overall colon health and make their bowel movement regular and enjoyable. The manufacturer claims it contains organic ingredients to regulate digestion without causing runny stool or diarrhea. This is not an aggressive product and can be used long term.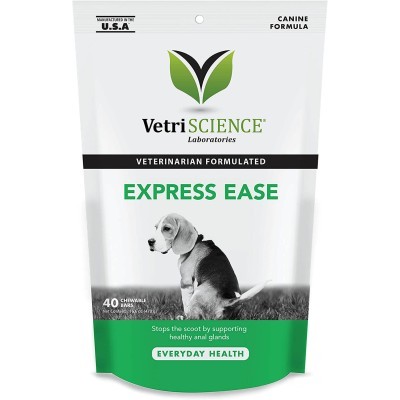 Express Ease from VetriScience Laboratories is a product that will support healthy bowel movement and stool consistency. This is an excellent product for all dogs that have anal gland issues or constipation. Constipation relief might not be this product's primary goal, but dog owners reported it is very effective.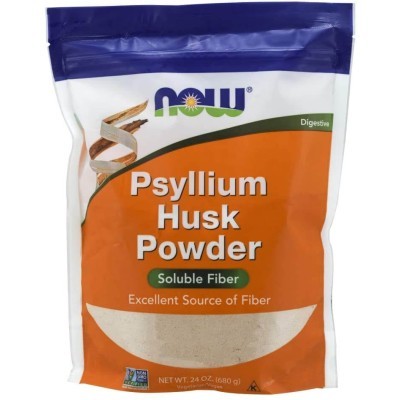 If you want to try human-grade supplements that might help your dog with bowel movement and constipation, Psyllium Husk Powder might be the right choice. Different products contain this ingredient, like Metamucil for dogs, and they should all be safe for dogs. It contains a lot of fiber, which is highly beneficial for dogs' digestion. Many dog owners are really satisfied with this supplement and highly recommend it.
World Dog Finder team