The 7 Best Medicated Dog Shampoos
20.12.2021.
Every product and service on World Dog Finder is independently selected by our editors, contributors, and experts. If you purchase something through our links, we may earn a referral fee. Learn more
---
Being a dog owner means dealing with different health issues your dog can have throughout their life. One of the most common health issues in dogs is skin infections. They can be caused by fleas, ticks, parasites, allergies, or poor nutrition. As responsible dog owners, we must help our furry friends get back their luscious coats and remain as healthy as possible.
If your dog is experiencing skin issues, your vet might advise you to use medicated dog shampoos to help you and your dog deal with those problems. Medicated dog shampoos can deal with different issues. Depending on the root of the problem, the vet might tell you to use different types. World Dog Finder made a selection of the best medicated dog shampoos that will help your dog's skin issues.
The best medicated dog shampoos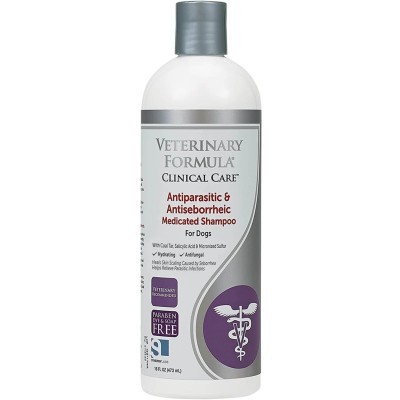 The absolute best medicated dog shampoo you can get is Veterinary Formula Antiparasitic & Antiseborrheic Medicated Dog Shampoo. This product is very effective against skin scaling caused by seborrhea, mange, and topical parasitic infections. It will ease the itching sensation and help your dog heal faster. The formula contains coal tar, salicylic acid & micronized sulfur, which makes it highly effective.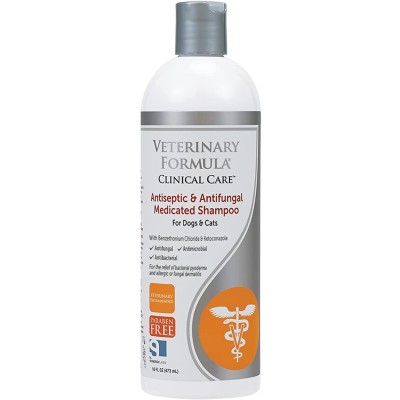 You might think we included the same product on our Nr. 2 spot, but it is actually a different product from the same company. Veterinary Formula Antiseptic and Antifungal Shampoo for Dogs is a medicated dog shampoo that is exceptionally effective against bacterial and yeast infections. The formula contains benzethonium chloride (antibacterial) and ketoconazole (antifungal) agents that will deal with skin issues. It is a fast-acting medicated dog shampoo dog owners seem to love.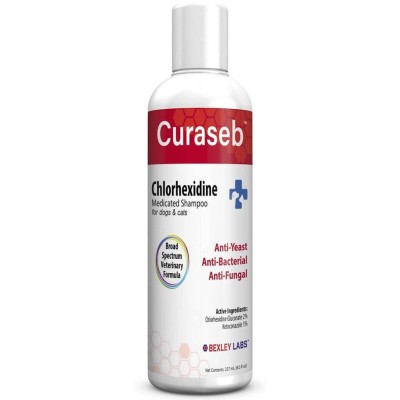 Our third pick on the list of the best medicated dog shampoos is the Curaseb Medicated Shampoo for Dogs. If you notice your dog has hot spots and itching problems, this might be an excellent solution for them. This medicated dog shampoo contains chlorhexidine and ketoconazole, which make it effective against allergies, acne, hot spots, paw licking, and skin infections. It can even be used on cats and horses. Plus, it will leave a pleasant cucumber melon scent and have your dog smelling really nice.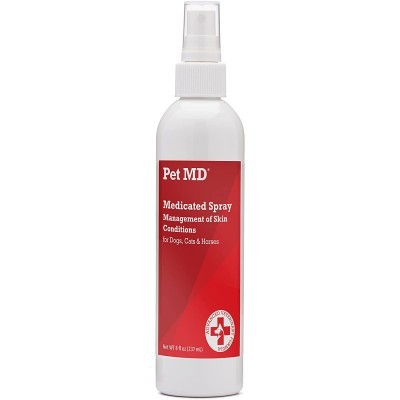 Another excellent choice for dogs with hot spots is the Pet MD Hot Spot Treatment for Dogs. This is not actually a shampoo; it is a spray. The fact that it is not a shampoo makes it perfect for in-between baths, especially for dogs that hate bathing. This is a topical solution that will not sting your dog. Its formula contains chlorhexidine, ketoconazole, essential fatty acids, aloe, and vitamin E, which is fantastic for dealing with pyoderma and dermatitis caused by allergies.
Paws & Pals Dog Shampoo contains only natural ingredients, and the manufacturer claims it is produced with vegan principles. Dog owners seem to be pretty satisfied with the result because this medicated dog shampoo will relieve itchiness, hot spots, dry skin and help condition and detangle the dog's coat. It is a great choice for all dogs prone to allergy-caused dermatitis, pyoderma, and other skin issues that cause redness, inflammation, and severe itchiness. Plus, it contains oatmeal, which is a great shampoo ingredient.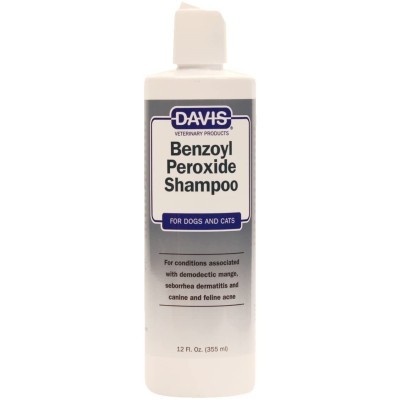 If you have to deal with demodectic mange in dogs, this is probably the best possible choice for dogs. Davis Benzoyl Peroxide Medicated Dog & Cat Shampoo is a powerful product that will deal with severe skin issues. The active ingredient benzoyl peroxide is effective, and even the most severe infestations can be resolved with this medicated dog shampoo. This shampoo will clean the skin and flush out microorganisms and debris. A top recommendation and an effective product.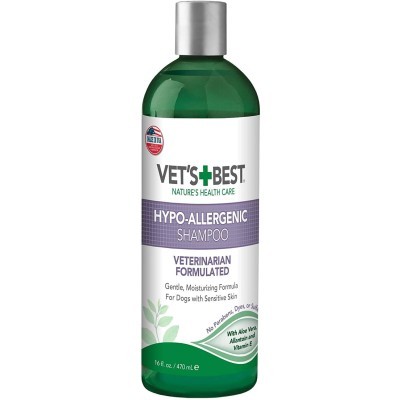 And last but not least, the Vet's Best Hypo-Allergenic Shampoo for Dogs is a fantastic medicated shampoo for dogs. It has a special formula designed to help with the dog's itchy skin. That means it will help you deal with issues like dry, flaky, or red skin on your dog. This is a good option for treating skin issues that are caused by your dog's allergies. The formula contains aloe vera and elevated levels of vitamin E for extra effectiveness.
World Dog Finder team