Best Dog Leg Brace for Weak Joints
14.05.2021.
Every product and service on World Dog Finder is independently selected by our editors, contributors, and experts. If you purchase something through our links, we may earn a referral fee. Learn more
---
There is nothing worse than our beloved dog experiencing a health issue we can't do anything about. Dogs, especially senior dogs, can develop arthritis, and this health condition will impact their joints and overall movement ability. They will need our help while they recover and heal, and the best thing we could do for them is getting them a great dog leg brace that will provide plenty of joint support.
What to look for in a dog leg brace?
Not all products are the same, nor is their quality equal. Whether you are getting your dog a knee brace or a leg brace, there are some things you should look for. It makes no sense to buy the first thing you come across. You should choose carefully and make sure you pick the leg brace that will be the best possible choice for your dog. Here are some of the most important things to look for in a dog leg brace;
Size
Dog leg braces come in different sizes and shapes. There is a huge difference between joints in Mastiffs and joints in Chihuahuas, so make sure the size of the leg brace is ideal for your dog. Luckily, manufacturers offer dog leg braces in different sizes, so you can safely choose the best fit.
Adjustability
All dogs are unique, and some dogs, even within one breed, will have different needs and physical build. It is a good idea to get a leg brace that has adjustable straps. Some dogs will need a tighter fit, and some will have wider joints. Adjustable straps will make sure you can get a tight fit and the best possible support for your dog's leg or joint.
Material
Dog leg brace can come in different materials, and not all material is good enough for your dog. The best possible material for dog leg braces is neoprene. That is the material wetsuits are made of. That means neoprene is durable and strong enough to provide excellent support but soft enough to keep your dog comfy and not cause chafing or hair loss.
Support
The main job the dog leg brace should do is give your dog plenty of leg and joint support. Make sure you look for a dog leg brace that will provide maximum support while being comfortable enough for your dog to wear.
Now you know what the most important things in dog leg braces are. Here are some of our dog leg brace recommendations.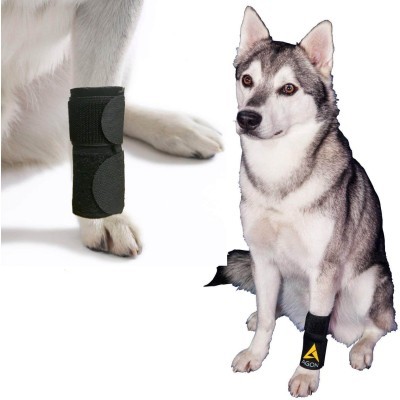 When it comes to knee and leg braces, AGON seems to know what they are doing. The AGON Dog Canine Front Leg Brace is our top pick, and it will provide your dog with plenty of support in their front legs. This is an ideal product for dogs that are recovering from surgeries, injuries, or have arthritis. It can be a painful condition, and this dog leg brace will help support your dog's legs while you are giving them supplements and medications like Dasuquin. This product has a reasonably good Amazon rating, and it comes in three sizes ideal for different breeds.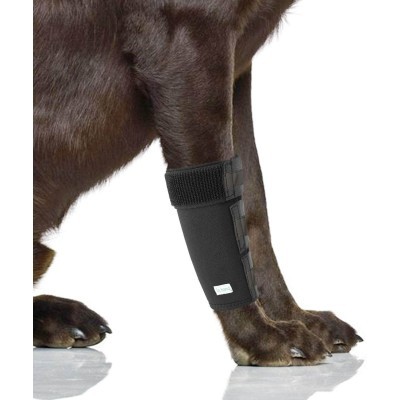 Our second pick is the IN HAND Dog Leg Brace. This is another product for the dog's front legs, and they are usually a lot harder to find. This model features two metal springs that will fixate the dog's leg and prevent it from moving too much and causing pain. This is a relatively good product dog owners seem to be fairly happy with. However, some dog owners reported this leg brace keeps slipping from their dog's leg, and the size can become an issue. Dogs are usually not too fond of having things wrapped around their legs, so make sure you order a tight fit that will stay in place.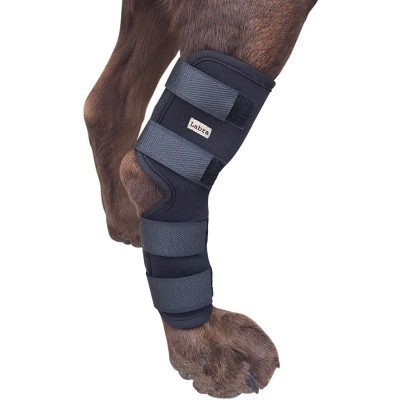 The Labra Extra Supportive Joint Brace is specifically designed to lift the pressure off the dog's knees and ankles. Dogs suffering from leg injuries or arthritis will definitely benefit from this leg brace, and you will make their life a bit easier. The dog's movement ability is somewhat restored, but keep in mind, you still have to continue the therapy and giving your dog joint supplements. This model is made of neoprene, so there is no question about its comfort and flexibility. This is a leg brace often found in vet offices around the US, and it has been tested and approved. If your dog needs back leg support, the Labra leg brace is the right way to go.
World Dog Finder team