The 5 Best Dog Foods for Kidney Disease
25.12.2021.
Every product and service on World Dog Finder is independently selected by our editors, contributors, and experts. If you purchase something through our links, we may earn a referral fee. Learn more
---
Hearing your dog has kidney disease can be pretty disheartening. Many of us will get scared and worried about our dog's life and wellbeing. Luckily, kidney disease can be dealt with. Even with this disease, our dogs can live long, healthy lives. However, it will require we change a few things around our home.
One of the things that can make a huge difference for dogs with kidney disease is proper nutrition. You have to pick the best dog food for kidney disease, and your dog's health will get better, and the disease will progress slowly. However, choosing the best dog food for kidney disease can be challenging. That's why World Dog Finder decided to dig a bit deeper and find out which dog foods are ideal for dogs diagnosed with kidney disease.
The best dog foods for kidney disease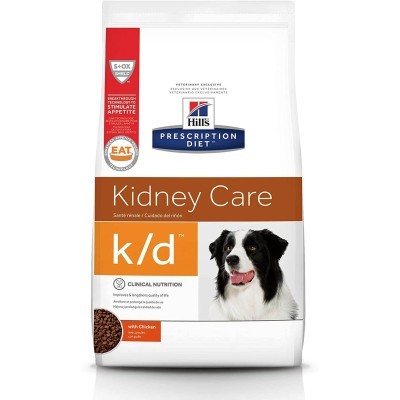 The top pick on the list of best dog foods for kidney disease is Hill's Prescription Diet k/d Kidney Care. Keep in mind that this dog food will need a vet's prescription, and you cannot simply order it online or pick it up at your local pet store. This recipe includes carefully blended proteins, vitamins, minerals, fats, and antioxidants. As you might expect, it has lower protein levels, which dogs with kidney disease need. Many dog owners are pretty happy with this product.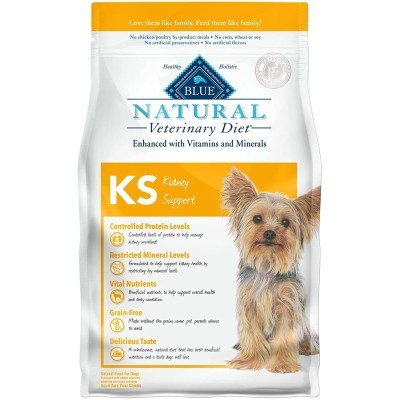 Another dog food that will provide your dog with kidney disease all it needs is the Blue Buffalo Natural Veterinary Diet KS Kidney Support. This recipe is low in phosphorus, protein, and sodium to make the kidneys' job as easy as possible. It contains only 14% protein, but the sources are high-quality, and they come from plants and animals. The main ingredient is still chicken, which is easily digestible and healthy. Overall, this is a great choice your vet will have to prescribe to your dog.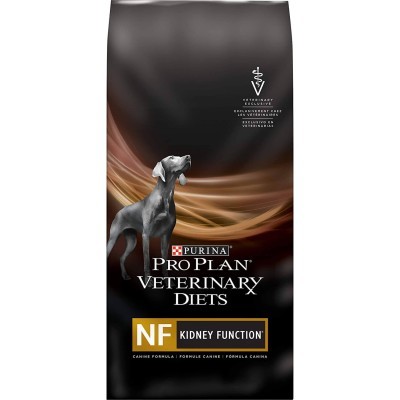 It is not a huge surprise Purina's products are on this list. This might be the biggest dog food manufacturer in the world, and they have a fantastic veterinary diet program. Their Purina Pro Plan Veterinary Diets NF Kidney Function will require a vet prescription, which most vets will be happy to prescribe. This dog food has a limited amount of high-quality protein and phosphorus. It is a great choice that will help your dog deal with kidney issues.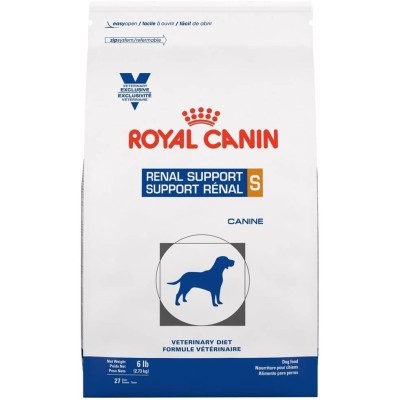 One of the first specialized veterinary dog foods was made by Royal Canin. The ROYAL CANIN Canine Renal Support is a veterinary diet that is prescribed to dogs with kidney disease. This food contains plenty of omega fatty acids, EPA, and DHA, so if your dog gets an inflammation, this food will provide them with the ability to naturally fight it. It has controlled amounts of protein and phosphorus for easier kidney functions.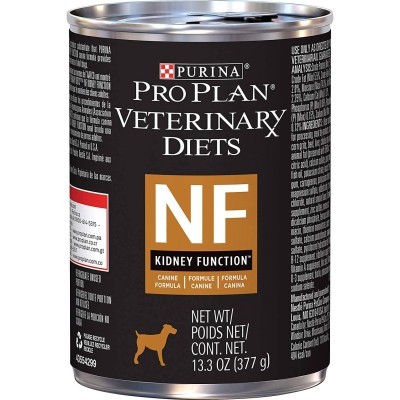 Another fantastic dog food from Purina you can give to dogs with kidney disease is Purina Pro Plan Veterinary Diets NF Kidney Function canned food. This is canned dog food, unlike the others on this list. This food contains a lot of water, which is crucial for helping the kidneys remove toxins. It also has controlled protein and phosphorus levels, which, as we know, is vital for dogs with kidney disease. Dogs generally enjoy the taste, which is the case with most canned dog foods.
How to choose the best dog food for kidney disease?
Unlike other dog foods, kidney support dog foods need to contain unique recipes that will support kidney functions and health. It is absolutely crucial the food has controlled amounts of protein, phosphorus, fats, omega fatty acids, and sodium. The ideal amounts should look like this;
Protein - 14-20%
Phosphorus - 0.2 - 0.5%
Sodium ≤ 0.3%
Omega-3 fatty acids - 0.4 - 2.5%
However, there are other things to look for in the best dog food for kidney disease;
Ingredient list
Before you decide to buy particular dog food, read the ingredient list. Make sure all the ingredients are clearly listed and avoid artificial colors and preservatives as much as possible.
Vet advice
All of these foods can be bought explicitly with your vet's prescription. Listen to your vet's advice and make sure you stick to the feeding regimen your vet set. However, if you have any concerns, don't be afraid to share them with your vet.
Protein source
Animal protein is still the most important ingredient, even in dog foods for kidney disease. You need to make sure that the protein source used in the dog food your dog has to eat is of the highest possible quality. Just because the protein content is reduced doesn't mean it can be low quality.
World Dog Finder team