Here are the 5 Best Dog Foods for Pregnant Dogs, According to Breeders
30.12.2021.
Every product and service on World Dog Finder is independently selected by our editors, contributors, and experts. If you purchase something through our links, we may earn a referral fee. Learn more
---
Proper nutrition is essential. That is true for us as well as for our dogs. However, that statement becomes even more true when you have a pregnant dog. The gestating mother will need all the support she can get, and nothing is more important for the future puppies' health than high-quality dog food for pregnant dogs.
There are fantastic dog food brands out there, but they simply won't cut it for future dog moms. They need a tremendous amount of high-quality protein to help develop and grow their unborn babies. She also needs supplements, carbs, fats, and all of that needs to be carefully formulated to provide the best possible nutritional value. Luckily, World Dog Finder helps many dog breeders provide the best possible support for their gestating bitches. That makes us pretty qualified to recommend the best possible dog food for pregnant dogs. Here's our list;
The best dog food for pregnant dogs
Our top pick and the best dog food for pregnant dogs is the Taste of the Wild Dry Dog Food. We would specifically point out the roasted bison and venison, a grain-free, high-protein recipe. The 32% protein in this dog food will provide enough building blocks for the mom and the puppies. After speaking with different dog breeders, they reported fantastic results with their pregnant bitches. They were delighted with the food and recommended it as soon as we asked them which dog food is the best choice for pregnant bitches.
If you want to provide that extra boost for your pregnant dog at home, you might want to consider Instinct Raw Boost Grain-Free Dry Dog Food. This dog food is a combination of dry dog food and freeze-dried raw food. You can choose chicken, duck, beef, or salmon, but all recipes are equally good. It is packed with high-quality ingredients, vitamins, minerals, and folic acid. All of these things are incredibly important for pregnant dogs. These nutrients will support the best possible development of the puppies. However, it is a bit pricey.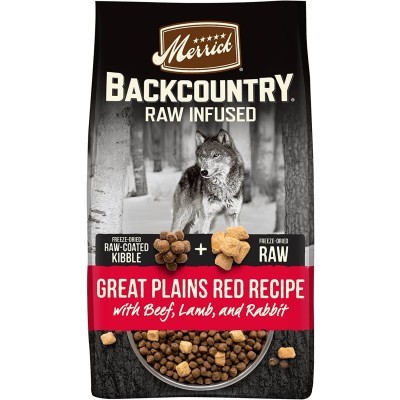 Another fantastic choice for pregnant dogs is the Merrick Backcountry Raw Infused Grain-Free Dry Dog Food. Like the Instinct dog food, this one is also infused with freeze-dried raw bits. The main difference is that this dog food includes three primary protein sources - beef, lamb meal, and salmon meal. These "meals" are meat extracts that are absolutely packed with protein. They can contain 300% more protein than pure animal meat. That is definitely something you want to provide to pregnant dogs.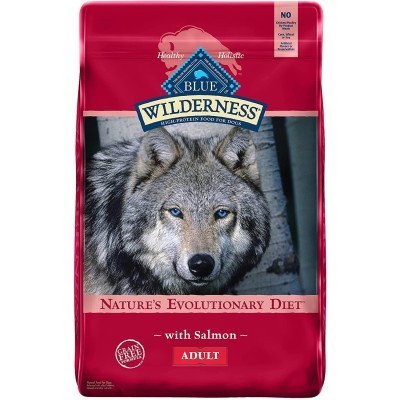 The Blue Buffalo Wilderness High Protein line of products is fantastic. This product line includes 6 different recipes, which all contain elevated amounts of protein. As we know, that is something pregnant dogs need. You want to include things like omega fatty acids, B-complex vitamins, calcium, and folic acid in a pregnant dog's diet. Luckily, this dog food contains all of those nutrients. You can be sure you will make a great decision if you go for this dog food brand for your pregnant dog.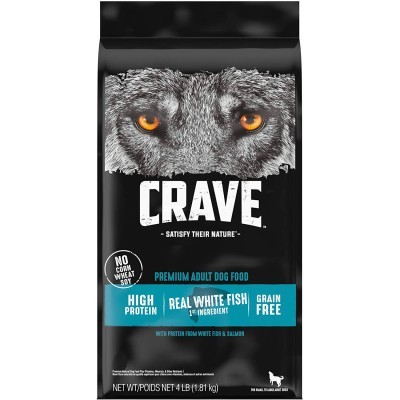 If you want to provide alternative primary protein sources for your pregnant dog, you should strongly consider CRAVE Grain Free High Protein Adult Dry Dog Food, White Fish & Salmon. This dog food manufacturer created a recipe that is ideal for pregnant dogs. The primary goal was to make dog food for highly active working dogs, but creating several puppies can be considered hard work. This food will provide the necessary protein, carbs, fats, vitamins, and minerals the bitch and the puppies need for development. It is an excellent choice and a great recommendation that comes directly from dog breeders.
What to look for in dog food for pregnant dogs?
There are a few things you should look for in dog foods in general, but dog foods for pregnant dogs should be examined thoroughly before you decide on one. Here are a few things you might want to consider before you decide on any specific brand;
Protein
The most essential nutrient in any dog food is animal protein. However, proteins are even more important for pregnant dogs. Proteins break down into amino acids, and amino acids are basic building blocks for all body tissue. As you can imagine, puppies need a lot of developing and "building" to do. Make sure you look for dog foods rich in high-quality protein.
Ingredient list
The first thing you should do is check the ingredient list. In fact, this is something you should do before you buy the food. Make sure all ingredients are clearly listed. Avoid things like meat by-products, taste inhibitors, preservatives, and artificial colors.
Origin of the food
This might sound snobby at first, but picking dog food that comes from countries without strict food production laws and restrictions is risky. You should always go for dog foods that are produced in countries that have rigorous laws and testing. Look for foods from the USA, Canada, UK, New Zealand, Australia, Western Europe, and Scandinavia.
World Dog Finder team