Best Dog Food for German Shepherds
28.04.2021.
Every product and service on World Dog Finder is independently selected by our editors, contributors, and experts. If you purchase something through our links, we may earn a referral fee. Learn more
---
German Shepherds are one of the most popular dog breeds in the world. Taking care of your GSD is vital, and you should choose the best dog food for your German Shepherd. Picking the right dog food is vital for many different reasons, and when it comes to these dogs, you should take special care of the calcium levels in their food. Here is what you should know about choosing the best food for your German Shepherd.
What to look for in German Shepherd's dog food?
When picking any dog food, especially for an at-risk dog breed like the German Shepherd, you should look for specific things and ingredients in it. Not all dog food is the same, and some are simply better than others. Here are the most important things to look for in the best dog food for German Shepherds.
Origin
Some countries have strict regulations when it comes to producing animal food. You should look for dog food originating in those countries. Look for dog foods coming from North America, Western Europe, Australia, United Kingdom, or New Zealand. The best thing you can do is pick dog food from trusted manufacturers.
Supplements
The FDA doesn't require dog food manufacturers to include supplements in any dog foods, but it would be a good idea to get dog food that includes them. German Shepherds can develop joint and arthritic problems, so including things like omega fatty acids, glucosamine, and chondroitin is a good idea.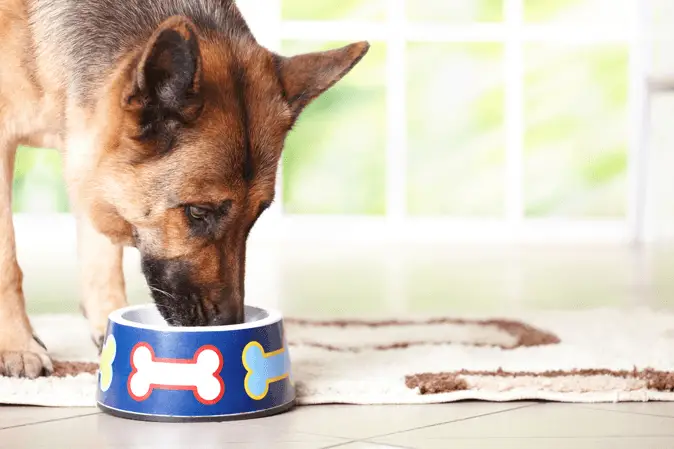 Age-appropriate dog food
Dietary requirements are different in each stage of your German Shepherd's life. A senior dog might need more protein, and puppies might need more carbs. Luckily, many dog foods offer precisely what your dog needs in each stage of their lives. Make sure you pick age-appropriate German Shepherd dog food.
Calcium levels
German Shepherds have an increased risk of developing hip dysplasia, so one of the most critical things in the puppy's diet is calcium. You absolutely have to make sure there is NOT TOO MUCH Calcium in your German Shepherd puppy's dog food.
Protein
Protein is the most important ingredient in all dog foods. The dog food you choose for your GSD must have high-quality protein. Make sure the dog food label has clearly listed ingredients, and protein should be the main one. Look for quality meats like chicken, duck, turkey, lamb, buffalo, and other safe and healthy protein sources.
Kibble size
One of the crucial aspects dog owners don't think about enough is the kibble size. German Shepherd's dog food should have larger kibble for the simple reason - the dog will chew it better. These dogs are large and are at risk of bloat. Dogs that chew their food and eat slowly are less likely to suffer from this condition.
Want to know more about this breed? Check out the German Shepherd full breed profile.
Now that you know what to look for in the best dog food for German Shepherds, here are our top recommendations.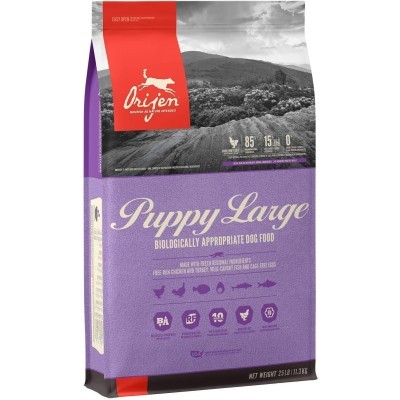 It is not a huge secret we are huge Orijen fans, but ORIJEN Puppy Dry Dog Food for larger breeds is one of the best possible dog food picks you can make. Not only are all ingredients of the highest quality, but this food checks all of the boxes. The main ingredient is high-quality protein. It is produced in trusted countries. It includes supplements (all three we mentioned above), and it has controlled calcium and phosphorus levels. This is one of the best dog foods for your Germans Shepherd puppy.
Pros
Includes supplements
High-quality ingredients
Trusted manufacturer
Cons
Orijen dog food is pricey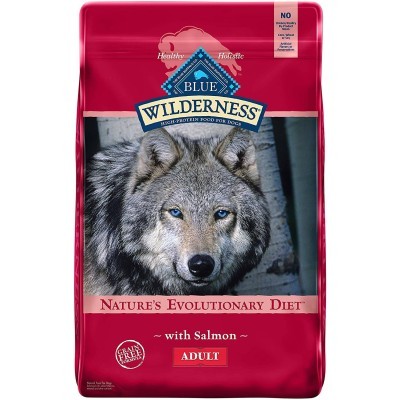 When it comes to picking food for your adult German Shepherd, one of the best choices is the Blue Buffalo Wilderness with Real Salmon. German Shepherds can develop food allergies, and they might not do well with the most common protein sources. Luckily, this salmon-based dog food will be an ideal alternative. In fact, there are plenty of benefits from having healthy fish as the main ingredient. Keep in mind this food still contains chicken, so it is not for dogs with chicken allergies. This dog food also comes from a trusted manufacturer, includes supplements, and has controlled calcium levels. Plus, it has more than 7.000 5-star reviews.
Pros
Salmon
Includes supplements
Dogs love the taste
Cons
Some owners reported dogs having bowel movement issues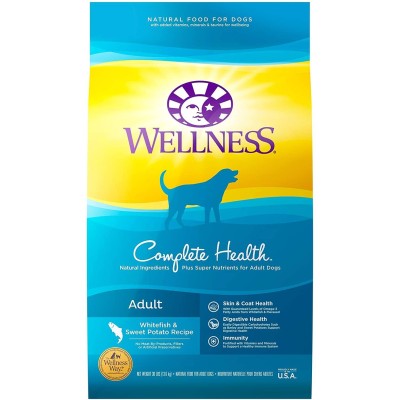 One of the best choices for dogs with grain allergies (common in German Shepherds) is the Wellness Natural Pet Food. This is another fish-based dog food with high-quality ingredients. The critical thing is that it contains no grain like corn, wheat, or soy. This is an excellent choice for all GSDs. However, if your dog doesn't prefer fish, Wellness chicken and lamb options are just as healthy and beneficial. Whichever option you choose, you can be sure you will not make a mistake. Make sure you take your time when switching dog foods and allow enough time for your dog to adapt.
Pros
High-quality ingredients
Palatable
Includes supplements
Improves the dog's stool
Affordable
Cons
Doesn't include probiotics even though they include them in their marketing
World Dog Finder team