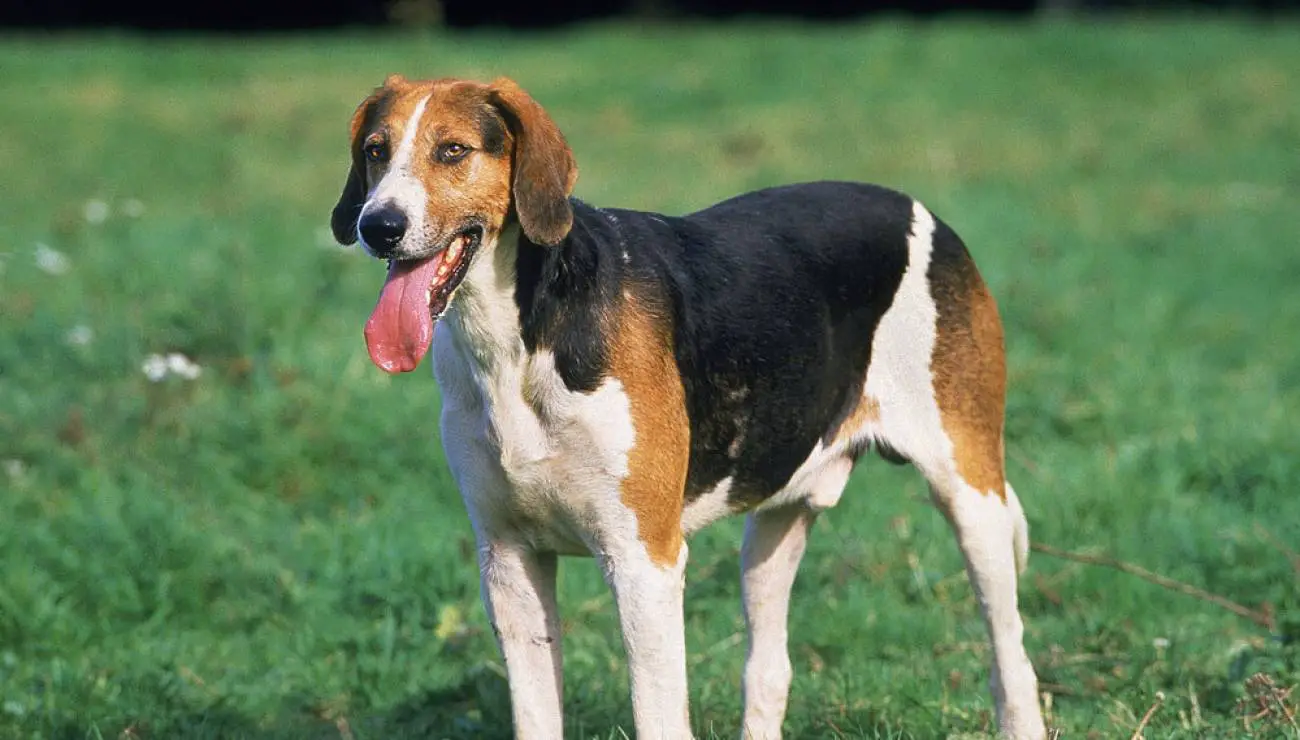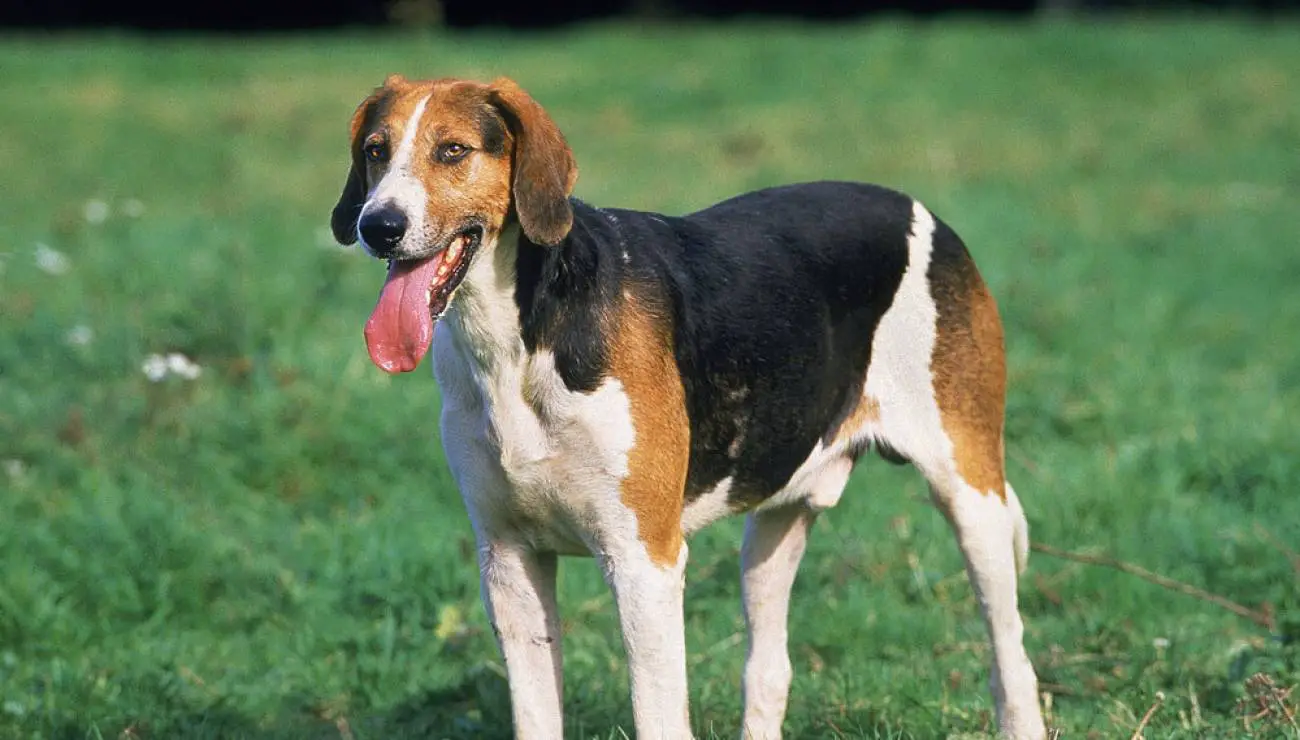 English Foxhound
Last updated: Sep 04 2023
The English Foxhound is the ultimate hunting breed that was bred exclusively for foxhunting. That part is pretty clear from their name, but as that "sport" became banned, these dogs needed to play a different role in finding a place for themselves in modern society.
English Foxhounds are highly energetic hunting dogs that have an extremely high prey drive. They were used for pack hunting and were accompanied by horse-riding hunters. It wasn't uncommon that packs of over 50 dogs went hunting with their noble owners. These dogs became extremely popular with English royalty and even became a status symbol. English lords bought these dogs and wanted to develop the breed to show their status among other royals.
To this day, the English Foxhound remains a hunting breed that is better suited for working in the field than being a family pet. But if you are interested in getting one of these dogs, here is how other owners describe them:
Extremely energetic
Active
Loud
High prey drive
Sociable
Gentle
Affectionate

Height:
23–25 in (58–64 cm)

Weight:
60-75 lb (27-34 kg)

Origin:
Great Britain

Life Expectancy:
10-13 years
Dog Breed Characteristics
The English Foxhound should give an impression of a fast, energetic, and powerful dog. They should have muscular legs and straight, powerful backs. The breed's standard stated that these dogs have long necks, flat heads, and deep chests. Their eyes should be of medium size and can range from hazel to brown in color.
These dogs have short, shiny coats that can protect them from harsh weather. All hound combinations of color are allowed, with plain white and white and yellow combinations as well. The average English Foxhound is 24 inches tall and weighs between 60 and 75 pounds.
Temperament
The English Foxhound is widely known as a true hunting breed, and their temperament might need some adjustment for them to become good pets. Hunting breeds are usually extremely active, and they need a decent amount of daily exercise if you want them to behave as family pets. Only when their activity needs are fulfilled are these dogs ready to train and become obedient.
They are also pack animals and love nothing more than to be a part of a working hunting pack. They are very vocal, and if you live in an apartment, your neighbors won't be too happy about your dog barking and howling.
Their temperament is better suited for living in the countryside in a household or a farm that can provide them with plenty of room to run and spend their endless energy. If you can train your dog to be a pet, they can be affectionate, loving, gentle, and patient. But keep in mind this is not a breed for everyone.
Training
English Foxhound was bred for hunting, and because of that, they will need proper training if you want your dog to develop into a well-behaved dog. Also, their high prey drive can be a problem that you will need to take care of. These dogs can be stubborn, so you will need patience and consistency. They can object to training, but they will eventually do what you expect them to do if you are persistent. These dogs prefer doing things their way.
When training an English Foxhound, make sure you use positive training methods. Never use fear, punishment, or pain because not only is it cruel, it can result in an overly shy or even aggressive dog. Be firm, fair, and consistent, but use only positive reinforcement!
These dogs are eager to do whatever their people ask of them. Involve as many treats as you can and keep the training sessions interesting.
Socialization
When socializing an English Foxhound, you shouldn't have too many problems because these dogs have been working with other dogs for years, and they generally get along great with them. They can be shy when it comes to strangers, but early socialization can teach them that strangers are nothing to be afraid of.
Socialization can even be done at home. Dress differently; wear glasses, hats, and baggy clothes so your puppy can't recognize you right away. Teach your puppy to stay alone for a while and not make a fuss about it. It is the best way to make sure your puppy will grow up to be a stable, confident, and well-behaved dog.
English Foxhound and other pets
When it comes to other dogs, the English Foxhound has no issues and even prefers to have the constant company of other dogs. If you are thinking about getting one of these dogs, it might be useful to think about getting them some company. They will get along with just about any breed and with dogs of both sexes.
Their philosophy is "the more, the merrier." If your dog has some company, it is less likely to get in trouble and misbehave while you are away. They are also less likely to be bored and less likely to develop separation anxiety.
If you already have other pets like cats, bunnies, ferrets, gerbils, or guinea pigs at home, you might want to rethink your dog breed choice. No matter how well your English Foxhound is trained or socialized, it will never be a good companion to other smaller pets. These dogs have a powerful prey drive that will make them see other pets as prey. They will most likely chase them, and that can have terrible consequences.
English Foxhound and kids
Early socialization and proper training can teach them to behave even when children are around. Their temperament makes them more suitable for families with older children. If you train and socialize your dog well, your children will get a great playing partner that has plenty of energy. These dogs can play for hours upon hours without getting tired or bored.
Children should never be left alone with any dog, no matter what breed it might be. You should make sure that your children understand how to approach dogs of this breed and understand how to interact and play with them properly.
English Foxhound as pets
If you are looking for a hunting dog, the English Foxhound might be one of the strongest candidates. These dogs have performed numerous hunting tasks over the years, and they have excelled at all of them. If you are looking for an active family pet, these dogs will have some requirements.
They will need an active owner that takes them regularly for hiking adventures, running, or playing in the park. They have endless energy and can run and play all day. However, if these requirements are not met, the English Foxhound can become problematic.
These dogs can be great playing partners for kids, especially if they grew up together. They are not the best choice for households with smaller pets like cats, guinea pigs, or ferrets.
Coat and Care
Regular brushing will take care of the dead hair, and since these dogs are moderate "shedders," brushing will also help you keep the place clean and hair-free. Dogs' coats have natural, protective oils that can be washed off if they are being washed too often.
They are not demanding when it comes to taking care of their coat, and even if they live inside, they will not make a huge mess.
They will also need other basic care; brush their teeth at least three times a week. Check their ears for signs of infection and redness, bathe them only every 2 months if they get dirty or smelly (more if they live inside the house), and trim their nails if they don't wear them down naturally.
Health problems
The English Foxhound is generally considered a healthy breed, but they are prone to some health issues and concerns like any other dog breed. These dogs have an average lifespan of 10 - 13 years.
When getting any breed, the breeder must show you the health tests that they have done for their breeding dogs. Dogs must be adequately tested because taking a chance and hoping that the puppy's parents are healthy is a risk no one should ever take. Only healthy dogs should be bred because that is the only way to ensure that bloodlines will remain healthy and without any problems. Health problems associated with this breed are;
Epilepsy - Brain problem causing mild to severe seizures.
Hip dysplasia - Genetic problem affecting hips resulting from an improperly formed hip joint.
Renal disease - This is a disease that affects kidneys and prevents them from cleaning the blood properly.
Breeders
If you decide this is the right dog for you, it's time to find a good and responsible English Foxhound breeder. Buying a dog from such a breeder will provide you with a healthy puppy who will not have health and temperament problems.
Buying a dog from a responsible breeder will cost you more money, but you can be sure that you will get a healthy puppy. If you are unable to buy a dog, we advise you to search for local animal shelters because there is a chance you can find these dogs in it.
World Dog Finder team

Breed History
The history of the English Foxhound begins in the early 18th century. English hunters wanted to create a breed that is capable of hunting and tracking red foxes. They were interested in following their dogs on horseback and that dogs do most of the hunting. A single red fox was no match for a pack of 50+ Foxhounds on their tail.
To create such a breed, English breeders decided to mix different breeds and promote their characteristics to benefit the new hunting breed. They crossbred Bloodhounds, Greyhounds, Deerhounds, Terriers, Whippets, Old English Bulldogs, and Fox Terriers to get the desired characteristics and traits. After years of selective breeding, the final result is the English Foxhound.
Almost as soon as the breed was created, Lord Fairfax brought these dogs to the US. Foxhunting was popular in the US as well, so these dogs gained popularity rather quickly. The most famous English Foxhound owner was George Washington. American owners started crossbreeding these dogs and created the American Foxhound which is a lot more popular in the US these days.