The story of Cerberus Illusion kennel
---
Cerberus Illusion kennel is breeding the rare breed Cimarron Uruguayo. The first two dogs were brought to the kennel in 2014. They were sisters from the same litter. Their parents came from famous Uruguayan kennels De Los Nogales (owned by Mr.  Luis Alfonso Meny) and Las Raíces (owned by Dr. Gonzalo Ferreira). Since the age of 8 weeks, both females were trained in obedience, tracking, and later also in protection. The decision for breeding came after health tests of both females with excellent results.
It was quite difficult to find a male, which would suit both females, have excellent health, as well as character and working potential. After more than one year of searching, Tinu De Aqueronte was found. He came from famous Uruguayan breeder Adriana Romero Doldan as well as the female who was brought home together with him.
As soon as both dogs came to Cerberus Illusion kennel, their training has started. They were almost 2.5 years old, never trained before. So at the beginning, both were trained in obedience, then the female was trained in fetching and the male in protection. Some sources claim that this breed can be trained only as puppies but according to Gabriella Hurtos: "A good Cimarron Uruguayo can be easily trained at any age."
The first litter was born in October 2016. Each litter is raised inside, 24/7 in contact with people. They are socialized for plenty of sounds, objects, and the whole household, as well as other adult dogs (small and large breed as well). The early neurological stimulation is made with each puppy. You can see the way how puppies at Cerberus Illusion kennel are socialized here: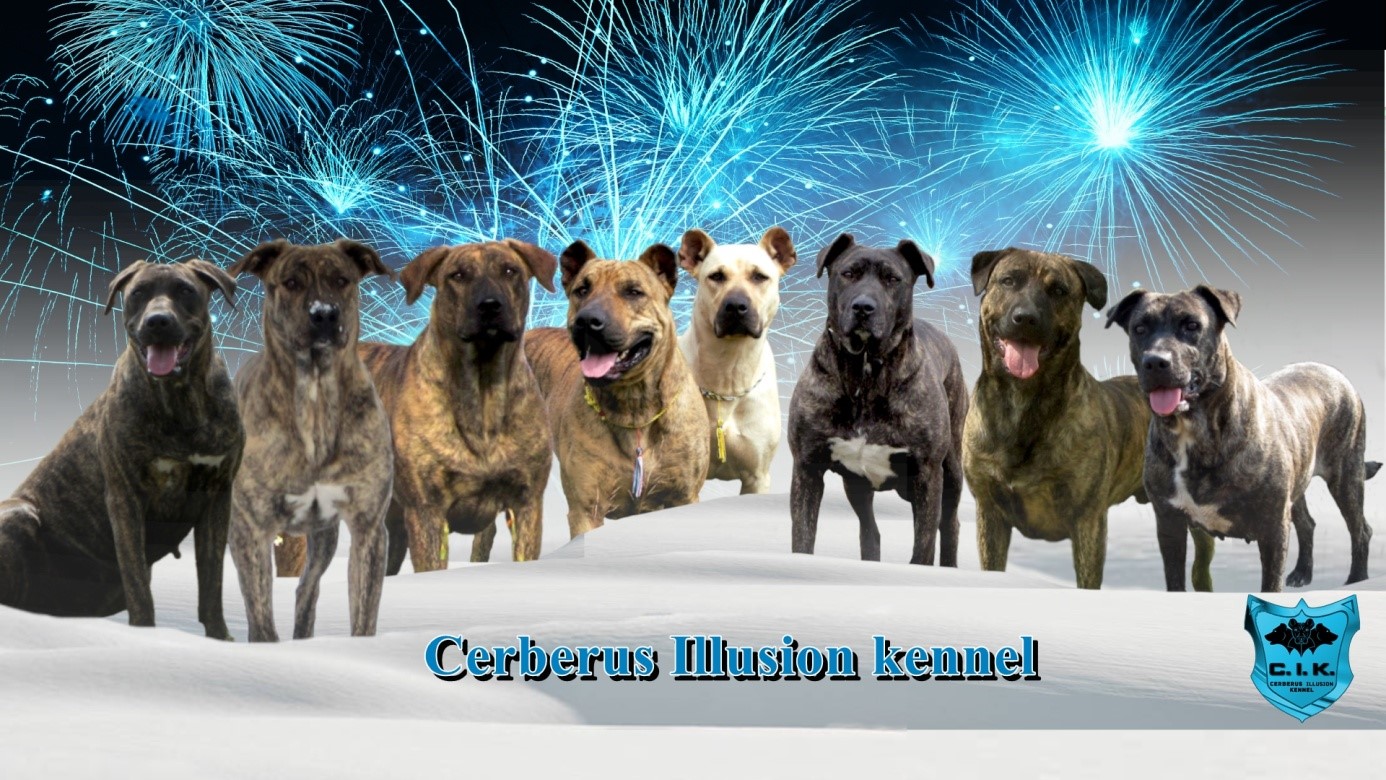 Cerberus Illusion kennel has very strict breeding criteria. Only absolutely healthy dogs which are also free of hip dysplasia are used in breeding. At dogs that are raised at home, the elbows and spine are checked too. Except for excellent health, dogs used for breeding must also have extraordinary character and working potential. Each dog in Cerberus Illusion kennel is trained in obedience, some also in fetching, tracking, and/or protection.
In spite of the fact that the oldest "puppies" from Cerberus Illusion kennel are only 2 years old, till the end of 2018 they gained plenty of titles: Junior World Winner, Junior Vice-World Winner, Best Derby Winner, Molosser Club Winner, and plenty of other winner titles. They also got 41x Best of Breed and 22x Junior Best of Breed, BIS Best Brace 1st place, 21 champion titles including junior, adult, grand, and show champion titles in 9 various countries.
In the Cimarron Uruguayo Europe competition dogs from Cerberus Illusion kennel excelled. 5 dogs were in the first 4 places in the adult category and 3 dogs were in the first 3 places in the junior category. The parents of these "puppies" were in the first 3 places in Progeny (best parents) category.
Puppies will be soon born in Cerberus Illusion kennel. Both parents are multi champions; both are working and have excellent health results.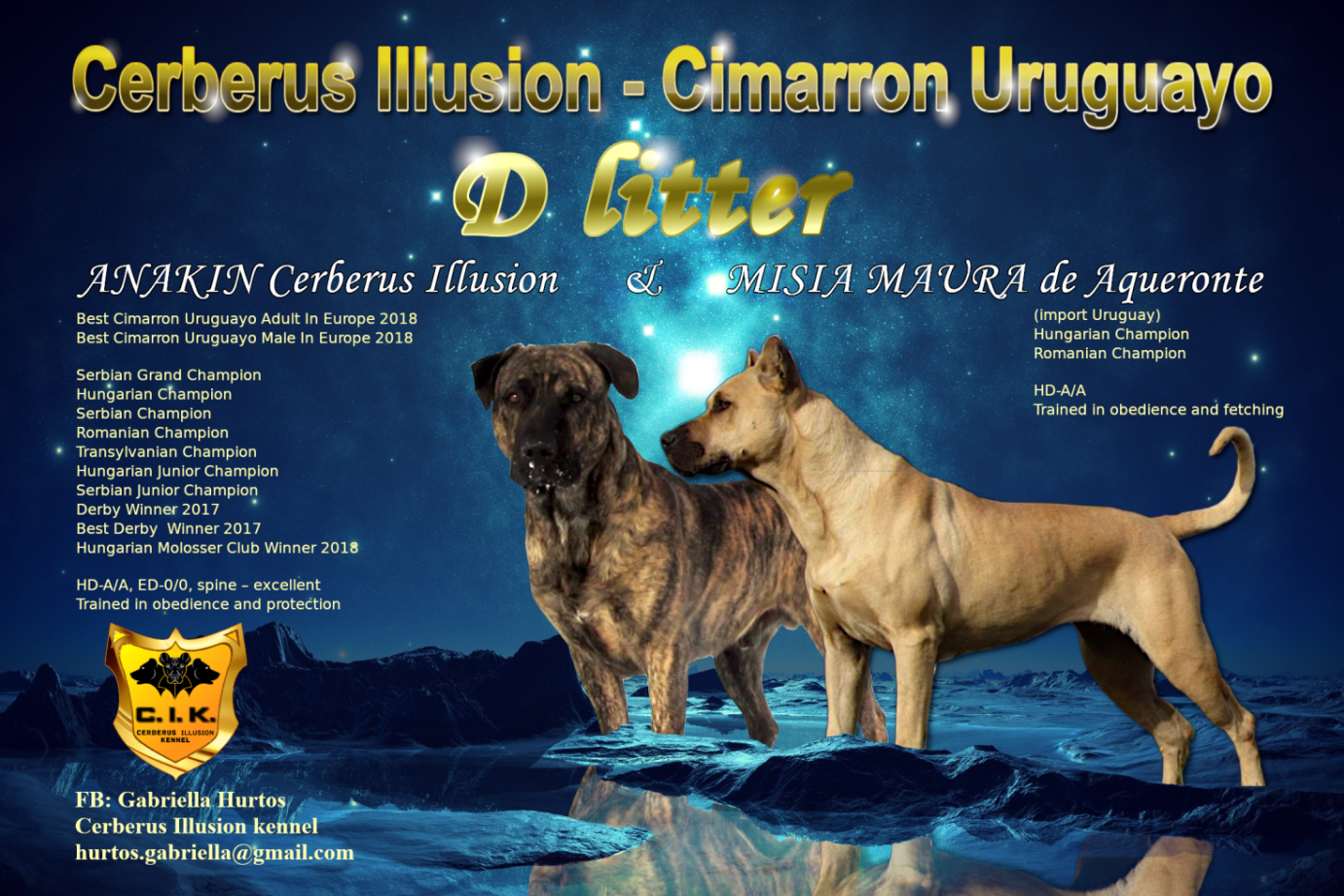 According to the owner of Cerberus Illusion kennel, Gabriella Hurtos: "Cimarron Uruguayo is the dog, which will read your mind, feel exactly the same what you feel, will be eager to please and even willing to die for you".
The breed is FCI recognized on a definitive basis within-group number 2 as a molossoid, mastiff-type dog. The Cimarron Uruguayo is a multi-purpose working breed used for guarding, tracking, hunting (big game), herding, and protection. They serve as police or search and rescue dogs. They are used in the Uruguayan army, too. Some dogs do agility, bikejoring, obedience, or many other dog sports. Some prefer fetching with a ball, others love Frisbee.
Cimarrons are also extraordinary family dogs. They behave nicely with small children. They usually live free in packs, where the tolerance of other dogs is a must, so they get along well with other dogs and animals, too. You can train them quite easily.
The character of cimarron's is really special. While they might look dangerous, they are very kind towards their own family. They usually choose one person, who is number one for them. Cimarrons are loyal, clever, and thinking dogs. They can protect their family and home very well. They shouldn´t be aggressive or overly shy. According to the FCI standard, such dogs should be eliminated from breeding.
World Dog Finder team