Dog Food Recall - Shredded Entrée 10-1-2021
---
On the 1st of October 2021, Shredded Entrée had to recall their canned food. According to the FDA, their food had elevated vitamin D content. The product recall was voluntary, and the company worked closely with the FDA to make sure they got ahold of all contaminated cans.
The company responsible for the recall is Fromm, and on Friday the 1st of October, they announced they will be voluntarily recalling four types of canned dog food. The good news is there weren't any health issues connected to this recall, and the company is taking all preventive measures to make sure nothing bad happens.
What is being recalled?
Fromm is recalling their Shredded Entrée canned dog foods. If your dog is eating this dog food brand, you should know the four types being recalled;
Four-Star Shredded Beef in Gravy Entrée
Four-Star Shredded Chicken in Gravy Entrée
Four-Star Shredded Pork in Gravy Entrée
Four-Star Shredded Turkey in Gravy Entrée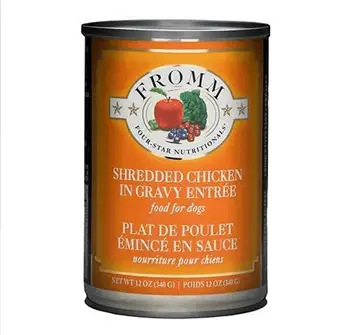 This is a specific production line that was contaminated with elevated levels of vitamin D. The company tested all of their other products, and they are safe to eat.
How can I know if I have bad Shredded Entrée food at home?
Before you feed any more of this food to your dog, you need to make sure the food you have is safe. The easiest way to check the food's safety is by checking the case item number, single-can UPC, or case UPC, depending on what package you took for your dog. Here is that information for all of the recalled products;
| | | | |
| --- | --- | --- | --- |
| Product name | Case Item Nr. | Single-can UPC | Case UPC |
| Four-Star Shredded Beef in Gravy Entrée | 11877 | 07270511876 | 072705118779 |
| Four-Star Shredded Chicken in Gravy Entrée | 11881 | 072705118809 | 072705118816 |
| Four-Star Shredded Pork in Gravy Entrée | 11879 | 072705118786 | 072705118793 |
| Four-Star Shredded Turkey in Gravy Entrée | 11883 | 072705118823 | 072705118830 |

Where was the food distributed?
The food was distributed nationwide, so no matter where you are, make sure you check the numbers on the food you are giving to your dog.
Why is the food being recalled?
As we already mentioned, the contaminated food has elevated vitamin D content. There are 5.500 recalled cans, and the company is working on getting all of them back.  The higher vitamin D ingestion can cause all sorts of health problems for the dogs eating that food. Here's what the company published in their official letter;
"Potential adverse reactions could occur in all size dogs.  No reports of illness or injury have been reported from consumers to date, however, Fromm management has determined it is prudent to pull these four lots out of distribution.
Dogs ingesting elevated levels of Vitamin D may exhibit symptoms such as vomiting, loss of appetite, increased thirst, increased urination, excessive drooling, and weight loss. Vitamin D, when consumed at very high levels, can lead to serious health issues in dogs, including renal dysfunction. Consumers who have dogs that have consumed any of the affected products and are exhibiting these symptoms should contact their veterinarian."
As you can see, potential adverse reactions can be very severe. Make sure you check the packaging of the food. Another helpful thing you can check on the contaminated cans is the best-by-date notice. On the recalled one is Best By Date 08/2024.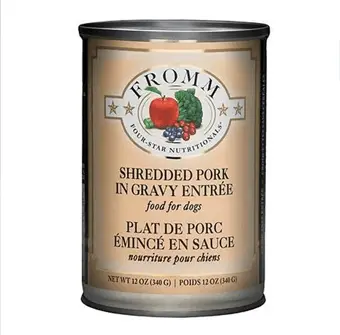 Getting in touch with Fromm
If you'd like to report any adverse reactions or potential issues, you can contact Fromm. Consumers with questions may contact the company at 1-800-325-6331 from Monday through Friday, 8:00am-5:00pm, Central Time, or may contact [email protected]
World Dog Finder team