True Story of Togo the Sled Dog
---
If you like dog movies, you most probably heard the story about Balto when you should, in fact, hear the story about Togo - the sled dog. Togo was part of a 1925 serum run to Nome, Alaska, and while Togo had the most significant role, Balto has got the credit. Today you will learn the true story of a true hero - Togo the sled dog.
Who was Togo?
Togo is best known for his leading role in the Nome serum run of 1925. He leads the team of sled dogs through a blizzard and treacherous terrain to deliver the much-needed diphtheria medicine. This is a dog that lived in Balto's shadow until finally, the legendary musher, Leonhard Seppala, told the world the fantastic story of Togo, the sled dog.
Beginnings
Togo was a Siberian Husky that had a black, white, and grey coat. He appeared to be dirty, and his owner, Leonhard Seppala, didn't have much hope for him when the dog was born. The puppy was always sick and was constantly up to no good. His misfit character got him in trouble wherever he went.
Togo received plenty of attention and medicine to get better from Leonhard Seppala's wife, Constance. Everyone believed that Togo would be a weak dog, and he reached only 48 pounds, which is not enough for a sled dog. Constance and Leonhard Seppala decided to give Togo away to be a pet since his future didn't look promising.
Little did they know Togo, the sled dog, had different plans. His instincts told him he was not going to be a pet. He was sure about his led dog destiny. Togo jumped through a closed window of his new owner's house and ran back several miles to get back to Leonhard Seppala's kennel. The Seppala family was so impressed they decided to keep Togo. However, his reckless behavior didn't stop there.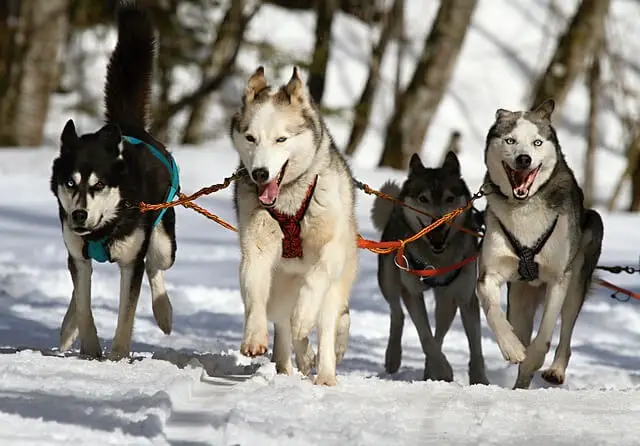 Togo's young behavior
When Togo was still a 6-month old, he returned to his original owners. However, his behavior was still getting him into trouble. Leonhard Seppala bred sled dogs, and he was one of the best. He took his dogs for a run and sled training each day, and whenever he went out, Togo used to follow them and attack the leading sled dogs. Once, he attacked a leading large Alaskan Malamute. That was a huge mistake, and Togo was nearly mauled to death. Luckily, Togo survived, and after that incident, he stopped attacking other sled dogs. It ended up being quite a valuable lesson.
First sled dog assignment
Leonhard Seppala had no idea what to do with Togo. Togo would break out of his kennel as soon as Seppala was gone with the other sled dogs, and he wouldn't settle until they returned. One day Leonhard Seppala was hired by a man that heard about a spot where gold could be found. They needed to leave immediately, and it would be a whole-night trip. The Seppala sled dogs had to take the man to the digging site, and Leonhard had no time to deal with Togo's antics.
When the moment of departure arrived, Seppala ordered his kennel handlers to keep Togo locked and tethered inside the kennel until they left. Moments after the sled dogs started their assignment, Togo broke free and tried to jump the kennel's fence. His paw got stuck, and kennel handlers had to help him get free. Before the handler could grab him, Togo broke free and started running after Leonhard Seppala and the other sled dogs.
He caught up with them that night and slept unnoticed close to Seppala's tent. It wasn't until the next morning that Leonhard noticed his dog in the distance. Wherever they ran, Togo followed. Of course, Togo was up to no good again. When the sled dogs rested, Togo tried to play with them. He ran with them all the way to the digging site and back. All through the trip, Togo tried to lead the sled dogs to chase reindeer!
Leonhard Seppala had no chance of getting Togo to behave, so finally, he decided to put a mushing harness on the 8-month Togo. Togo immediately felt calm. He ran with the sled dogs for more than 75 miles, which was unheard of in such a young sled dog. After that, Leonhard Seppala said Togo was an "infant prodigy," a natural-born leader he has tried to breed.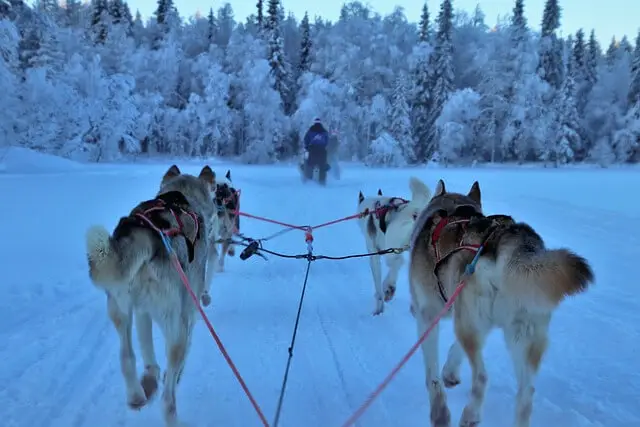 One of the most popular sled dogs was the Alaskan Malamute. If you want to know more about them, check out this article - 7 things you must about Malamutes.
Becoming the best sled dog ever
Togo started training, and after a few months, he was a leading dog. Leonhard Seppala was deeply impressed with the dog and couldn't believe he had such an amazing leading sled dog. Togo proved himself over and over. He kept his leading position with intelligence, bravery, loyalty, and stamina.
Saving lives
Togo, the sled dog, became a legend in Alaska. Leonhard Seppala talked to historians and journalists that wanted to hear stories about Togo. He mentioned two exciting anecdotes from their runs. On one run, Togo had his usual leading position, and when Leonhard noticed a crack forming in the ice in front of them, he ordered Togo to turn left. After a short run, Togo stopped dead in his tracks and started pulling the rest of the sled dogs back. His owner went up to him to scold the dog when he noticed a massive crack in the ice. Togo stopped the whole team from dying a horrible death.
The second anecdote Seppala told them about was getting stranded on a broken bit of ice. All the dogs were with him, and the ice started pulling away from the shore. They were at the edge of the Bering Sea, and he had no way of saving himself and the rest of the sled dogs. He could only think of throwing Togo on shore with a rope to pull them back. It seemed the dog immediately understood what his master wanted.
However, while the dog was pulling the rope, the rope snapped. Togo, the sled dog, jumped in the freezing sea, grabbed the snapped rope, and turned around two times to make an improvised harness. He swam back to the shore and pulled Leonhard Seppala and the rest of the sled dogs to safety.
If you can't decide between Alaskan Malamutes or Siberian Huskies, maybe this article can help - Malamute vs. Husky.
1925 Nome serum run
At the time of the famous serum run, Togo was 12 years old. He had been a lead sled dog for 7. He was still in his prime, strong as ever. His bravery and intelligence lead Leonhard and the rest of the dogs through blizzards and difficult terrains most of the way. Although Balto was praised because he was the lead dog when they came back, nothing would be done without Togo, the sled dog legend.
At the end of his life, nearly 30 years after Togo's death, Leonhard Seppala said:
"I never had a better dog than Togo. His stamina, loyalty, and intelligence could not be improved upon. Togo was the best dog that ever traveled the Alaska trail."
Togo legacy
Togo retired after years of being the best sled dog. He and his owner Leonhard Seppala toured the country, and they drew huge crowds everywhere they went. Togo was even featured in Lucky Strike cigarette's campaign. His statue is located in Seward Park in New York City. Togo's bones are in the Peabody Museum of Natural History at Yale University. His skin is located in a glass case at the Iditarod Trail Sled Dog Race Headquarters museum in Wasilla, Alaska.
The most valuable thing Togo left behind is his bloodline. After he stopped being an active sled dog, Mrs. Elizabeth M. Ricker of Poland Spring, Maine, where Togo retired, started breeding him. He started one of the best lines of sled dogs in the world. The line is still very popular and sought after. The line is called the "Seppala Siberian Sleddog" line.
World Dog Finder team