Have You Heard These Songs About Dogs
---
Dog lovers are scattered around the world, and some of the biggest musicians and bands are huge dog lovers. From the Beatles to the amazing Dolly Parton, musicians wanted to share their love of dogs with the world. There are many songs about dogs these musicians decided to share, and if you are a dog lover, you will appreciate these dog songs. Check out our favorite songs about dogs.
1. Martha My Dear - The Beatles
It would be wrong to start the list of songs about dogs with something else in the Nr. 1 spot. The Beatles are arguably the biggest band in history. Those who love them will surely be familiar with their song "Martha My Dear." It is easy to confuse it as a love song directed at humans, but Martha was Paul McCartney's Old English Sheepdog.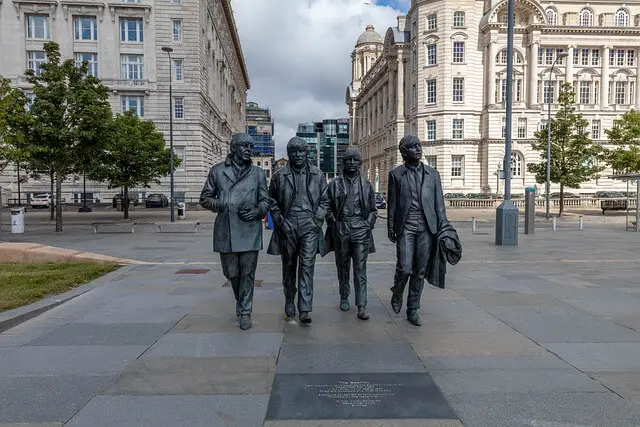 2. Old King - Neil Young
Neil Young is one of the biggest music stars that comes from Canada. His hits have taken charts by the storm, and his career spreads over 5 decades. Neil Young had a dog named Elvis, and he wrote a song about him called "Old King." In an interview in 1992, after his show at the Greek Theatre in LA, he admitted the song is about his dog.
3. The More Boys I Meet - Carrie Underwood
Carrie Underwood is a country music superstar. Typically for the genre, her song about dogs, "The More Boys I Meet," is a heartbreaker. In this dog song, Underwood says, "I close my eyes and I kiss that frog, each time finding the more boys I meet, the more I love my dog." We can only agree that many dog owners claim they love their dog more than they like some people.
4. Old Shep - Elvis Presley
Not many Elvis Presley fans know that "the King" performed a song about dogs in his first public performance. However, "Old Shep" is not a dog song he wrote. This song was written in 1933 by a man named Red Foley. Foley wrote about his German Shepherd called Hoover that suffered premature death. Of course, the song wouldn't become famous if Elvis didn't perform it.
5. Cracker Jack - Dolly Parton
Not only is Dolly Parton a legendary country music star, but she is also a great humanitarian. In 2020, she donated large amounts of money to Covid vaccine researchers. If you are a fan of Dolly Parton, you'll know she has 2 songs about dogs. "Cracker Jack" is a tribute to her two dogs, and "Gypsy, Joe and Me" is a love ballad about a woman who lost her man and her dog.
6. Seamus the Dog - Pink Floyd
Pink Floyd is one of the most influential bands in the world. This English band started in 1965, and their album "Dark Side of The Moon" is considered one of the best albums that ever came out. Pink Floyd has a song about dogs, and it is called "Seamus the Dog." This song actually features a Borzoi "singing" along to the tune. If you are a dog lover and Pink Floyd lover, this is a bizarre song you have to listen to. This might not be a song about dogs, but it is a dog song.
7. I Love My Dog - Cat Stevens
This classic Cat Stevens dog song sums up the love dogs feel for their owners pretty well. In this song, Stevens said, "I love my dog as much as I love you, but you may fade, my dog will always come through." This is another example of how much dogs actually love us, and Stevens confirms that.
8. Watch Dog - Etta James
There is nothing weak about Etta James' voice or her lyrics. Her song "Watch Dog" refers to a man with severe trust issues. James sings about a man that was constantly checking up on her, even send his younger brother to spy on her. We can certainly agree that the analogy with watchdogs makes perfect sense. Watchdogs will always keep an eye on their surroundings and alert their families about anything they find suspicious.
9. Little Boys Grow Up, and Dogs Get Old - Luke Bryan
Luke Bryan is another Canadian singer/songwriter that will easily make dog owners tear up. His son, "Little Boys Grow Up, and Dogs Get Old," is about a 14-year-old black Labrador. He mentioned how he grew up and had to leave town, which led to him having to say goodbye to his 14-year-old dog. You can be sure there will be tears rolling down your cheeks when you hear Bryan telling his dog to be "a good boy."
10. Who Let The Dogs Out - Baha Men
The Baha Men's hit "Who Let The Dogs Out" is one of the classic 90's hits that no respecting throwback party can go without. Of course, this song is completely written in metaphors, and the underlying message is not very nice. However, it was a hit that is still wildly popular across the globe, and wherever you go, you can find somebody that knows the chorus - "Who let the dogs out? WHO, WHO, WHO."
World Dog Finder team