Golden Retriever Hero Moments
---
We have a longstanding belief that dogs are a gift to humanity and the best possible friend anyone can have, and Golden Retrievers play a unique role. Dogs don't care about your status, race, or religion; if you are good to them, they will be 20 times better to you.
There were numerous stories about dogs playing vital roles in saving someone's life or assisting them in everyday life. Golden Retrievers are often chosen for service dogs because of their calm, obedient demeanor and mild temperament. These dogs have powerful bonds with their owners, which might be why some of these next stories happened.
Kelsey the Golden Retriever
Kelsey is a Golden Retriever who is owned by a Northern Michigan man named Bob, who had a memorable, and nearly fatal New Year 2017. Bob was alone at his home having a quiet night he decided to spend with his beloved dog Kelsey. Around 10:30 PM, Bob went to his yard to pick up a log for his fireplace when he slipped and broke his neck.
The accident left Bob nearly completely paralyzed from the neck down, and fortunately, he could still move his eyes and speak. The day before, there was a heavy snowfall, so there was knee-deep snow everywhere. Temperatures that day fell to 24 degrees, and Bob was lying helplessly just 15 feet from his house in his shirt, long johns, and slippers. Needless to say, the unfortunate man survived breaking his vertebrate, but his next biggest problem was exposure.
The human body cannot withstand such low temperatures for long, and many hikers and mountaineers froze to death after getting lost in the wild. Being unable to move in snow can lower your core temperature enough to make your body shut down completely in a matter of hours.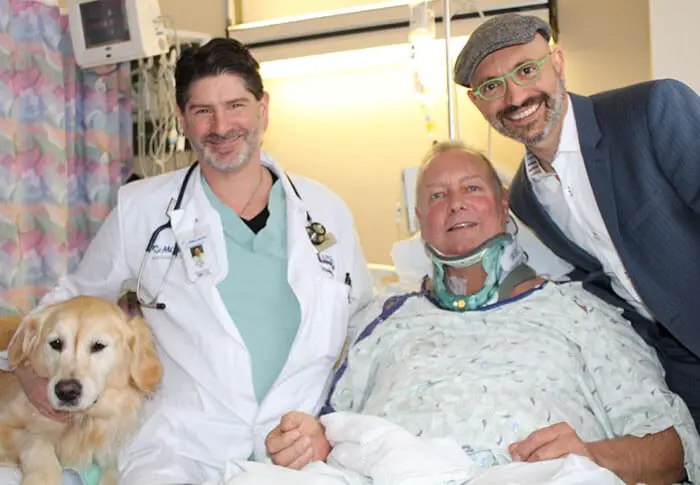 Source 
Luckily for Bob, his loyal Golden Retriever Kelsey was there. At first, Bob was yelling for help, but because his house was secluded and his first neighbors are nearly a quarter of a mile from him, nobody answered. Thankfully, Kelsey never left his side and kept Bob alive by laying on top of him, all the while barking and whining for help.
For the next 20 hours, Kelsey kept Bob alive by never leaving his side and providing him with warmth. Golden Retrievers have double coats that have longer, protective outer coats and fluffy, insulating undercoat, so Kelsey had no problems enduring cold weather. It is her loyalty, body heat, and love that saved Bob's life.
After 19 hours of screaming, surviving, and fighting for his life, Bob's body couldn't take it any longer, and he lost consciousness. We can only imagine the pain, fear, and frustration that can go through someone's mind after an accident like that. This man was paralyzed 15 feet from his house and was trying to call for help 19 hours straight before his brain shut down. Luckily, Kelsey stepped up by not leaving. She continued barking and keep Bob's vital organs warm.
After an additional hour passed, Kelsey's efforts were successful, and around 6:30 PM the next day, Bob's neighbor went to check out what is going on with her. He immediately called the ambulance, and Bob was rushed to the Mclaren regional hospital where he had emergency surgery. Doctors managed to save Bob's life, and he completely recovered from his injury. In an interview, this lucky man said, "She kept me warm and alert. I knew I had to persevere through this and that it was my choice to stay alive." After that, Bob said he considers Kelsey a superhero and will forever be grateful to his Golden Retriever for saving his life.
Like Golden Retrievers? Check out their full profile here.
Barry, the family Golden Retriever
Our second story takes us to warmer climates and to Miles and his family. In the summer of 2019, Miles had the biggest scare of his life, but luckily, his Golden Retriever Barry was there to step up and save the day.
That year, Miles and his family went for a family vacation with his work colleague and his family to Europe. They have rented a couple of camper vans and decided to tour the European coast from France, Italy, Croatia, and Montenegro for three weeks. Barry was a part of their family, and they never went anywhere without him. He was a 3.5-year-old dog at the moment that had no official service training, so his reactions were utterly instinctive.
On a Friday morning at the end of their second week of vacation, they stopped at the beautiful beach to spend a day away from their camp and enjoy the beautiful beaches and the clear, blue Adriatic Sea. Everything was ideal, except for a few clouds in the sky. Miles said, "We always packed a lot of things for everyone. My daughters were 4 and 7 at the time, so you can imagine how much stuff we needed for the beach. We took Barry with us, and we made sure to bring enough water and a special open tent where he can have enough shade. We hadn't checked the forecast, so we were quite surprised when the wind started suddenly blowing."
Check out the most popular Golden Retriever mix, the Goldendoodle.
After only an hour and a half of their beach day, the sudden wind surprised them on the beach, and most of their tents, shades, and personal stuff blew away and into the sea. Miles' youngest daughter was standing on the edge of the beach without her floaties. While everyone was distracted, collecting and saving their passports and personal belongings, she tripped and fell into the sea.
"Luckily for us, Barry kept an eye on Elena. We all got distracted and chasing unimportant things all across this beach" - Miles said, "He started barking, and no one was really paying attention. Thankfully, he leaped after her and dragged her by her shirt to the beach."
By the time they noticed, Elena had lost enough air so that she was unconscious. The family reacted quickly and performed CPR on her. After less than a minute, Elena got the water out of her lungs and started breathing again. Barry never left her side and ran around her while Miles was trying to save his daughter's life. They called an ambulance and took her straight to the hospital. Elena recovered, and she suffered no physical consequences after that life-threatening event.
Since then, Elena and Barry are inseparable; he even sleeps in her room. "She holds a special place in her heart because they were growing up together, and she adored him since she was an 8-month-old baby." - Miles added.
If you have any doubts about why Golden Retrievers are the most popular pick among American families, maybe these stories can clear your doubts. They really are special, and definitely one of our favorite dog breeds.
World Dog Finder team