Best Pet Urns for Commemorating Your Dog
19.05.2021.
Every product and service on World Dog Finder is independently selected by our editors, contributors, and experts. If you purchase something through our links, we may earn a referral fee. Learn more
---
Losing our dogs is something so painful, we don't want to think even think about it. Unfortunately, it is something that all dog owners need to go through. Dogs live a lot shorter than humans do, and as that famous quote says, "Dogs' lives are too short. Their only fault, really."  – Agnes Turnbull.
When that time comes, we want to have enough time to properly mourn our dogs. Luckily, some services will help you with the whole process, and you can talk to someone about losing your four-legged family member. In the meantime, your dog will need to be placed somewhere, and many dog owners decide to cremate their dogs. One thing they will need is a pet urn. Here are some top pet urn recommendations that will be ideal for commemorating your dog;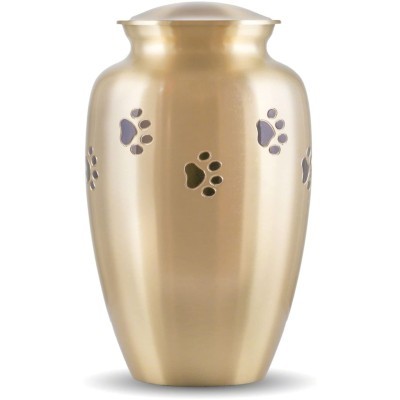 Our top pick for best pet urns is the Best Friend Services Pet Urn. This is a classicly designed pet urn with hand-crafted engraving. It is subtle, and it will fit your interior. This is a brass model with dog paws, and it comes in four sizes so you can be sure your doggie's remains will fit. The top screws on, so there is no need to worry about flimsy designs and poor quality. This is an excellent recommendation for all dog owners going through something very difficult.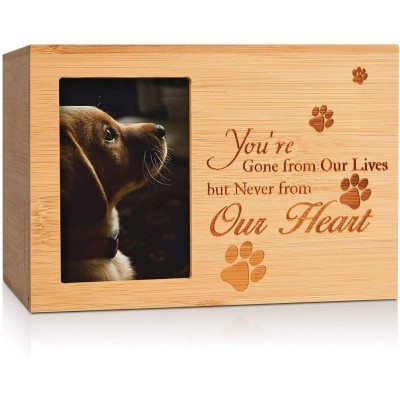 If you prefer wooden pet urns, the ENBOVE Pet Urns are the right choice for you and your dog. This pet urn will include a photo of your dog, which is something most dog owners will want. This is a great product that offers a lifetime guarantee. If anything happens, they will replace it, no questions asked. If you want something with a nice finish, this is the best possible choice.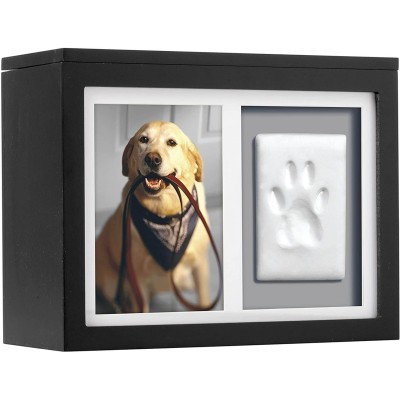 Your pet might be gone, be there is no reason you can't have a lovely commemorative pet urn. There is nothing that can replace your dog, and we are sure you would love to have something that will celebrate their lives. The Pearhead Pet Photo Memory Box will keep your pet's ashes and other things they used while they were still with you. Place their leash, favorite toy, or collar inside, and make an elegant memory that will celebrate your dog. This elegant design will fit in all interiors, and you can be sure it will fit yours.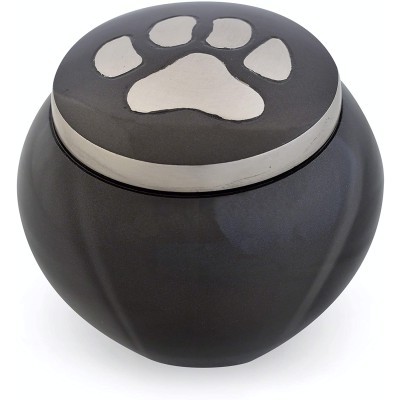 The Hand Carved Mia Series Urn for Dogs is another excellent pet urn from Best Friend Services, and it is large enough for dogs up to 70 pounds. If you want something smaller and very elegant, this is the right choice for you. This model comes in three sizes and 7 color options, so you can be sure there is something that will suit you and your dog. This pet urn is made of casted aluminum, and it has a screw top to keep the remains secure within the urn. A cool thing about this model is that the color is hand-applied, giving the urn a lovely elegant finish.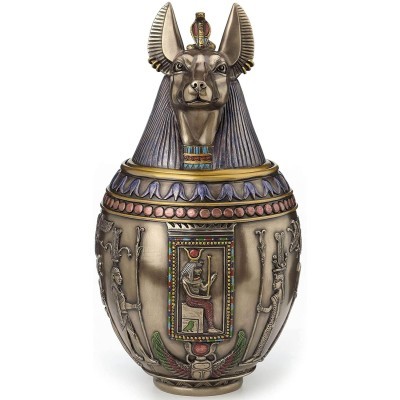 If you love Egyptian legends and gods, you will love the Rare Egyptian Anubis Dog Memorial Urn. This one includes Anubis, the Egyptian god of lost souls and the afterlife. This is an unusual pet urn, and not everyone loves it, but if you are into unique, rare finds, this might be a great choice. Not only does this dog urn have a unique design, but it is also a high-quality product. It is made of cold cast resin with a bronze powder finish. The lid can be firmly shut with adhesive, but unfortunately, it is not screwable.
World Dog Finder team