Pet Memorial Stones for Tributing Our Dogs
11.05.2021.
Every product and service on World Dog Finder is independently selected by our editors, contributors, and experts. If you purchase something through our links, we may earn a referral fee. Learn more
---
Dealing with the loss of our dog is one of the worst things a dog owner has to go through. These unique animals are a part of our family, and it is hard to imagine living without them. Unfortunately, death is a part of life, and it is something most dog owners will go through.
Getting a pet memorial stone
Getting over the loss of our dog is not easy, and we all have different grieving processes that help us handle such loss. From our personal experience, we can tell you that honoring your dog with a well-placed pet memorial stone can be an excellent way of dealing with your best friend leaving you. Here are a few things you should look for in pet memorial stones;
Customization
There are different pet memorial stone options available. Like with any other product you are buying, the price will depend on what type you decide on. Some pet memorial stones are fully customizable. They can include portraits, engravings, different materials, words, or whatever you might want to put on the memorial stone. However, the higher the customization level, the higher the price.
Placement
Think about where you'd want the pet memorial stone placed. If you want the stone placed on your porch, you might want to get a medium-heavy one that can withstand some wear and tear. If you want to place the stone in your yard, make sure you get one that can withstand different climates and weather, and if you want to hang the pet memorial stone on the wall, look for a lightweight piece.
Style and shape
Some pet memorial stones are already cut into specific dog-related shapes. Think about getting a pet memorial stone in the shape of a paw, heart, or maybe a bone. The good news is - there are different shapes and styles available, and you can choose a pet memorial stone your dog would have liked the most.
Those are some of the basic things you can look for in pet memorial stones. Here are some of our recommendations.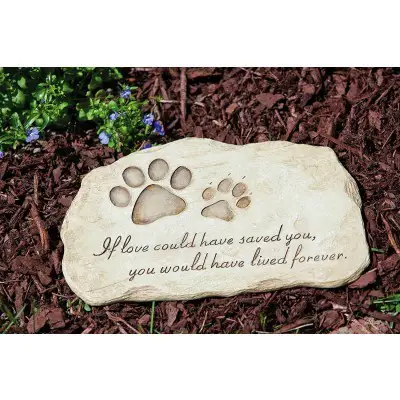 The Evergreen Garden Pet Stepping Stone is a pet memorial stone that is simple, well-designed, and elegant. We love somewhat minimalistic things, and the love your dog had for you doesn't have to be flashy. A pet memorial stone like this one will honor your pet in the best possible way. Plus, the message written in the stone is absolutely beautiful. This pet memorial stone can be displayed anywhere, indoor and outdoor. It is durable, and different weather conditions will not damage it. It is definitely one of the best possible picks for dog owners going through the loss of their dog.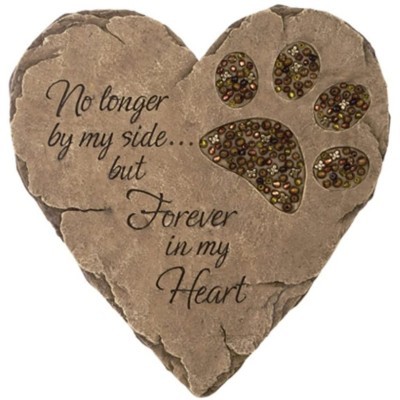 The Carson - BEADWORK GARDEN STEPPING STONE is our second choice. It is ideal for dog owners that want a pet memorial stone in the shape of a heart. This is another stepping stone type of memorial stone, but this one comes with a keyhole that makes it easy to hang on the wall. It will stand the test of time and can be used indoors and outdoors. This pet memorial stone comes with an engraved paw print and a heartfelt message. This is a lovely way to commemorate your beloved furry friend.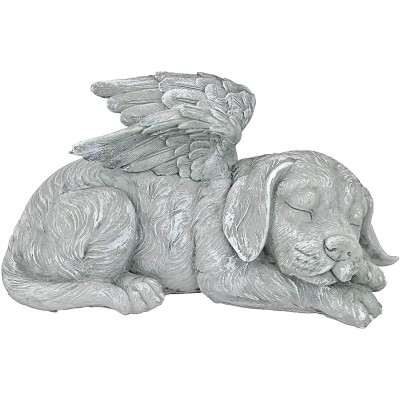 Our third favorite option comes with a unique design. Many dog owners believe dogs go to heaven, so why not commemorate your dog with a unique puppy angel statue? The Design Toscano Dog Angel Pet Memorial Grave Marker is precisely that - an adorable way to have a reminder that your four-legged best friend is now in a better place. This unique dog memorial stone has five different shapes, so if you want options like heartfelt messages, you can order that too.
World Dog Finder team