Pitsky - Crossbreed Info & Care Guide
---
The popularity of crossbreeds cannot be denied. More and more dog owners want to share their homes with a cute crossbreed or designer dog breed. One of those crossbreeds is the charming Pitsky. If the name isn't clear enough, the Pitsky is a Pit Bull Husky mix. It might seem like an odd cross, but you will understand that the cross actually works very well when you see these dogs. If you want to know more, here is the crucial information all future Pitsky owners need to know about this crossbreed.
What is a Pitsky?
As we mentioned already in the introduction, the Pitsky is a cross between the American Pit Bull Terrier and the Siberian Husky. The two breeds are relatively popular among American dog owners, so it was only a matter of time before someone tried making a hybrid between them.

Height:
16 - 25 in

Weight:
30 - 80 lb

Origin:
USA

Life Expectancy:
12 -16 years
Since it is a crossbreed, their exact history is somewhat unknown. We know there were deliberate crosses between Pitties and Huskies in the late 1990s. Since then, the demand for these dogs has been on the rise. They have a strong fan base that adores the crossbreed and swear these dogs are fantastic companions.
Pitsky appearance
One of the significant advantages of pureblooded dogs over crossbreeds and designer breeds is their appearance. If you breed two pureblooded Huskies or Pit Bulls, you can be pretty confident what their offspring will look like. Husky puppies will have a thick, double coat; they have defined colors and sizes. Pitties will be muscular, have short, smooth coats, and can reach a specific height.
Dog Breed Characteristics
The main issue with crossbreeds is you can never be sure which genes from what side of the family will take over. That means puppies can take more after one or the other parent. However, based on the Pitskies produced so far, we can draw certain conclusions about their possible appearance. They will most likely be 16 - 25 inches tall and weigh anywhere from 30 to 80 pounds.
Coat appearance
Some crossbreeds, especially those with a Poodle parent, were crossed to create low-shedding coats. Naturally, most future Pitsky owners want to know what type of coat their Pitsky will have. We are facing the same problem again - Pitsky puppies can come in all sorts of coats.
Pitskies can have shorter or longer coats. They can be heavy or medium shedders. Their coat results from mixing two completely different types of coats, so puppies can be born with all sorts of coat combinations. They are not considered hypoallergenic, mostly because Huskies are one of the heaviest shedders in the dog kingdom.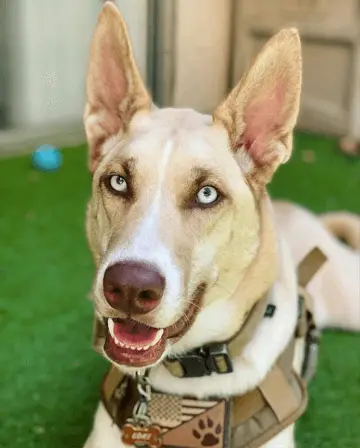 Image Source
Coat colors
The same problem continues with the coat colors of future Pitsky puppies. Huskies can be black and white, grey and white, sable, red and white, and agouti. Pitties come in more than 20 different coat colors, but we will not go into details about that here. The future Pitsky puppies can end up being any combination of those colors, which means you can expect all possible coat colors. However, most of them are black, brown, white, grey, and shades of those colors.
Pitsky character
The character of a Pitsky is mostly a combination of its parent's characters. Both parent breeds are active, so you can expect an active and energetic Pitsky puppy. Pitties are brave, curious, and intense. They are typical Terriers, while Huskies are vocal, outdoorsy, hard-working dogs. Both breeds are sensitive and form strong bonds with their owners.
Pitskies are a combination of those characteristics. They are energetic, playful, affectionate, and protective. However, they can also be reactive and overly defensive of their things and family. Luckily, their character can be influenced by socialization and training.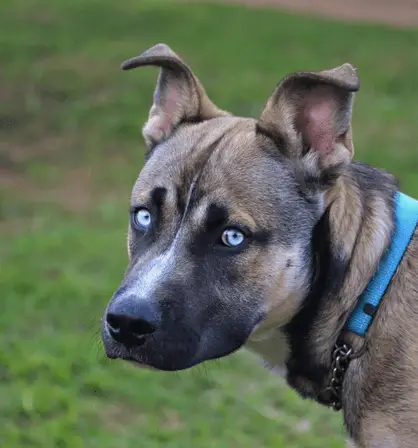 Image Source
Pitsky care guide
It doesn't matter if you have a pureblooded dog or a crossbreed; the dog will need proper care. There are a few basic things all dog owners need to provide for their dogs. These things will ensure their basic needs and make sure the dog is physically and mentally healthy. Here is the Pisky care guide;
Nutrition
Basic care starts with high-quality nutrition. Pitskies will need high-quality dog food, which you can get from one of the many manufacturers available on the market. You can also prepare homemade dog food, but you should first talk to your vet or canine nutritionist. Check the ingredients and make sure your Pitsky gets everything it needs.
Grooming
Grooming is an essential part of any dog's care. Some dogs need more, and some need less, but all dogs need it. You have to brush your dog, bathe, clip their nails, check their ears, and make sure they're protected against topical and internal parasites. The amount of grooming a Pitsky will need will depend on the exact type of coat the puppy will get.
Training and socialization
Training and socialization are essential parts of any dog's mental health. Many dog owners think training is only important if you want to have an obedient, military-style dog. That is, of course, false, and training is necessary so dogs know how to behave, where to go potty, walk on a leash, and follow basic commands that will keep them out of trouble.
Socialization will make sure your dog reacts well to other dogs, people, and situations. Dogs that lack in that area can react poorly, which can often result in biting incidents. Make sure you introduce your Pitsky to different dogs, adults, kids, dog parks, situations, sounds, and sights.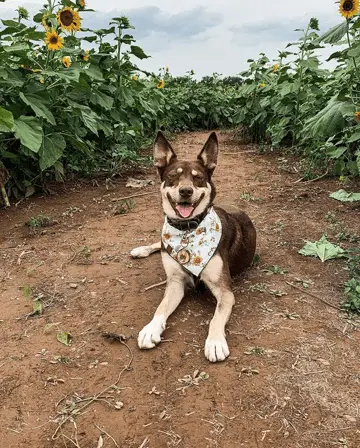 Image Source
Activity
Pitskies will most likely be very active dogs. If you don't provide them with plenty of weekly activities, they can develop behavioral problems. You should pick an activity you and your dog can enjoy together, like hiking, running, or cycling. It will provide your dog with a healthy outlet and make them behave at home.
Pitsky health
One of the things new Pitsky owners should know is which health issues their dogs might be prone to. Some hybrid breeders claim that crossbreeds are more resilient than pureblooded dogs. However, the "hybrid vigor" theory doesn't apply to dogs. Crossbreeds and designer dog breeds are prone to health issues from both sides of the family, making them more sickly. Some of the health issues vets and Pitsky owners noticed in this crossbreed are;
Allergies
Corneal dystrophy
The average lifespan of Pitskies is 12 - 15 years.
Pitsky puppy price
If you're looking for a Pitsky puppy, you should know that hybrids and designer dog breeds can cost a lot of money. In some cases, they became a lot more expensive than pureblooded dogs. If you're adamant about buying one of these dogs, you should expect a price range from $500 - $2.000. It will depend on the parent's pedigrees.
We would advise you to look for a Pitsky in shelters or Pit Bull rescue groups. These dogs are somewhat popular crossbreeds, but you can still find some that need new homes.
World Dog Finder team