How to Feed a Nursing Dog?
13.02.2022.
Every product and service on World Dog Finder is independently selected by our editors, contributors, and experts. If you purchase something through our links, we may earn a referral fee. Learn more
---
Being a dog breeder is a job that should never be taken lightly. Most dog breeders do it purely for the love of the breed, and they're not in it to make money. However, bringing new puppies into the world is extremely rewarding and fulfilling. Nothing is more satisfying than looking at a healthy, developing litter you planned and your dog delivered. However, caring for a litter is not easy.
Taking good care of a litter of puppies will take a toll on the breeder and the puppies' mom. Breeders should prepare for many sleepless nights, and the physical toll on the mom will also be significant. That is precisely why proper nutrition is critical. Nursing will take more out of the mom than pregnancy, so she needs high-quality food. Here's how to feed a nursing dog.
Why is nutrition crucial?
Healthy nutrition is crucial at all life stages, especially before, during, and after pregnancy. That goes for humans and dogs. All stages of canine reproduction have different requirements and take different stresses on the bitch's body. Nutritional needs are different in each stage. If the breeder makes sure their pregnant or nursing dog is eating correctly, it will maximize the puppies' and mom's health.
When will my nursing dog's nutritional needs change?
If you already fed your pregnant dog the way she was supposed to be fed, you already ensured your dog and puppies have a better start than most. However, weaning is most intense 3 - 5 weeks after the delivery. At that time, puppies will experience rapid growth and development, and the mom will need 2 - 4 times more calories than usual. That means she needs high-quality nutrients and a lot of them.
Her dietary needs will change after the puppies reach 8 weeks, and their nutritional needs change. They will start eating solid foods and be less dependent on their mother's milk. At the most intense period, the mother will need high-energy food that will help her sustain her weight, milk production, and energy.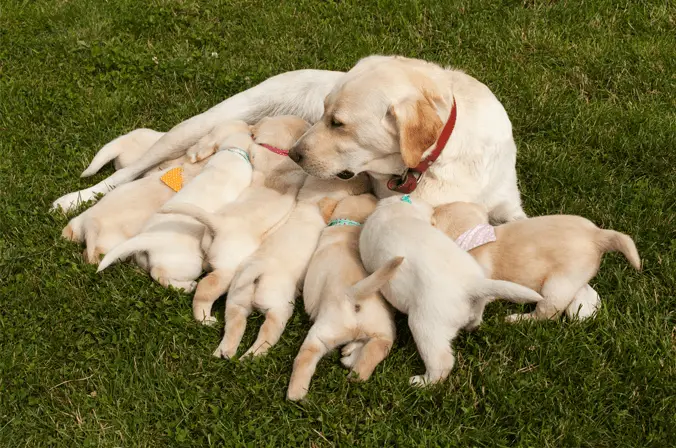 If the bitch has a litter of three or more puppies, it is highly advisable to free-feed. That means the food should always be available to the mother. She can have complete control over the amount she consumes and the time she eats. She might choose to eat more often but smaller amounts of food. However, free-feeding might not be the best idea if she only has one or two puppies.
VET TIP: If you give a nursing bitch more food than she needs, her mammary glands go into overproduction and produce more milk than she needs. That makes her prone to mastitis, a painful inflammation of mammary glands.
What should I feed a nursing dog?
The good news is that there are many great options available. Dog food manufacturers are well aware of the nursing bitch's needs. They created recipes that provide them with everything they and their puppies need. Your vet can give you the best advice regarding your nursing dog's nutrition, and since we have vets on our team, here are a few choices they recommended;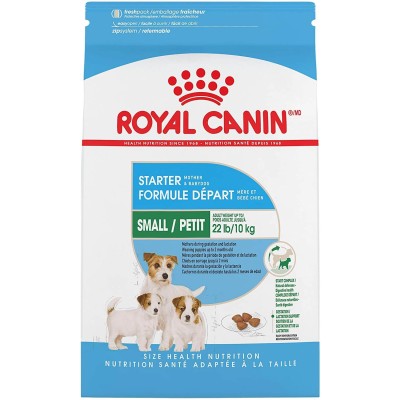 Credit where credit is due - Royal Canin Size Health Nutrition Small Starter Mother & Babydog is a fantastic choice for nursing mothers. Royal Canin's expert nutritionists created a well-balanced dry dog food that will provide nursing moms with everything they need. It is a palatable food that will satisfy even the pickiest of eaters. This food is rich in protein, vitamins, minerals, and antioxidants, making it extremely healthy for mothers and puppies.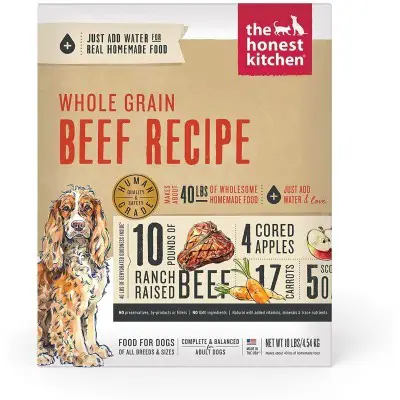 The Honest Kitchen Whole Grain Beef Recipe is fantastic even if you don't have a nursing dog. This recipe is absolutely fantastic. It gets its protein from beef, but there are also chicken, turkey, and fish recipes that are equally as good. However, this dog food comes at a higher price. If you have a budget for it, it will be the best choice for your dog and her puppies.
The third option you can be pretty happy about is the Taste of the Wild High Prairie Puppy Formula. This manufacturer has a simple moto - give dogs food that is close to the food they might eat in the wild. Of course, their recipes are far more complicated than that, but their primary protein source is bison and venison, which is pretty close to the prey wild canids might catch. It is a high-protein food your dog will surely appreciate.
World Dog Finder team