10 Best Dog Detanglers According to Dog Groomers
14.01.2022.
Every product and service on World Dog Finder is independently selected by our editors, contributors, and experts. If you purchase something through our links, we may earn a referral fee. Learn more
---
For the majority of dog breeds, proper grooming is essential to secure good looks and the health of their coat. You are not alone if you don't regularly provide proper care for your dog's coat. However, this will often time lead to mats and tangles that can be extremely painful for the dog. If this happened to your dog, you are aware of what we are talking about. In this situation, the best thing you can do is to find a good dog detangler to ensure that your dog's coat will be back to normal as soon as possible. As you may think, there are many choices for dog detanglers on the market, and we will try to help you how to choose the best one for your dog.
What is a dog detangler?
A dog detangler is a spray that will help you deal with your dog's tangles and mats. If your dog gets these coat issues, untangling them can be very difficult. This spray will allow you to deal with coat problems without causing your dog pain. It is a great way to avoid cutting your dog's coat.
Dog detangler buying guide
To be able to choose the best detangler for your dog and his coat, there is a few things you need to consider before you make a purchase. By choosing the best dog detangler, you can be sure that your dog's coat will be resolved from painful mats and tangles. Here is what you should take into consideration.
1. Coat type
Different dog breeds have various coat types ranging from short and smooth to long and curly. To ensure you get the maximum from a dog detangler, choose the one perfect for your dog coat type. Only this way you can be sure that you will get the best result from using Detangler.
2. Ingredients
When choosing the best dog detangler, always look for the ones made from natural and gentle ingredients that will be safe for your pet. You should avoid product that contains harsh chemicals as they can irritate your dog's skin and cause different allergic reactions. The best ingredients you should look for are aloe vera, oatmeal, and chamomile.
3. Fragrance
Some manufacturers add different fragrances to leave your dog's coat smelling fresh. This can be a nice feature, but you need to ensure that the scent is not too strong and aggressive, which can cause irritation. 
4. Usability
Make sure to choose a detangler that is easy to apply and doesn't require excessive rubbing. Most dog detangles come in spray bottles, while others may come in a cream or a gel form.
5. Size
If you like to travel with your dog, consider the bottle size and whether it will be easy to transport the detangler. This is especially essential for the breeders traveling on different dog shows.
6. Price
As with anything, dog detangles come in a variety of prices. While it is essential to find the best product in your budget, don't sacrifice quality for a lower price. Sometimes paying a little more, will do a much better job and leave you satisfied at the end. A high-quality detangler can prevent future tangles and save you time.
By considering all these factors, you will be able to choose the best possible dog detangler that will help keep your dog's coat healthy and tangle-free. With regular grooming and proper usage of the detangler, you can be sure that your dog's coat will not have mats and tangles in the future.
The best dog detanglers
Some products are better than others. If you're new to dog detanglers, you might easily end up buying something that won't be effective or can hurt your dog. That's why you should research the products you want to use on your dog. However, if you don't have time for that, order one of these products our groomers recommend. Here are the best dog detanglers you can order;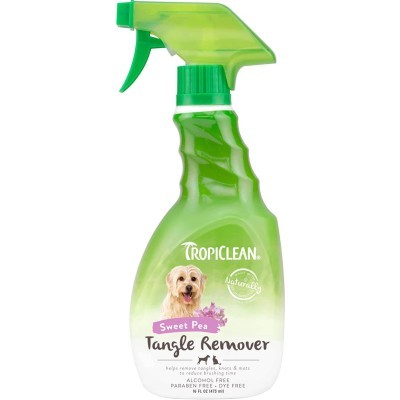 The best dog detangling spray you can get is the TropiClean Tangle Remover Spray. Simply spray it over your dog's coat and gently brush them to remove tangles and knots. You don't have to rinse the spray afterward. It has a gentle formula that will make grooming easier.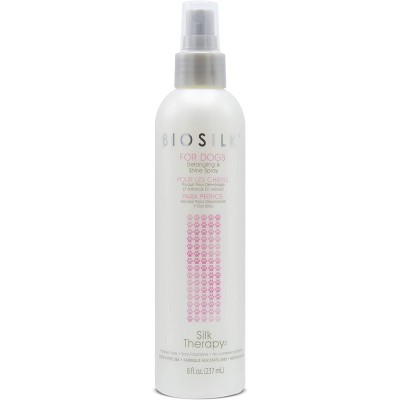 BioSilk for Pets is a dog detangler that can be used on all dog breeds. Its main job is to ease the mats and make brushing your dog easy. This spray can even work with topical flea and tick preventatives, like Frontline. It even leaves a fresh scent on your dog's coat.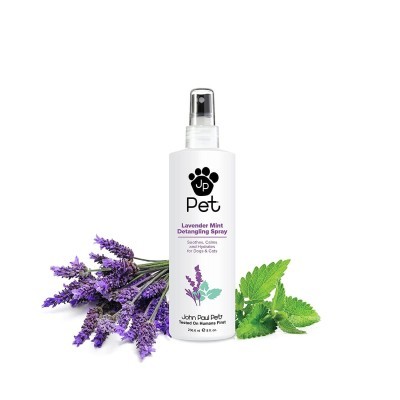 The John Paul Pet Lavender Mint Detangling Spray is ideal for between baths. Some dogs hate being groomed, and if that's the case with your dog, you might want to use this product. It contains natural ingredients and will soften the dog's coat. Dog owners are pleased with the result, and many of them recommend this product.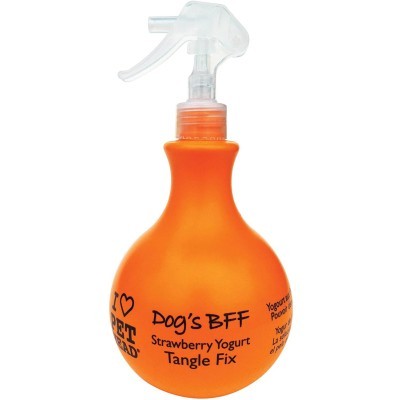 If you love the fruity scent of strawberry, you will love the Fur Ball Detangling Spray. This product doesn't contain parabens or sulfates. The aloe vera will help your dog's skin and coat stay moisturized and in perfect shape. It is a dog detangler that has the best smell, in our opinion.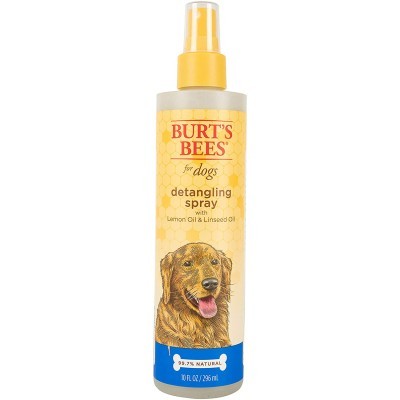 This is another dog detangler with a fantastic scent. The Burt's Bees for Dogs Natural Dog Detangler has a fresh lemony scent and is incredibly easy to use. You can simply spray it from the back of the dog's ears to their tail. It can be used immediately after a bath to keep the coat soft and mat-free.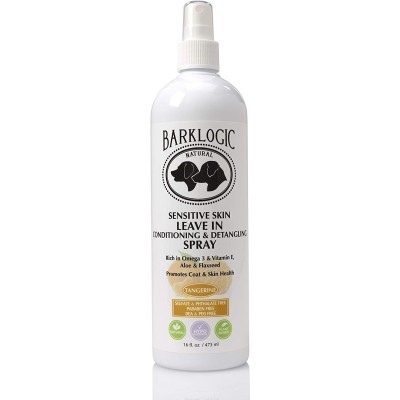 Many dog groomers that deal with a matted dog coat recommended BarkLogic Detangler Spray for Dogs. This product has a formula that contains natural ingredients. It has delicate pH levels that make this product safe for adult dogs and puppies. Not only will this product help with your dog's coat, but it will also reduce skin dryness and itchiness.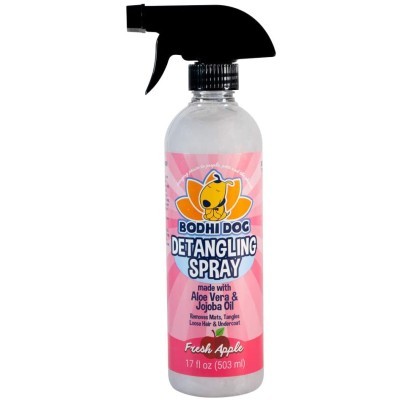 We love everything that has to do with apples, so you shouldn't be too surprised we included Bodhi All Natural Apple Detangling Spray on the list of best dog detanglers. Other than leaving a fantastic scent across your dog's coat, it will help you brush out the tangles and mats. The dog won't feel pain, and you will be pretty happy with the results.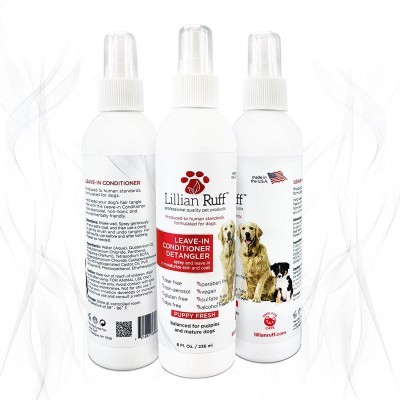 The Lillian Ruff Dog Detangler and Conditioner is an all-natural spray that will ease your dog's coat issues. It doesn't contain any harmful things like parabens and sulfates, so even dogs with sensitive skin can safely use it. You should keep in mind that this dog detangler has a baby powder scent, so your dog might not like it.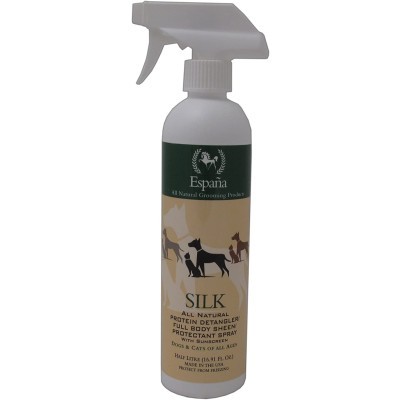 This is a dog detangler that can be safely used on cats as well. The Espana Silk ESP1100DC is great for homes with multiple pets. A significant advantage this dog detangler has is that it is also a sunblock. It will provide long-term protection and prevent issues like skin cancer. The manufacturer claims they included silk protein to moisturize the dog's skin.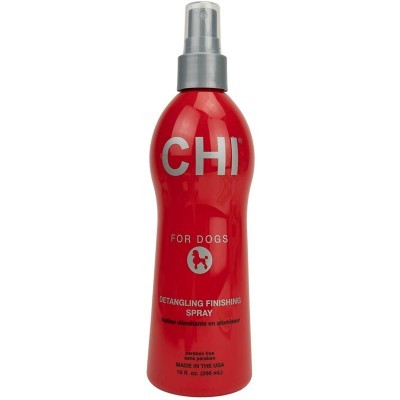 The CHI Detangling Finishing Spray provides a fantastic detangling action. It utilizes papaya leaf extract and soy protein to provide superior moisturization. It is great to use between baths or whenever your dog's coat could use some freshening up. Keep in mind that this product should not be used on puppies under 8 weeks.
Dog detangler FAQ
World Dog Finder team