7 Best Dematting Tools for Dogs [2023 Research]
13.01.2022.
Every product and service on World Dog Finder is independently selected by our editors, contributors, and experts. If you purchase something through our links, we may earn a referral fee. Learn more
---
Grooming should be an essential part of every dog's life, especially if you have a dog with a medium to long coat. One of the things that can happen is hair mats.
If that happens, you will need proper tools that will help you deal with your dog's coat. One of the most helpful things you can have at home is an excellent dematting tool.
RELATED: Why Dog Grooming is so Important?
What is a dematting tool?
A dematting tool is a sort of brush that is specially designed to help you detangle tangled fur. It has special "teeth" that can penetrate mats and help you restore your dog's coat.
If your dog has matted fur, it can develop skin issues like hot spots, which are very uncomfortable and itchy. That's when the best dematting tools can help you and your dog.
The good news is that World Dog Finder researched this topic and compiled a list of the best dog dematting tools.
The best dematting tool for dogs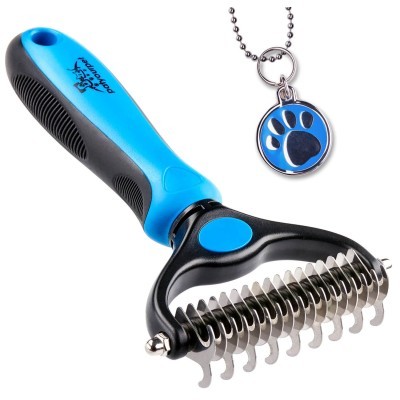 Pat Your Pet Dematting Tool is our top pick and the absolute best dematting tool, according to many dog owners and buyers. This is ideal for long and medium-long coats. This dematting tool is two-sided, with one side featuring 9 dematting teeth and the other having 17 de-shedding teeth. It is an all-in-one tool you can use on your dog and your cat. It has an ergonomic handle that allows you to use it for hours without having a sore wrist. It is a great tool all long-coated dog owners should have at home.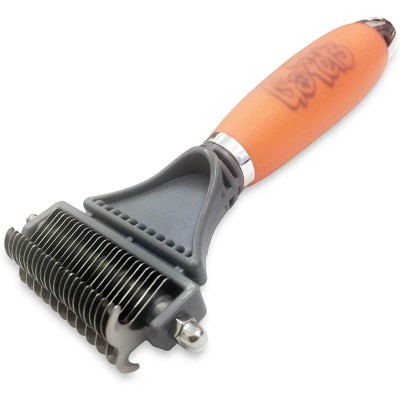 The GoPets Dematting Comb is ideal for small, medium-sized, and large dogs. It is a two-sided dematting comb you can use pretty easily. Like our top pick, this professional groomer's comb has different numbers of teeth on each side. One side will deal with stubborn mats and tangles, and the other can help you thin your dog's coat, de-shed them, and deal with the dog's thick undercoat. It is a great tool that dog grooming professionals love.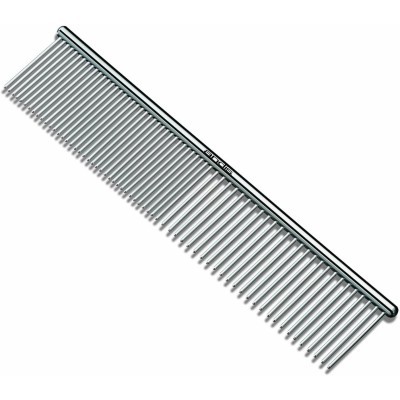 If you want to get a professional dog dematting tool and a pretty beautiful piece of grooming equipment, go for the Andis Pet Steel Comb. This is a traditional comb that will allow you to deal with different mats and tangles on your dog's coat. The basic idea is the same, so the comb has two sides with varying amounts of bristles. One is ideal for dematting, and the other is used for standard brushing. It is easy to maintain because it is made of stainless steel.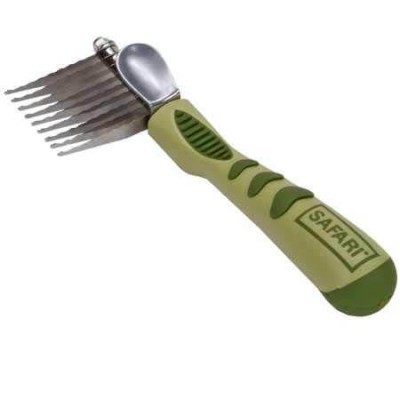 Another fantastically useful dematting tool is the Coastal Pet Dog Dematting Comb. This product has serrated teeth that will help you deal with even the most stubborn tangles and mats. You can even order a complete grooming kit from the same manufacturer. However, if you don't need the professional grooming kit, you can just order this dematting tool that will help you sort out any mess in your dog's coat.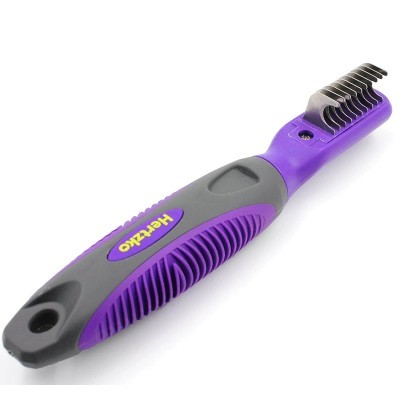 If you have a dog that needs a lot of grooming, you probably heard about Hertzko. This company has the best slicker brush in the world, so it is not that surprising that they made a fantastic dematting tool. The Mat Remover by Hertzko has curved teeth, so your dog's skin is protected while you're working on those pesky mats. The mat-removing teeth are relatively sharp, so you won't pull your dog's hair - you'll gently resolve them. This is a durable, high-quality comb you can be pretty happy with.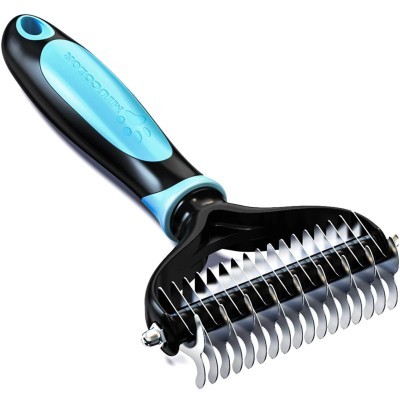 Dematting a dog is tricky and delicate, but that doesn't mean you have to have an ugly comb to do it. The MIU COLOR Dematting Comb checks all the boxes - it has two-sided teeth, an ergonomic handle and can help with matting and shedding. However, it also has a pretty cool design. We love the color combination and the high-quality materials that guarantee the comb's longevity. It is an excellent dematting comb all dog owners with long-haired dogs should have at home.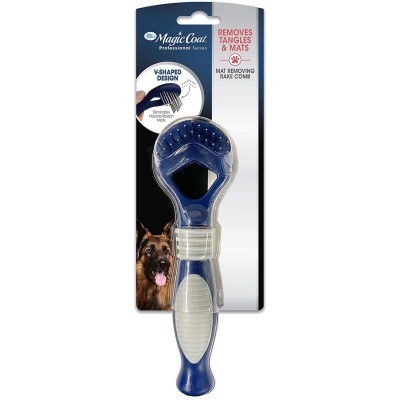 If you want something effective and really affordable, the Four Paws Magic Mat Removing Dog Comb is the right choice for you. This product is proof that good dematting combs don't have to be too expensive. It has durable stainless steel pins that will quickly enter the center of a mat and allow you to start working it. This dematting brush for dogs can be used on curly, long, wavy, or medium coat lengths and types.
World Dog Finder team