6 Best Dog Food for Australian Shepherds
06.11.2021.
Every product and service on World Dog Finder is independently selected by our editors, contributors, and experts. If you purchase something through our links, we may earn a referral fee. Learn more
---
The Australian Shepherd is one of the most popular dog breeds in the world. These dogs are extremely intelligent and active. They need a diet that will support that lifestyle. Aussies need a diet that will allow them to play and run the whole day. However, the best food will depend on the dog's age. Here's how to pick the best food for Australian Shepherds.
Best food for Australian Shepherd puppies
Picking the best possible food for an Australian Shepherd puppy is crucial. Their bodies are developing, the puppy is intensely growing, and they need to be placed on a diet that can support healthy development. Puppies need food that contains plenty of minerals, which will support bone development. At that stage of their life, puppies can develop crippling health issues, like hip dysplasia. Owners should give puppy foods to dogs until they are 15 months old at the latest. Here are our two favorite choices of dog food for Australian Shepherd puppies;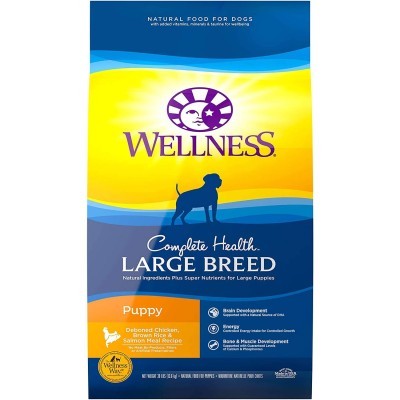 One of the best possible picks for Australian Shepherd puppies is the Wellness Large Breed Complete Health Puppy. This dog food has a terrific protein-fat-carbs ratio for developing active puppies. The recipe includes chicken, chicken meal, and salmon meal - all of these ingredients are a great choice. If you have a new Aussie puppy at home, this might be a fantastic choice for this delicate life stage.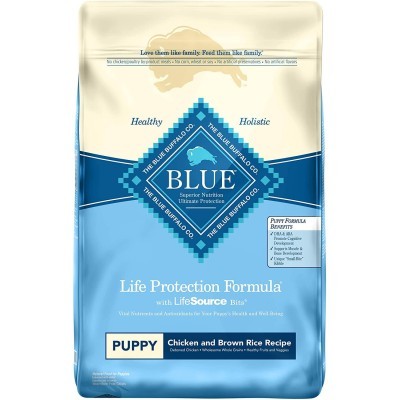 Puppies eat a lot. If you're looking to provide the best possible choice that won't break your bank, choose Blue Buffalo Life Protection Formula Puppy Food. This is another great choice for Aussie puppies. The recipe gets its protein from chicken, but there is also a lamb version available. Blue Buffalo is a trusted dog food manufacturer, and many different breed puppies were raised on it. It is a high-quality choice that comes at a reasonable price.
Best food for adult Australian Shepherds
If you have an adult Australian Shepherd, their ideal diet will involve high-quality protein sources, grain, fats, and carbs. If your dog doesn't have allergies and can easily consume grain, pick it. Grain earned a somewhat negative reputation, but it is necessary. Adult dogs are active, and their diet should be adapted to them. Adult dogs are over 12 - 15 months until 7 years. Here are our choices for the best dog food for adult Australian Shepherds;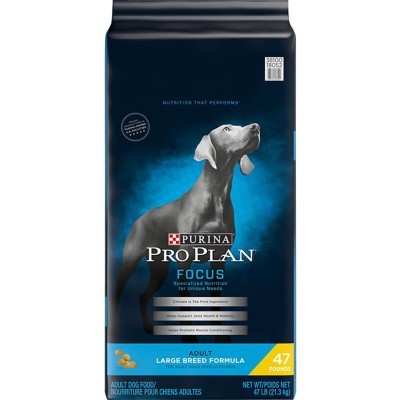 The Purina Pro Plan is one of the best-selling dog foods for a good reason - it is excellent. The higher amount of protein will support your dog's muscle development. However, you need to include plenty of activity. This dog food contains glucosamine because Purina's nutritionists know adult Aussies are active and need support for their joints and cartilages. This is a chicken-based food, and chicken is an excellent protein source.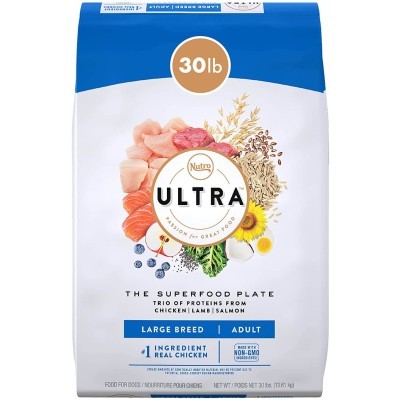 The Nutro Ultra Large Breed is only for adult Australian Shepherds. This dog food includes plenty of protein and carbs, so your dog will have plenty of energy, and the food will support their muscle development. One of the most significant advantages this food has is the iron amino acid complex. This complex helps nutrient absorption, making this food easy to digest, and your dog will get the most of it.
Best dog food for senior Australian Shepherds
All senior dogs need additional support. Their joints are weaker, their muscles aren't as strong as they used to be, and their coat, skin, sight, and immune system need a boost. When choosing the ideal dog food for your senior Australian Shepherd, look for foods with antioxidants and supplements like glucosamine. Older dogs need more protein but fewer calories. Senior dogs are over 7 years. Here are our recommendations.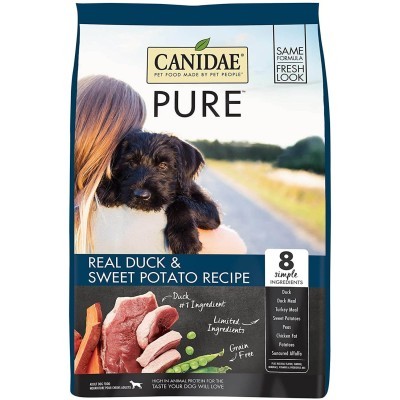 The best possible pick for your senior Aussie Shepherd is CANIDAE Grain-Free PURE Real Duck & Sweet Potato. Older dogs need high-quality protein, and Canidae made sure they included the best in their recipe. This dog food gets its protein from duck and duck meal. It contains antioxidants, omega fatty acids, and probiotics for full senior support. This is an excellent choice for all senior dogs.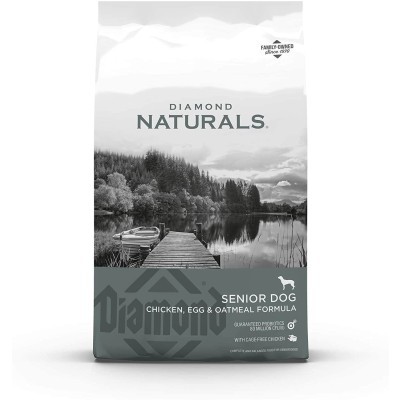 Are you looking for high-quality senior dog food for your Aussie Shepherd that is also affordable? Diamond Naturals Dry Senior Dog Food might be an excellent choice. This recipe includes antioxidants, probiotics, fatty acids, plenty of protein, and low fat content. It is all your dog needs at a reasonable price. Your dog's coat, skin, joints, and health will get an additional boost, and Diamond Naturals assures us they are using the best possible ingredients like cage-free chicken.
World Dog Finder team